Companies engaged with commodities businesses tend to see the variation in outcomes in terms of financials. The undertaken projects and respective developments need to be scrutinized to analyze the company's performance. Hence, generally companies come up with their quarterly updates, detailing about the developments and progresses. Today, we are discussing three companies from aluminium space which recently released their quarterly updates.
Australian Bauxite Limited
Australian Bauxite Limited (ASX: ABX) is engaged with the exploration of bauxite and development programs in Queensland, NSW, and Tasmania.
The company recently announced that ALCORE Limited, a 100% subsidiary of ABX, inaugurated the chemical refining work of ABx bauxite into AIF3 (aluminium fluoride). The work was initiated by removing the silicon and iron oxides to make a clear solution comprising of AIF3, to be manufactured by a crystallizer still stage in upcoming time.
Summary of the ALCORE Business Strategy (Source: Company Reports)
Quarterly Report and Activity Statement for Three Months to 30 June 2019: The company loaded cement-grade bauxite of 32,477 tonnes which was shipped from Bell Bay in the month of June. This production and delivery were 21 days ahead of planned. The Management also commented that sale of fertilizer-based bauxite from Bald Hill is also seeing decent rise as superphosphate fertiliser manufactured by acid processing of ABx bauxite is receiving good momentum in terms of sales. At the end of period, cash on balance sheet stood at $1.3 million.
Binjour Project is situated 115 kilometers from Bundaberg Port, Queensland. The company has signed MoU (Tripartite Memorandum of Understanding) with its Joint Venture partner, Rawmin Mining and Industries of India with Tianshan Aluminium Co Limited of China with the objective to sell 0.5 Mn T to 1.5 Mn T of bauxite from this project along with an alike size from bauxite mines of Rawmin in India to Tianshan's new low temperature refinery in southern China which is likely to be completed in CY2020.
The company also mentioned that The ALCORE Research Centre at Berkeley Vale has come up with the production of mixed AlF3–TiF4 samples while refining ABx bauxite. Alcore is expected to start the separation process to purify AlF3 in the current quarter. With this, Alcore Ltd will be the first Australian company to supply aluminium fluoride to the Australasian Aluminium Smelters and for export.
FY18 Highlights: The net consolidated losses for the company for FY18 came in at $2.37 million as compared to net profit of $0.17 million in FY17. The emerged losses were incurred due to developing and exploring bauxite minerals in FY18 in the geographies of Eastern Australia and Tasmania. The net worth of the company for the period stood at $16.69 million as compared to $17.31 million in FY17. During the period, the company increased its owned TasTech beneficiation technology which is used to separate Tasmanian bauxite into three parts. The separation process includes metallurgical grade gibbsite bauxite which surpassed 45% of Al2O3 for the aluminium sector.
As a long-term strategy, the company intends to increase its profit by using the clean characteristic of its bauxite type and the place of its bauxite projects that is close to transport and population centres.
At the current price of $0.115, the market capitalization stands at 16.06 million. The trading range of 52-week stands at $0.095 - $0.160. The stock has gained ~10% in last 3-months.
Bauxite Resources Limited
Bauxite Resources Limited (ASX: BAU) is engaged with a number of high purity silica sand and quartz projects that are being undertaken by Australian Silica Quartz Pty Ltd (a 100% owned subsidiary of BAU). The company explores and maintains the bauxite assets under its JV with HD Mining.
The company recently came with its quarterly update for June 2019 wherein it mentioned about receiving a high level of interest from potential silica sand customers to whom BAU has sent the samples and processes related to negotiation, etc, are going on. During the quarter, after executing the binding agreement, the company is in the process of finalizing the detailed formal deed with BRL and Urban Resources Pty Ltd for the purpose of jointly exploit the Bullsbrook Silica Sand deposit.
BRL Project Locations (Source: Company Reports)
During the quarter, the company also completed a JORC 2012 Inferred Mineral Resources which was comprised of 10.7 Mn T at the rate of 98.8% SiO2 on the raw sand of Bullsbrook tenement M70/326.
Additionally, silica sand projects and hard-rock quartz projects are progressing, and the company has applied for additional exploration tenements at Albany and Esperance. The company also expressed its willingness to enter into a JV and is looking for a partner, thereby assisting in the development and funding of the Albany Silica Sand Project.
BUA has been in the process of evaluating the strength for economic progress of HD Mining Bauxite Joint Venture tenement. At present, the bauxite resource base is comprised of around 1.5 Metric tonnes Indicated Mineral Resource and 93.2 Metric tonnes Inferred Mineral Resource. The company had earlier intimated about the rise of approximately 48% in Bauxite Resource at Ceres Deposit in WA. Moreover, earn-in for HD Mining Bauxite is up to 60 percent on a decision to mine.
At the end of the quarter, the company had strong cash position on the balance sheet of A$4.12 million. Additionally, BAU did not have any debt on books at the end of the period. The company had shareholders of 1,004 and fully paid ordinary shares on issue of 214,422,336. With this, top 20 shareholders held ~73.77% of the total issued capital at the end of the period. Performance Rights of 11 million at the end of the period, were subject to a Performance Hurdles for the next one and half year.
Going forward, the company mentioned that it intends to remain focused on Silica and Bauxite Projects along with looking for enhancing value of these projects via exploring and developing activities.
At the current market price of $0.043, market capitalization for the stock stands at $9.01 million. Trading range for the 52-week stands at $0.035-$0.080. The stock has gained ~14% in last one month whereas corrected ~28% in last one year.
Pure Alumina Limited
Pure Alumina Limited (ASX: PUA) is engaged with exploration activities on its Victorian kaolin tenements and NSW gold tenements at Hill End.
The company in its recent quarterly report, updated about the progress to acquire Polar Sapphire from private equity interests for approximately $25.75 million in Pure Alumina shares and cash (C$13.75m in PUA Shares, C$12m in cash and 3 board seats in PUA). Polar Sapphire, a Canadian company, possesses a patent of HPA production technology for the period of six years.
HPA applications are used in LEDs (5N and 4N grade), Semiconductors (5N and 4N grade), Phosphor (for plasma displays, 4N grade), other sapphire (Non-LED, 5N and 4N grade), lithium-ion battery separators (4N and 3N grade) and others.
The acquisition will lead PUA to become a producer of alumina with premium quality, low-cost along with high purity. For the purpose, the company has planned to raise capital amount to $30 million with the objective of deploying it to build a 1,000 tpa HPA plant. Following the completion of due diligence, the transaction is expected to be completed in September 2019.
On 23 April 2019, the company updated about a SPP (Share Purchase Plan) and optional top up placement to raise a fund worth $1.75 million. Later, the company successfully completed the SPP and top up placement with raising $1,753,180 at the issue price of $0.0346 per share.
Updating on Yendon High Purity Alumina (HPA) Project, the company mentioned that application related to the retention of licence for Yendon kaolin deposit has been presented to the Victorian Mines Department.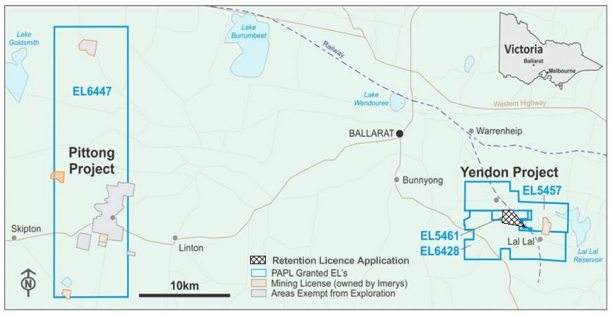 PUA HPA project location near Ballarat, Victoria (Source: Company Reports)
After completing the PFS (Pre-Feasibility Study) of the HPA project, the company started the DFS (Definitive Feasibility Study). Additionally, PUA has been focusing to reduce the capital and operating costs charted in the PFS.
Updating on Hill End Gold Project, the company stated about the appointment of PCF Capital to undertake the selling process of its gold assets.
1H19 Financial Highlights: The losses for the first half of FY19 came in at $4,385,000 as compared to $1,175,000 in prior corresponding period. Other expenses for the period stood at $215,000 against $130,000 for the corresponding period a year ago. Net assets of the group witnessed a decline of $2,787,000 to $10,237,000 at the end of 1H19 as compared to $13,024,000 at the end of 30 June 2018. Working capital including the value held for sale of gold assets, as on 31 December 2018 was resulted in an excess of current assets over current liabilities of $6 million as compared to $9.534 million on 30 June 2018.
At the current market price of $0.027, market capitalization for the stock stands at $5.77 million. The stock was up ~4% in today's trading session. 52-week trading range for the stock stands at $0.022 to $0.096. The stock has corrected ~54% in last 1 year.
---
Disclaimer
This website is a service of Kalkine Media Pty. Ltd. A.C.N. 629 651 672. The website has been prepared for informational purposes only and is not intended to be used as a complete source of information on any particular company. Kalkine Media does not in any way endorse or recommend individuals, products or services that may be discussed on this site. Our publications are NOT a solicitation or recommendation to buy, sell or hold. We are neither licensed nor qualified to provide investment advice.