Travelling industry has undergone a drastic change ever since the coronavirus pandemic has demanded the world to take refuge in their respective places.
The COVID-19 outbreak is an unprecedented global situation all countries are dealing with in terms of its human and economic consequences. The outbreak, which was first identified in late-2019 in the Wuhan region of China and eventually plagued every continent, is inevitably having a gigantic impact on the travel industry, ranging from hotel and cruise ship quarantines to airlines halting flights in some regions.
According to World Travel and Tourism Council which represents the travel and tourism sector globally, travel and tourism is the backbone of the global economy and contributes 10.3% of global GDP. For nine successive years, it has outpaced the growth of the global economy. Besides this, it is also responsible for generating one in four of the world's new jobs.
The Council believes that owing to the punishing impact of COVID 19, 100.8 million jobs are at risk in the travel and tourism sector with approximately 75 million in G20 countries.
GOOD READ- Would the travel industry be the same post COVID-19?
Tourism Stance in Australia
Australia is an aspirational, once-in-a-lifetime destination for international visitors. In 2018–19, tourism contributed $60.8 billion to national GDP and provided jobs for more than 5% of the national workforce (666,000 people). Its standing in the global top ten for international expenditure, $64.2 billion on outbound trips, demonstrates appetite for travel and considerable capacity to increase domestic travel.
However, recent bushfires are expected to have a significant impact on the Australian tourism industry in 2020, with fires across nine tourism regions. The more recent coronavirus creates ongoing risks to international tourism.
Grounded fleet, plunging revenues, enormous paycuts and job losses due to travel ban imposed by the Government have hit the sector hard.
However, optimism has been travelling, though steadily. The Government's support of the industry by underwriting few vital flying, support to the broader economy via JobKeeper, and public health schemes like the COVIDSafe app demonstrate the country's capability to streamline activities.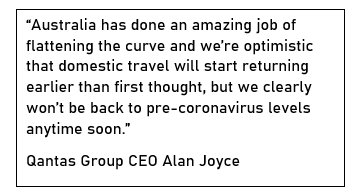 In this backdrop, let us acquaint ourselves with 2 travel stocks from Australia-
Sydney Airport: Bolstered Balance Sheet, No Dividends, OPEX Reductions
One of Australia's most important pieces of infrastructure, a significant contributor to the local and national economies, generating $38 billion in economic activity a year, Sydney Airport (ASX:SYD) recently secured $850 million of additional bank debt facilities, further strengthening its balance sheet.
As reported on 20 April 2020, the Company had $430 million available cash, $1.75 billion worth undrawn bank facilities and close to $600 million of new USPP bond market debt due to be funded in June 2020 for combined liquidity of $2.8 billion. This is in excess of the $1.3 billion of debt maturing in the next 12 months and the $150 million - $200 million of expected capital expenditure over the same period.
Also, both the Boards of SAL and SAT1 will not be announcing a 6 months distribution for the period of 1H20 in the wake of the current impact of COVID-19 and the unclear near-term trading outlook.
Moreover, SYD is implementing a range of operating cost initiatives- at least a 35% reduction in operating costs for the next 12 months from 1 April 2020 besides security recoverable costs, the Directors have decided to reduce their fees by 20% for three months commencing 1 April 2020 until 30 June 2020 and fixed remuneration of the CEO will be reduced by 20% over that same period.
SYD intimated that it is targeting a capital investment range of $150 million-$200 million for the next 12 months from 1 April 2020.
On 6 May 2020, SYD last traded at AUD 5.52, down by 2.817% from the last close.
Auckland International Airport Limited: Passenger Numbers Slump, Material Impact, Oversubscribed SPP
Regarded as New Zealand's gateway which employs around 600 people currently, Auckland International Airport Limited (ASX:AIA) had 29 airlines operating before the outbreak of COVID-19. Owing to the pandemic, this number is now 11 and number of daily flights have shrunk from 500 to 80. The Airport is operating at about 10% of its capacity with no certitude of market recovery in the near term.
In March 2020, total passenger numbers were down by 42% on the March 2019 result. For the first 20 days of April, international passenger's data depicts a 95.3% decline on the previous corresponding period.
The Airport has reduced remuneration for Directors and leadership team by 20%, lessened employee salary/hours by 20%, trimmed outsourced contracts, deferred pay raises for employees in agreement with their union, cut all discretionary spending and released 105 fixed term and independent contractors.
However, its NZD 200 million share purchase plan closed oversubscribed, as notified on 30 April 2020. This was part of the equity raising, as notified on 6 April this year, whereby a wholly underwritten NZD 1,000 million placement of new shares was undertaken. The new shares under the SPP will be issued at NZD 4.66.
It is undeniable that COVID-19 has had a profound impact on aviation and tourism industry, and like many other organisations, companies in these industries are now forced to make changes that would have seemed unimaginable only months ago. It may take some time for people to begin travelling internationally again, and this can have dire impacts on the sector.
However, with the picture still emerging, long term impacts cannot be stated just yet. While we stay home and safe, it will be interesting to gauge how the sector evolves in a post COVID- 19 world.
On 6 May 2020, AIA last traded at $5.49, down by 1.789% from its last close.