The buy now, pay later market space maybe set to witness some competition as the credit card giant Visa Inc has recently revealed its plans to enter the market. This may pose a threat to the predominance of other players like Melbourne-based Afterpay Touch Group Limited (ASX: APT), an early adopter of buy-now-pay-later business model.
Visa Inc also added that it would be conducting a pilot to test the new 'instalment payment capabilities' by partnering with selected merchants across the world. Interestingly, businesses will be able to offer customers the buy-now-pay-later service via the existing Visa cards without having to use a third-party app or open another line of credit.
While the investors may have perceived Visa's instalment payment programme as a clear threat to the sector, Afterpay and its other industry peers appear to view things differently. In a response to the price query lodged by the Australian Securities Exchange on Monday, 1 July 2019, Afterpay reverted that the sudden dip in its share price by more than 10 per cent (from a high of $ 28.77 to a low of $ 23.95 on that date) in the final hour of trading may have been somewhere influenced by Visa's recent announcement, however, the company could not confirm that the change in price or increase in volume was specifically related to this factor.
Meanwhile, other ASX-listed companies operating in this sector, including Zip Co (ASX: Z1P) and Splitit Payments (ASX: SPT) had also experienced similar movements in their respective share prices over the same period.
Image Source: Splitit Payments Presentation
Splitit payments is another key player in this market space, whose business model is slightly different than APT's. The company reportedly considers Visa's move as an opportunity whereby consumers would gain more awareness about the card-based instalment payment solutions.
Some of the market participants are of the view that it takes time to penetrate into a specific market domain that is already occupied by other players offering the same service since a period of time.
Moreover, some are also of the view that Afterpay would still have the edge of being available to customers, specifically younger ones, who do not often own any credit cards. Another existing strength of Afterpay and Zip is that their services are available to all retailers and cover most of the types. Besides, Visa would also take up time to have every bank sign up to its program, and that is usually a long and difficult process.
Of late, questions are being raised to establish a suitable regulatory regime for the buy now, pay later businesses. With that backdrop, the entry of large players like Visa, with a market capitalisation of as huge as approximately USD 391.88 billion may add to the existing credibility of the buy now, pay later market, which is already flourishing.
Visa demonstrated the strong power of its existing business model during the second quarter ended 31 March 2019, as it recorded a net income of $ 3.0 billion or $ 1.31 per share, an increase of 14% and 17% respectively over prior year's results. The company's net revenues amounted to ~ $ 5.5 billion, an increase of 8 %. Besides, the company returned $ 2.6 billion of capital to shareholders in the form of share repurchases and dividends.
Visa also reported the total processed transactions, which represent transactions processed by Visa, for the three months ended 31 March 2019, at $ 32.5 billion, an 11% increase over the prior year.
A glance at After Afterpay Touch Group
The information technology company, Afterpay Touch Group offers innovative payments solutions, including buy now, pay later, to make the process of purchasing a memorable and convenient experience for a global customer base in Australia, New Zealand and the United States. The company primarily runs two business segments- Afterpay and Touch.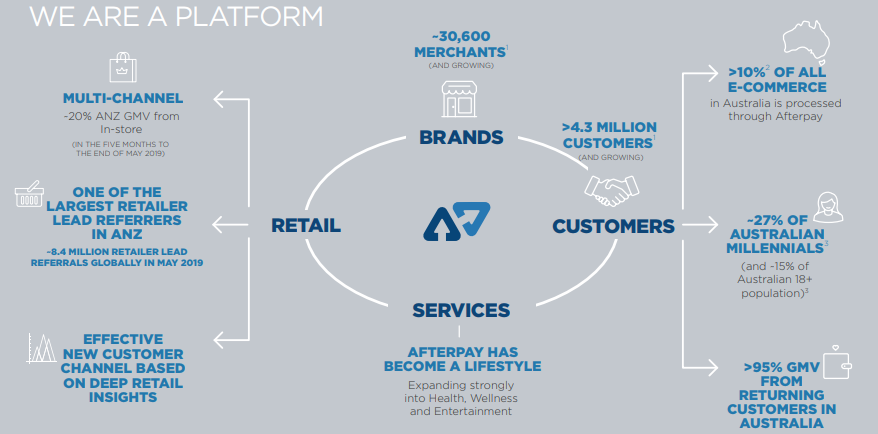 (Image Source: Company Presentation)
Pay Later, better known as Afterpay, is a retail consumer brand that is in a high growth stage and expansion is being witnessed on all levels. This business segment is largely driving a revolution in the retail sector as it enables leading retailers to offer a 'buy now, receive now, pay later' service through a proprietary platform that facilitates commerce between retail merchants and their customers. The service eliminates the need for the end-customers to enter into a traditional loan or pay any upfront fees or interest to Afterpay.
Currently, Afterpay is being used by over 4.3 million active customers and approximately 30,600 active retail merchants on-boarded.
Pay Now, or Touch, is a combination of E-services, Mobility and Health services that the consumers use on a daily basis without taking note often. The business offers services through the proprietary Touch System Platform, which enables consumers to quickly purchase products in-store, via safe self-service methods, on mobile applications, web sites, interactive voice recognition (IVR) systems and a range of other means.
The underlying process and technology are designed to minimize the friction for merchant retailers and allow for a seamless purchase of goods and services for consumers.
Afterpay Touch Group's Revenue Model
For Afterpay, the revenue is primarily generated from transaction fees paid by the retail merchant clients (Merchant Fees) with respect to the underlying Afterpay sales (on each approved order). Merchant Fees is predominantly levied as a percentage of the customer order value plus a fixed amount per transaction.
During the financial year to 30 June 2018, Merchant Fees made up for approximately 75.6% of Afterpay's income, while the remaining 24.4% principally comprised of late fees charged to customers who failed to make their agreed instalment payments on schedule.
Afterpay employs capital to fund the period between paying its retail merchant clients upfront and the time it takes to recoup full payment from the customer (a maximum of 56 days). Afterpay's business model aims to recycle capital efficiently and to drive higher transaction volumes per dollar of capital employed.
On the other hand, Touch business generates revenue in four ways including transaction fees upon completed delivery, an integration fees for the connecting new customers to the Touch platform, integration fees for granting access to additional service models and Infrastructure fees for providing a bespoke Touch platform. In addition, the business also derives revenue from marketing and advertising services.
Key Financial risks- The Group is exposed to certain primary risks associated with its financial instruments such as interest rate risk, foreign currency risk, liquidity risk and credit risk. Different methods are employed to measure an manage these risks to protect future financial security.
The Afterpay Advantage for-
Customer: Unlike traditional credit services, the end-customers do not have to apply for or enter into a traditional loan; pay any additional amount (by way of interest or upfront fees) for the merchant's products as long as repayments are made on time; or complete the tedious physical paperwork that may delay or cancel the purchase.
Retailer- On providing Afterpay to their customers, retail merchants benefit because customers feel more inclined to shop or increase the value of their order because of the budgeting flexibility that Afterpay offers; while Afterpay pays the retail merchant upfront and takes on all customer defaulting risks.
Afterpay Touch Group's Board & Organisational Update
on 2 July 2019, the company has provided an update with respect to certain important organisational and governance changes, to reflect its current market position and future growth opportunity and support the pursuit of its mid-term strategy.
Board Changes– Lately, Afterpay is introducing some changes in the Board as the company plans to have a majority independent Board as well as an independent Chair. In line with this agenda, the company has announced that it is soon to commence a global search for the recruitment of at least two more independent directors that would complement the skill set possessed by the existing ones and these changes would appropriately represent Afterpay as a globalised business.
Meanwhile, Co-founder, Mr Anthony Eisen would assume the role of CEO & Managing Director of the Company and will focus on global business management and overseeing the Company's operations management. The other Co-founder, Mr Nick Molnar, would take up the position of Global Chief Revenue Officer, and report to Anthony, while being responsible for delivering value for the customers and merchant partners through the international expansion of the Afterpay global platform.
In addition, Elana Rubin, currently an independent Non-Executive Director, would assume the role of Interim Chair until such time as a new independent Chair is appointed.
Moreover, in line with the company's next phase of expansion and evolving global organisational structure, David Hancock, the current Group Head, would step down from this role and would facilitate the transition of his role to the CEO & Managing Director and other members of the leadership team for a period of up to 12 months.
New Appointment- Afterpay also announced the appointment of Mr Frerk-Malte (Malte) Feller to the newly created role of Global Chief Operating Officer, effective 1 July 2019. In addition, Barry Odes has been assigned the position of Chief of Staff, who would be reporting directly to the CEO & Managing Director.
Stock performance
With a market capitalisation of around AUD 6.59 billion and approximately 252.64 million shares outstanding, the APT stock price settled the day's trading at 26.390, climbing up 1.15% by AUD 0.300.
---
Disclaimer
This website is a service of Kalkine Media Pty. Ltd. A.C.N. 629 651 672. The website has been prepared for informational purposes only and is not intended to be used as a complete source of information on any particular company. Kalkine Media does not in any way endorse or recommend individuals, products or services that may be discussed on this site. Our publications are NOT a solicitation or recommendation to buy, sell or hold. We are neither licensed nor qualified to provide investment advice.