The communication services sector is one amongst the sectors on ASX, which has delivered a total return of 27.6% in 2019. The sector surpassed its benchmark index during this period. The YTD price return of the communication services sector is 6.07%.
In this article, we are covering two of the small players from this sector who have released their half-yearly results. These players are Seven West Media Limited and Superloop Limited.
Let's dig into their results and see how the companies performed in their half-yearly results.
Seven West Media Limited (ASX: SWM)
Seven West Media Limited (ASX: SWM) ranks amongst the top leading integrated media companies in Australia with a market-leading presence in broadcast television, magazine & newspaper publishing and online.
On 18 February 2020, the company released its 1H FY2020 results for the half-year ended 28 December 2019. Let's take a look at the highlights of first half FY2020.
Advertising market conditions remained challenging during the period with a drop of 7% in metro FTA (free trade agreement) TV in the half against a total advertising market drop of 8.5%.
#1 metro TV revenue share went up by 0.4% pts to 38.8% share during the period (38.4% including Broadcaster Video on Demand (BVOD))
Group revenue dropped by 3.2% as a result of weaker advertising markets.
Underlying Group EBIT declined by 20.8% to $119.7 million as compared to the previous corresponding period (pcp).
Digital EBIT grew by 205% on pcp.
Significant items of $165.6 million before tax, pertaining to impairments & difficult deals
Net debt of $541.5 million, which represents 2.4x net debt to EBITDA (comprising proceeds from the divestment of Redwave).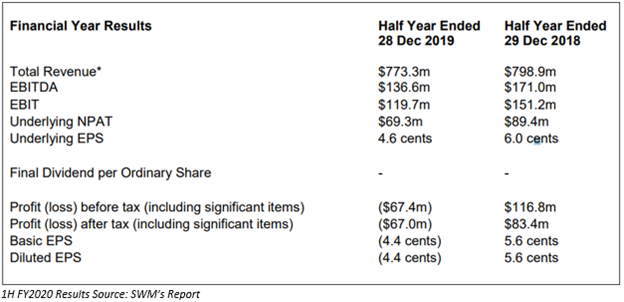 Outlook:
SWM considers that trading conditions have remained consistent with 1H FY2020. Depending on the market condition, the company expects its underlying EBIT to lie in between $165 million to $175 million.
The company expects that there would be a growth of more than 30% in BVOD market during FY2020.
2020 Strategic Priorities:
New content strategy targeting primetime entertainment and 25-54 to launch in Q4 2020.
Accelerate BOVD growth across Olympics, targeted content, scale WAN paywall.
New cost program aiming an additional $20 million for execution in 2H20 for gain in FY2021.
Put an end on Pacific sale.
Strategic assessments of undervalued or surplus assets after inbound investigations.
Stock Information:
The shares of SWM have responded in a positive way after the release of the half-yearly result. At AEDT 3:15 PM on 19th February 2020, the shares are trading at $0.212, a growth of 3.415% from its previous close. The shares are near its 52 weeks low price. Around 7,765,789 shares have traded on ASX. SWM's market cap on 19 February 2020 stood at $315.3 million and the company has ~ $1.54 billion outstanding shares.
Superloop Limited (ASX: SLC)
Superloop Limited is a standalone provider of connectivity services building, designing & operating networks all through the APAC metro locations.
Superloop Limited (ASX: SLC) has released its 1H FY2020 results for the half year closure on 31 December 2019.
Let's take a look at the 1H FY2020 highlights:
EBITDA during 1H FY2020 was in line with the company's expectation. It was $4.1 million for the period. Total group revenue during 1H FY2020 was $51.3 million.
Core connectivity revenue went up 48% year on year with growth in customer buying rate and Superloop delivering at a faster rate. This is helping to establish future momentum.
Reported strong 1H FY2020 sales performance of $7.8 million annualised new monthly connectivity recurring revenue, with numerous multi-year deals. These include that Superloop would provide Aurizon's high bandwidth national network. Aurizon is the largest rail freight operator in Australia.
Superloop Home Broadband NBN services got launched completely. From July 2019, there was an increase in the number of subscribers by 30%.
Reported a 70% drop in the capital expenditure on property, plant and equipment, year on year.
Operational expenses, mainly from employee costs, reduced 14% year on year.
Financial Highlights:
A Glance at Superloop's portfolio connecting APAC region:
Asia Pacific Core Fibre Network:
It includes a fibre network that connects key hubs in Singapore, Australia & Hong Kong & INDIGO subsea cable. This region reported a 48% growth in its revenue to $17.2 million as compared to the previous corresponding period.
Platforms leveraging APAC Fibre Network:
It comprises of Fixed Wireless (Connectivity), Guest WiFi (Broadband), Home Broadband (NBN & FW) CyberHound Security (Services). The segment reported a drop in its revenue by 7% to $23.5 million.
Non-core CMS:
It comprises of Cloud Managed Services, delivering hosted IT & equipment purchasing to small businesses. The revenue from this portfolio declined by 31% to $7.4 million.
FY2020 Focus Area:
Complete additional master service agreements, contracts as well as orders to provide connectivity to main bandwidth clients across its on-net footprint.
Utilize unique Superloop national backbone extension of NBN to service providers & enterprises in Australia.
Continue to drive operational competences with specific attention on lessening delivery cycle in order to provide customer benefits & revenue realisation.
Leverage core fibre networks to broaden Superloop's platform entry for campuses as well as enterprises throughout the Asia Pacific region.
1H FY2020 Progress:
During the period, SLC entered into 16 new Master Service Agreements signed with new clients which includes a chief global data centre operator & Aurizon.
Employee benefits costs declined by 14% as compared to the previous corresponding period. Broadband COGS got lowered with the switch to Superloop on-net network.
Book to Bill cycle declined from 104 days to 59 days.
All Superloop Home Broadband clients moved to on-net & most of Guest WiFi customers have moved to the new platform allowing scalable future growth, with new hospitals & campuses coming online.
Outlook:
Superloop is placed satisfactorily for future value creation. Most of its capital expenditure is complete. Incremental capex includes primarily success-based projects & process automation
Proof points in sales pipeline translating into new clients and would help in its future revenue growth on SLC owned core fibre connectivity.
The company's on-net footprint in Australia & Asia Pacific is placed to get benefitted from the growing demand for broadband & connectivity.
Stock Information:
The shares of SLC have responded in a positive way after the release of the half-yearly result. At AEDT 3:26 PM, the shares are trading at $0.800, a growth of 6.67% from its previous close. Around 2,576,047 shares have traded on ASX. The market cap of Superloop Limited on 19 February 2020 stood at $365.87 million and the company has ~ $ 274.4 million outstanding shares.
---
Disclaimer
This website is a service of Kalkine Media Pty. Ltd. A.C.N. 629 651 672. The website has been prepared for informational purposes only and is not intended to be used as a complete source of information on any particular company. Kalkine Media does not in any way endorse or recommend individuals, products or services that may be discussed on this site. Our publications are NOT a solicitation or recommendation to buy, sell or hold. We are neither licensed nor qualified to provide investment advice.