Potash or potassium is an important fertilizer, which helps crop in water retention, enhances the taste and quality, and increases its yield as well. Some of the most popular sources of potassium are:
Potassium Sulfate (Sulfate of Potash) - Gives sulfur, enabling crops to develop enzymes and proteins.
Potassium Chloride (Muriate of Potash) - Least expensive of all, this potassium source results in crops' greater yield and quality.
Potassium-Magnesium Sulfate – Provides magnesium, whose deficiency impacts crop yields.
Potassium Thiosulfate – Excellent potassium source for high yield and sensitive crops.
Potassium Nitrate – Helps in growth of crop yields and enhances the quality of the crop.
With rising population, food demand is also increasing, which in turn is resulting in huge demand for the discovery and exploration of potash and other fertilizers. Several big as well as small companies are looking to cash in on this opportunity.
Let us have a look at the recent updates from Australian potash explorers - DNK, SO4 and APC.
Danakali Limited (ASX: DNK)
Headquartered at Perth, Western Australia, Danakali Limited (ASX: DNK) is an explorer of minerals in Eritera, East Africa. The company, which was founded in 2001, owns a 50% stake in Colluli Mining Share Company (CMSC), which wholly owns the Colluli potash project, which according to DNK has the potential to become one of the key and lowest cost production centres for potassium sulphate, globally. Earlier known as South Boulder Mines Ltd., the company renamed itself to Danakali Limited in June 2015.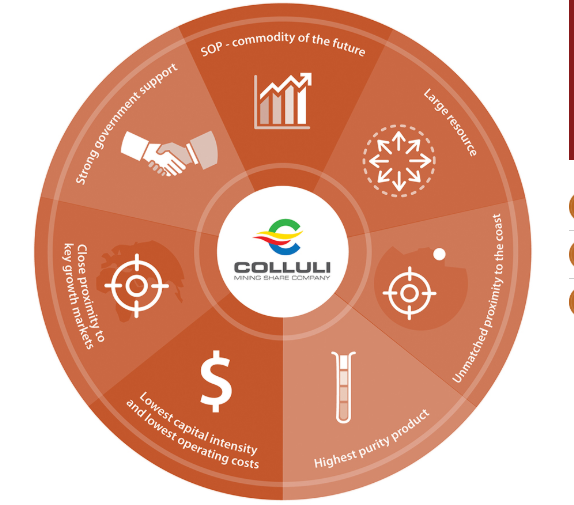 Colluli Highlights (Source: Company's Website)
On 14th June 2019, Danakali Limited notified ASX regarding the issue of 1 million performance rights and 2,251,040 unlisted options to a person discharging managerial responsibilities (PDMR) and persons closely associated with them (PCA). The company issued 1.45 million unlisted options exercisable at A$1.114 with an expiry date of 30th May 2022 and 1 million performance rights to Niels Wage, PDMR (Chief Executive Officer), while Jane Liebenberg, PCA of PDMR Andre Liebenberg (Non-Executive Director), was issued unlisted options of 5,00,000 exercisable at A$0.912 and due to expire on 11th May 2020. Also, unlisted options of 301,040 that will expire on 24th January 2022 and are exercisable at A$1.031 have been issued to PCA of PDMR Seamus Ian Cornelius (Executive Chairman), Seamus Ignatius Quan Cornelius.
Stock Performance:
The company has a market cap of A$198.32 million and 264.42 million outstanding shares. The company's EPS stands at a negative A$0.027. The stock of the company is currently trading at A$0.760 (as on 17 June 2019, 12:24 PM AEST), up by 1.333%.
Salt Lake Potash Limited (ASX: SO4)
Founded in October 2005, Salt Lake Potash Limited (ASX: SO4) aims to develop the world's most sustainable and result-oriented fertiliser project. As a mineral explorer in Australia, the company focuses on potash and uranium projects.
On 14 June 2019, SO4 notified the market that it had issued 25,476,000 fully paid ordinary shares at a consideration of $0.54, effective 14 June 2019. The proceeds from the issue will be used to fund the current construction work of the Project, consisting of the growth of on-lake infrastructure, the compensation of deposits on process plant long-lead items, conclusion of studies, and so forth.
The company, in an ASX announcement on 13th June 2019, reported positive results related to a scoping study, which was carried out to determine the potential viability of a Sulphate of Potash (SOP) development at the Lake Way project in the Northern Goldfields Region in Western Australia. The study was based on the mineral resource estimate reported in March 2019 for the project, comprising 8.2 million tonnes of SOP calculated using drainable porosity and 73 million tonnes of SOP using total porosity. Backed by its sustainable operating life, low capital intensity and bottom quartile operating costs, the commercial-scale development project for SOP would give exceptional economic returns to the company, according to the study results.
Findings from the study have been listed below:
The project will have an estimated annual production of 200,000 tonnes per annum of premium grade Sulphate of Potash (SOP).
It will involve the lowest operating costs of any SOP project, globally, amounting to A$264 per tonne.
Lake Way project will have a post-tax net present value of A$381 million and post-tax internal rate of return (IRR) of 27%.
The project will have a 20-year mine life.
The plant is expected to start operations in the fourth quarter of 2020, with the development capital cost likely to be paid back in 3.2 years from its initial production.
Scoping Study Results (Source: Company's Report)
According to the study findings, the company would need additional funding to achieve the range of outcomes indicated in the scoping study. After obtaining positive results from the study, the company has started a Bankable Feasibility Study (BFS), which it aims to conclude in the third quarter of 2019.
Meanwhile, in another announcement on 6th June 2019, Salt Lake Potash Limited mentioned that strategic investors have made binding commitments for a placement to secure A$20.25 million.
Stock Performance:
The stock of the company is currently trading at A$0.765 (as on 17 June 2019, 12:46 PM AEST), down by 4.375%. Its 52-week high stands at A$0.820, while EPS is negative A$0.066. With a market cap of A$165.62 million, the company has outstanding shares of 207.02 million.
Australian Potash Limited (ASX: APC)
A mineral explorer, Australian Potash Limited (ASX: APC) was founded in 2011 and is headquartered at West Perth, Western Australia. The company is majorly focused on its Lake Wells Potash Project, through which it aims to serve the domestic demand for fertiliser mineral Sulphate of Potash (SOP) from farmers in the country. Some of the other key projects being carried out by the company are the Beretta, Laverton Downs and Mailman Hill projects.
On 11th June 2019, APC provided updates on the production well development program at its Lake Wells Sulphate of Potash (SOP) Project. The company completed the program, which led to the addition of two bores at the project. This addition demonstrates the widest high yielding basal sand intersections to date for the company. The intersections showed flow rates above the Lake Wells Sulphate project requisite of fifteen litres per second. The company cased 19LWPR002, the second bore, to 175.5 metres, making this production well developed deepest to date for the company.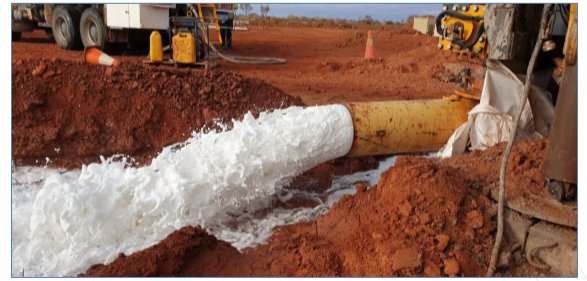 Second Bore Development (Source: Company's Report)
Moreover, Australian Potash Limited completed diamond drilling activities for the recovery of basement rock core for permeability test work. Meanwhile, evaporation pond construction program was concluded in order to start the first fill in a two-week period.
The production well development program is the final step in the reserve calculation for the pending Definitive Feasibility Study announcement (DFS) into the project.
Stock Performance:
The stock of the company is currently trading at A$0.095 (as on 17 June 2019, 12:56 PM AEST), down by 5%. Its 52-week high was noted at A$0.120, and the 52-week low was at A$0.051. The company has a market cap of A$35.76 million and 357.57 million outstanding shares.
Lake Wells Potash Project (Source: Company's Report)
---
Disclaimer
This website is a service of Kalkine Media Pty. Ltd. A.C.N. 629 651 672. The website has been prepared for informational purposes only and is not intended to be used as a complete source of information on any particular company. Kalkine Media does not in any way endorse or recommend individuals, products or services that may be discussed on this site. Our publications are NOT a solicitation or recommendation to buy, sell or hold. We are neither licensed nor qualified to provide investment advice.