What is Accounting Software?
Accounting software is a computer program which helps accountants and bookkeepers to record and report a company's financial transactions. It enables detailed tracking of financial transactions and provides quick reporting and analysis. Prior to the introduction of the accounting software, these tasks were done manually using large transaction journals. Accounting Software has automated the tasks, allowing better financial decision-making and reducing the costs of accounting.
Need for Accounting Software Firms
Entrepreneurs face a common challenge when it comes to managing their business finances, which is difficulty to keep a tab on their finances as they run their company's operations. Accounting software tools alleviate their problems by automating accounting and tax preparation processes, improving audit processing, reducing cycle times and lowering accounting costs. The accounting software solutions enable entrepreneurs to focus on the more important aspects of running their business by handling some of the time-consuming tasks.
Many companies have emerged in Australia over time in the accounting software business, heating up the competition in the Australian accounting software market.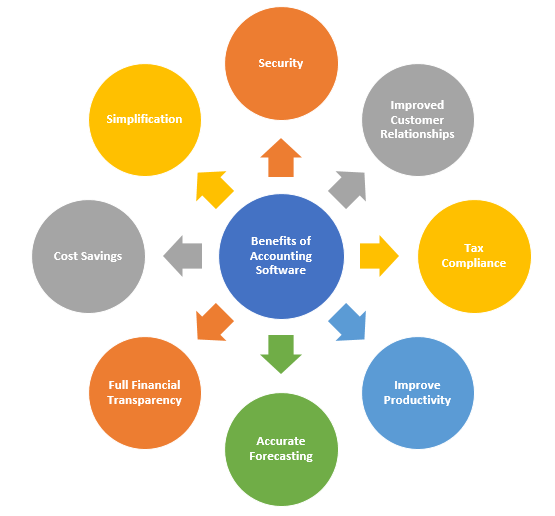 Attributes of a Good Accounting Software
A good accounting software should possess the following features:
Automate labour-intensive accounting tasks.
Reduce the risk of human error in the workplace.
Accelerate tax preparation.
Eliminate critical bottlenecks like inaccurate audit information.
Fully MTD compliant (for users in the UK).
Fully flexible in handling the new legal mandates (for users in the US).
Dominant Accounting Software in Australia
In Australia, the accounting software space is now dominated by the companies offering a cloud-based accounting software with a complete suite of easy-to-use tools; these include:
Xero – offered by Xero Limited (ASX: XRO)
MYOB Essentials
Reckon One – offered by Reckon Limited (ASX: RKN)
QuickBooks Online
Saasu
Sage
Let us take a look at the brief description of these software:
Xero
The dominant player in the Australian small business accounting market, Xero is an accounting software that has all the time-saving tools needed for the growth of a business. Its popular features include easy invoicing, mobile accounting app, inventory management tools, ease in handling multi-currency accounting, 700 plus third-party apps, and much more.
MYOB Essentials
The accounting software player in the Australian market, MYOB provides a range of cloud solutions for small and mid-sized businesses. MYOB enjoys a great global reputation and was once Australia's dominant small business accounting system. MYOB's entry-level cloud accounting system, MYOB Essentials is an easy online accounting software built for small business.
Reckon One
A cloud accounting software service, Reckon One was created by the industry expert Reckon Limited. It is an easy and affordable accounting software that works on a modular pricing system. The software gives the flexibility to choose the features an entrepreneur needs. It contains several affordable modules and a low-cost core system.
QuickBooks Online
QuickBooks is another contender in the accounting software business which is used by a US-based software company, Intuit, for its cloud accounting system. It offers businesses a wide range of software options and features that matches their specific size, industry and financial goals. QuickBooks' key features include payroll capacities, customer invoicing, automatic BAS generation and payment alerts.
Saasu
Saasu is one of the least well-known cloud accounting systems that has handled 125 billion dollars of online accounting transactions by 100,000 users since 2000. The benefits associated with online accounting include ease to work on computers, tablets or smartphones, synchronises data, reports in real-time, improves cash flow, nails expenses, reduces risks and creates efficiency.
Sage
For years, Sage has been in the accounting market for small businesses in Australia. It's a familiar name to Australian accountants, but it lacks broader name recognition. Its payroll and accounting practice management software, HandiSoft and MicrOpay are widely used in Australia. Its first attempt at online accounting software was unsuccessful before the launch of the accounting software, Sage One, which was later renamed to Sage Business Cloud Accounting.
Accounting software firms listed on ASX
MYOB Group
MYOB Group Limited was earlier listed on the ASX but got delisted after issuing a notification of removal of its shareholders from the Official List of ASX Limited on 8th May 2019. The decision was taken after the scheme of arrangement between MYOB and its shareholders, over MYOB's takeover by private equity firm Kohlberg Kravis Roberts, got implemented.
Xero Limited
Xero is a cloud-based accounting software that was founded in 2006 in New Zealand. Xero forms a committed relationship with small business clients with the help of online collaboration. It has assisted over 1.8 million subscribers, changing the way they do business. The company helps small businesses thrive worldwide through better tools, information and connections.
Operating Performance
In its recently released annual report 2019 (for the year ending 31st March 2019), the company mentioned that it has maintained a strong focus on the strategic initiatives and technology capabilities during the period. Around 432,000 subscribers were added in FY19, indicating the company's progress in entering, growing and scaling in new geographies.
The company achieved a record subscriber additions in the UK over the 12-month period, adding 151,000 subscribers. For the first time, Xero's International markets have collectively added 239,000 subscribers that exceeded the additions in the foundation markets of New Zealand and Australia (193,000).
The company enhanced its platform through two targeted acquisitions, including the acquisition of Hubdoc in August 2018 and Instafile in December 2018.
'Hubdoc acquisition' enabled Xero to expand its platform by providing a leading data-capture solution to assist book-keepers, accountants and small businesses streamline the administrative tasks. The acquisition of a tax filing and accounts production solution, Instafile, extended the company's existing connectivity to the UK's Companies House and HMRC.
Financial Performance
The company reported revenue growth of 36 per cent to ~$552 million during the 2019 financial year (FY19). Xero attained its first positive free cash flow result in FY19 of 6.5 million dollars for the year. The following are the key financial highlights of the company:
Operating revenue improved 36 per cent, driven by subscriber growth in all markets.
Total subscriber base grew by 31 per cent to 1.82 million subscribers.
Free cash flow advanced $35.0 million, delivering positive value for the first time of $6.5 million.
Total lifetime value of Xero subscribers rose 36 per cent to 4.4 billion dollars, in comparison to the last year.
EBITDA rose 84 per cent to 91.8 million dollars.
Thirty-two per cent rise in Annualised monthly recurring revenue (AMRR) to $638.2 million.
Operating Loss fell 61 per cent during the period.
Statutory net loss increased by $2.2 million in FY19.
Stock Performance
The company's stock is trading lower on the ASX today at AUD 59.690, down by 1.26 per cent relative to the last closed price (As at 11:20 AM AEST, 13 June 2019). However, in the past, the stock has performed extremely well, generating a YTD return of 44.10 per cent. The stock has delivered an exceptional return of 1249.33 per cent since it commenced trading on the ASX.
Reckon Limited
Headquartered in New South Wales, Australia, Reckon Limited (ASX: RKN) provides software solutions in Business and Practice Management segment. The company's business solutions segment includes 'Reckon One' for small business accounting, 'Reckon Accounts Hosted' for large business accounting, 'Reckon Accounts Desktop' for desktop accounting, 'Reckon Accounts Personal Range' for simplification of personal finances, 'Point of Sale' and 'Reckon loans'. On the other hand, 'Reckon SmartVault' and 'Reckon Virtual Cabinet' come under the document management segment.
Operational Update
The company announced the sale of its Accountant Practice Management Group to MYOB Limited at the end of 2017. However, after six months, it became apparent that the company is unlikely to receive regulatory approval from the New Zealand Commerce Commission and the Australian Consumer and Competition Commission. So, MYOB announced its withdrawal from the sale agreement on 31 May 2018.
Financial Performance
The company released its 2018 Annual Report on 28th March 2019; the revenue fell 16 per cent in 2018 from $90.3 million in 2017 to $75.4 million. The migration of clients to the cloud-based products resulting in a fall in revenue from desktop products adversely affected the overall revenue of its Business Group. However, the revenue from cloud-based products in the Business Group was up by 8 per cent on the prior year.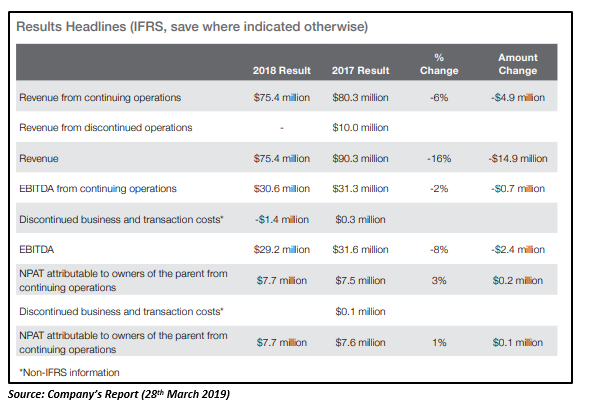 Stock Performance
The company's stock is trading at last at AUD 0.560, down 3.45% (As at 11:20 AM AEST, 13 June 2019). The stock has delivered a negative return of 13.43 per cent on a YTD basis. Besides, it has generated negative returns of 15.94 per cent, 14.71 per cent and 6.45 per cent in the previous six months, three months and one month, respectively.
---
Disclaimer
This website is a service of Kalkine Media Pty. Ltd. A.C.N. 629 651 672. The website has been prepared for informational purposes only and is not intended to be used as a complete source of information on any particular company. Kalkine Media does not in any way endorse or recommend individuals, products or services that may be discussed on this site. Our publications are NOT a solicitation or recommendation to buy, sell or hold. We are neither licensed nor qualified to provide investment advice.