The Australian benchmark index on ASX continued to settle in the green zone for the third consecutive day of trading and settled at 1.81% higher on 19 May 2020, above its previous close. On 20 May 2020, S&P/ASX 200 was trading at 5552.7, down by 0.12% (at AEST 1:19 PM).
The S&P/ASX 200 RESOURCES index was amongst the best performers on 19 May with a 3.7% increase on its previous close. However, on 20 May 202, the index was trading at 4,329.2, down by 0.49% (at AEST 1:21 PM).
Some of the resources sector players gained significantly through the day's trade on 19 May and settled in the green zone. Moreover, significant developments were also announced by many resources sector players on the same day.
Let us look at some of the resources sector players and recent announcements made by them.
NIC Looks Forward to Increasing Interest in Nickel Mines
A globally emerging company as a significant, low-cost producer of nickel pig iron, Nickel Mines Limited (ASX:NIC) holds 60% economic interests in Ranger Nickel projects and the Hengjaya Nickel and holds an 80% economic interest in the Hengjaya Mineralindo Nickel Mine.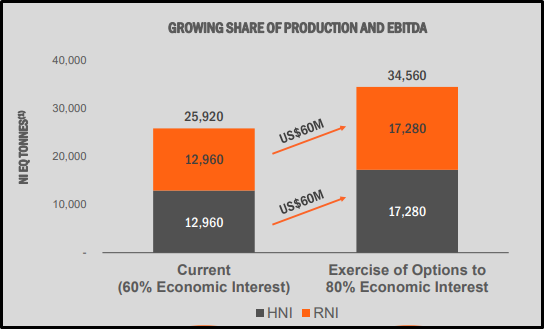 Source: Company's Report
On 19 May 2020, the Company announced its intentions to raise its present ownership of 60% in the in both the Hengjaya Nickel RKEF Project and the Ranger Nickel RKEF Project to 80%. This decision was made by NIC subsequent to consultation with its collaboration partner, Shanghai Decent Investment Group Co., Ltd and its associates (Shanghai Decent), which currently holds the other 40% interests in both HNI and RNI.
On the basis of an annualised monthly production level of 1,800 tonnes Ni Eq from each of HNI and RNI on a 100% basis, the attributable share of nickel production of NIC is expected to increase from ~26,000 tonnes per annum to ~35,000 tonnes per annum, following the completion of the transaction.
NIC Intends to Raise $231 million Through Entitlement Offer
Additionally, NIC also shared its intentions to undertaking a $231 million fully underwritten, accelerated pro-rata non-renounceable entitlement offer in order to finance the consideration payable to Shanghai Decent in connection with the Transactions.
The cash consideration of approximately US$150 million is payable to Shanghai Decent by Nickel Mines in connection with the Transactions and shall comprise of:
US$120 million exercise price for the options, and
Around US$30 million representing compensation for Shanghai Decent's estimated share of undistributed retained earnings of the 20% interests in HNI and RNI being acquired by Nickel Mines
The Transactions are subject to the approval of Nickel Mines' shareholders under ASX Listing Rules, and a shareholder vote has been scheduled for the Annual General Meeting of NIC on 29 May 2020 to approve the Transactions.
The Company is optimistic about receiving the approval from shareholders for the Transactions and looks forward to initiating the process to exercise the HNI and RNI acquisition options, targeting a 30 June 2020 completion.
Moreover, the entitlement offer comprises of an accelerated institutional entitlement offer and a retail entitlement offer, which shall be conducted at $0.50 per New Share.
The Retail Entitlement Offer is scheduled to close on 9 June 2020, and the settlement of New Shares issued under Retail Entitlement Offer is expected to take place on 15 June 2020.
NIC stock did not trade on ASX, on 19 May 2020, due to the trading halt being requested by the Company, pending a release of the announcement on ASX regarding a 100% (underwritten pro rata accelerated non-renounceable entitlement offer) of 100% paid shares in NIC. NIC last traded on 18 May 2020 at a price of $0.565 The stock had a market capitalisation of $940.99 million.
EMP Executes Binding Agreement with APA
The Stock of Emperor Energy Limited (ASX:EMP), a diversified energy company with upstream and downstream assets in Australia, skyrocketed 94.444% intraday on 19 May 2020, following an announcement regarding the execution of a Binding Agreement with APA Group (ASX:APA). On 20 May 2020, EMP was trading at a price of $0.033, down by 5.714% (at AEST 1:12 PM), with a market capitalisation of $2.86 million.
The agreement was inked with a view to progressing with the Pre-Front End Engineering Design (Pre-FEED) for the provision of midstream infrastructure and services related to gas that is expected to be produced from the Judith Gas Field in the VIC/P47 Permit (100% Emperor Energy owned) in the offshore Gippsland Basin, Victoria.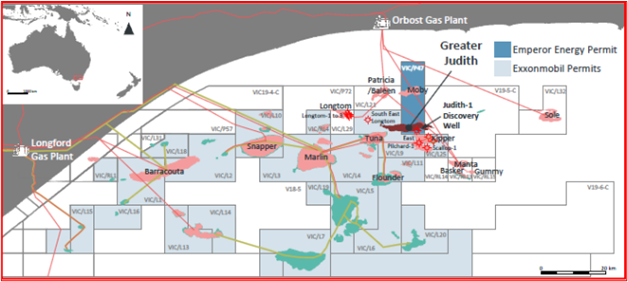 Location of VIC/P47 offshore Gippsland Basin showing regional permits along with oil and gas fields (Source: Company's Report)
The Pre-FEED study is scheduled to begin in July 2020 and shall last for four months until completion, where APA shall carry out the work through a composed mix of both in the house as well as external expertise.
Moreover, the Pre-FEED is based on the design of 80mmscf/d (90TJ/day) of sales gas across a 25-year project life with gas processing to meet the AS4564 gas sales specification.
The Pre-FEED study shall include:
Pre-FEED design for a Gas Processing Plant to operate adjacent to and in parallel with the existing Orbost Gas Processing Plant owned by APA
Pre-FEED concept design for a Subsea Pipeline approximately 40km in length from the Judith gas field to a shoreline crossing
Pre-FEED design for an export pipeline to the Eastern Gas Pipeline located to the north of the Orbost Gas Plant
Enhancement of suggestive project cost projections and scheduling of project
This Pre-FEED Agreement is the first Binding Agreement progressing from the Memorandum of Understanding (MOU) that was reached upon by Emperor Energy and APA in October 2019 in connection with the Judith Gas Project.
In July 2019, Emperor Energy had notified that it had completed an Independent Resource Statement for the Judith Gas Field within the VIC/P47 Exploration Permit located in the offshore Gippsland Basin, Victoria highlighting:
2C Contingent Gas Resource of 150 Bcf
P50 Unrisked Prospective Gas Resource of 1.226 Tcf
WGX announced the Placement of 20 million shares
Australian gold producer, WestGold Resources Ltd (ASX:WGX) owns and operates three operating gold projects, namely,
The Murchison Gold Operations
Fortnum Gold Project
Cue Gold Operations
On 20 May 2020, WGX notified the market that Australian Vanadium Limited (ASX:AVL) inked a letter of agreement with the Company for co-operation and support for accessing water for the Project of AVL located in south of Meekathaara, WA. The Letter of Agreement under discussion would develop into a formal agreement in the period of three years.
Further, WGX notified on the placement of 20 million shares at a value of $2.25/share to raise a gross amount standing at $45 million. The raise received a solid aid by the native and overseas institutions, foundation laid by 2 supreme quality native Australian institutions. Further, the raised capital would help the Company to speed up the progress in the entity's CMGP operation works and its transition to cash flow produce, providing it with enough cash to keep on unlocking the value if its operations and progress with the area.
The Company had recently announced that its Higginsville Gold Operations Pastefill Plant (HPP) was acquired by GALENA MINING LTD (ASX:G1A) for consideration of 11.6 million Galena shares.
Further, it is expected that Galena shall contribute the HPP to Abra Mining Pty Limited, and the same shall be further refurbished and reinstalled at the Project to offer the paste backfill cement required for Abra's underground mining operation.
Abra Mining Pty Limited is a joint venture company for the Abra Base Metals Project and shall have a cheaper alternative, as well as a technically robust solution for its paste fill requirements.
The WGX stock remained unchanged during the day's trade on 19 May 2020 at a price of $2.350 due to the trading halt being requested by the Company, pending it releasing an announcement on ASX.
Post the announcements made by the Company, on 20 May 2020, WGX started trading on ASX at a price of $2.29, down by 2.553% (at AEST 1:11 PM).
(NOTE: Currency is reported in Australian Dollar unless stated otherwise)