Millennium Services Group Ltd
Solid dividend yield: Millennium Services Group Ltd.'s (ASX: MIL) stock surged over 33% on September 25, 2018 on the group's positive vision. MIL stock offers an outstanding dividend yield of 9.6%. The group witnessed consolidation and resolution of legacy issues during the year. They finalized New management structure and associated investments. Their Contract book shows a better security services and commercial cleaning with over $116 million of new contract wins and renewals. The group estimates a stable FY19 earnings base to support disciplined growth. The firm aims a revenue in the range of $290 million to $310 million during FY19, while EBITDA is expected to be in the range $15.5 million to $17.5 million.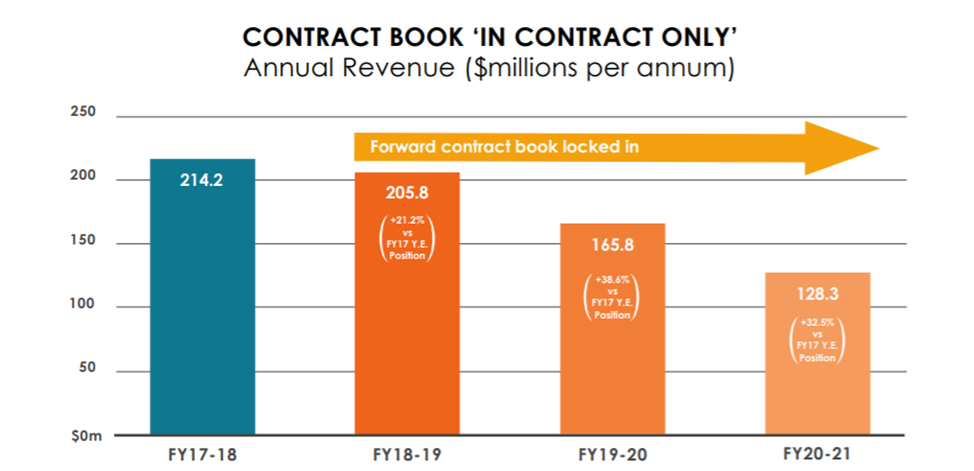 Positive contract book (Source: Company reports)
Imagion Biosystems Ltd
Boosting capital position: Imagion Biosystems Ltd.'s (ASX: IBX) stock enhanced over 7.8% on 25 September, 2018. The group has announced for a pro-rata, non-renounceable entitlement offer and aims to raise about $ 4.3 million of capital, before costs. The firm recently optimized its nanoparticle formulation, and intends to use the funds to support the first-in-human study, which is estimated to be conducted at the MD Anderson Cancer Centre in early 2019 after small scale production transfer and safety testing. The motive of the firm is to enhance healthcare through the earlier detection of cancer, and it recently witnessed a major milestone of optimizing the nanoparticle formulation for its first intended clinical product, a test for the detection of HER2 breast cancer cells in the lymph nodes. [optin-monster-shortcode id="wxhmli4jjedneglg1trq"]
 Avita Medical LtdÂ
FDA approval driving the stock sentiment: Avita Medical Ltd.'s (ASX: AVH) stock surged over 35% on 25 September, 2018. The group has updated the market about an approval from FDA with regards to marketing of RECELL® Autologous Cell Harvesting Device, also known as the RECELL® System. This has been developed for treating severe thermal burns in adult patients (18 years and older). The firm is mainly involved in researching a further therapeutic application for their proprietary technology. RECELL® System has also been used for many skin defects across the globe.
 Skin Elements Ltd
Expanding market opportunity: Skin Elements Ltd.'s (ASX: SKN) stock enhanced over 11.1% on 25th September, 2018. The firm is developing more all natural skincare products spending over $3.6 million on new product development leading to the $10 million of their earlier investments in building the Company's base skincare technology. The firm's sales revenue and research grant income reached $1.28 million which is a rise of 170% against 2017. The firm intends to market thirty five new products through online, wholesale and distributor networks, which has an estimated turnover in excess of US$110 billion per annum.
Orinoco Gold Ltd
Issued further Management Performance Rights and Options: Orinoco Gold Ltd.'s (ASX: OGX) stock rose over 3.5% on September 25, 2018. The group issued 9,000,000 Performance Rights to members of their management and employees pursuant to the terms of the Company's Performance Rights Plan (PRP), as approved by Shareholders on 30 May 2016. The firm is Brazilian-focused gold mining company and believes in expanding its operations.
Intra Energy Corporation Ltd
Positive performance in August: Intra Energy Corporation Ltd.'s (ASX: IEC) stock surged over 15.4% on September 25, 2018. The group's Tancoal Energy Limited interest (wherein the group holds 70% while National Development Corporation of Tanzania holds 30%) delivered better coal sales for August, as compared to July 2018. The Sales reached 66,179 tonnes against 44,497 in August 2018. The Production reached 65,684 tonnes  in August which is higher than August 2017 production of 45,469 tonnes.
Dropsuite Ltd
Partnering with ALSO: Dropsuite Ltd.'s (ASX: DSE) stock rose over 8% on September 25, 2018 on reports of their partnership with ALSO resellers and MSPs. This gives the opportunity for the group to offer its most active Office 365 resellers with Office 365/Dropsuite Backup Bundles which could be easily activated for end-customers. The partnership with ALSO is also another major growth driver for the group's efforts to diversify the partner base and form new channels to boost their Paid User numbers.
The Income available from dividends remains attractive for many investors.
We take a look at the best yields on the market and assess what they say about a company's prospect.
One Thing is certain, though, Australia interest rates are still low, making income difficult to come by and keeping the focus for many investors on high yielding stocks. Kalkine's team of analysts bought you handpicked report for "Top 25 Dividend Stocks For 2018."
ASX-relevant Special Reports are published year-round to provide a detailed analysis into an investing opportunity or a potential risk to your portfolio.
Click here to get your free report.
---
Disclaimer
The advice given by Kalkine Pty Ltd and provided on this website is general information only and it does not take into account your investment objectives, financial situation or needs. You should therefore consider whether the advice is appropriate to your investment objectives, financial situation and needs before acting upon it. You should seek advice from a financial adviser, stockbroker or other professional (including taxation and legal advice) as necessary before acting on any advice. Not all investments are appropriate for all people. Kalkinemedia.com and associated websites are published by Kalkine Pty Ltd ABN 34 154 808 312 (Australian Financial Services License Number 425376). website), employees and/or associates of Kalkine Pty Ltd do not hold positions in any of the stocks covered on the website. These stocks can change any time and readers of the reports should not consider these stocks as advice or recommendations.