Along with income through an increase in the market price of the stock or capital gains, dividends are also a source of income for the investors. Capital gains are likely to vanish away with a drop in the price of the stock if not sold at the right time; however, dividends provide a stable and consistent income stream to the investors.
In the present turbulent times, companies have been cutting dividend payments or deferred the same with a view to maintaining cash reserve to navigate through the current uncertain economic environment. Investors who have been relying on the consistent dividend distribution from the ASX listed stocks are undergoing tough times and maybe the biggest losers from the coronavirus pandemic and shrinking high-yield dividend-paying stocks.
An increasing number of companies are slashing their dividend distribution due to the economic impact of the covid-19. Investment portfolios that were once developed to return dividends are undergoing a trend of diminishing returns as dividend-paying companies are cancelling and deferring dividends.
Investors looking to invest in dividend stocks must look for several aspects of the stock before investing in any stock so that there are better chances of making money out of their investment. These aspects can be the dividend payout ratio, annual dividend yield, as well as the fundamentals of the business.
Investors who are solely dependent on dividend incomes are facing serious repercussions due to Covid-19. Banking stocks have been favourite dividend stocks of the investors; however, they have also cut and deferred their dividend distribution for 2020.
Due to Covid-19, company dividends have come under pressure as the management team as well as Board members engage themselves in responding to the disruptions like liquidity/balance sheet stress, downgraded earnings, as well as declined payout ratios and conservatism.
However, investors can still find stocks with decent dividends in current uncertain times despite COVID-19 outcomes on the businesses. We bring you several ASX-listed stocks from consumer discretionary/retail space with decent dividends.
BRG Increases Interim Dividend by 10.8%
Breville Group Ltd. (ASX:BRG), formerly known as Housewares International Limited, with its group of global subsidiaries is a leading provider of small electrical appliances in the consumer products industry and has grown to become an iconic Australian brand over the past 80 years.
Breville had announced an increase of 10.8% in its interim dividend to 20.5 cents per share (60% franked, which was 18.5 cents, 60% franked during the first half of the year 2019. The dividend was payable on 18 March 2020, and BRG has the following history of paying dividends.
Source: ASX
The stock registered a double-digit revenue growth throughout all regions, and categories in the Global Product segment and an increase of 14.1% in its NPAT for the half-year ended 31 December 2019. The stock has a PE ratio of 33.160x and an annual dividend yield of 2.09%.
BRG stock was up by 6.684% on 14 May 2020, following an announcement of completing $94 million Institutional Placement. The stock last traded at $19.95, with a market capitalisation of $2.44 billion.
PMV Declared Interim Dividend of 34 cents
Established with an aim to maximise growth in capital returns to shareholders, Premier Investment Limited (ASX:PMV) owns and operates a range of retail, consumer products and wholesale businesses and offers brands such as Smiggle, Just Jeans, Peter Alexander, Jay Jays, Portmans, Jacquie and Dotti under The Just Group's brands.
During 1HFY20, the Company generated net cash of $133.0 million (operating cash flow less investing activities) through which it has been able to pay a record final FY19 fully franked dividend of $58.6 million to shareholders.
At the same time, PMV had also announced an increased record interim ordinary dividend of 34 cents per share fully franked, which was 33 cps during 1HFY19. The dividend has a record date of 31 July 2020 and is scheduled to be paid on 30 September 2020.
A snippet of PMV's recent history of dividend is given below:
Source: ASX
The business of PMV stands on a strong balance sheet with cash on hand of $199.8 million at the end of 1HFY20. The stock has an annual dividend yield of 4.58% and a PE ratio of 20.870x.
PMV stock closed at $15.150, down by 2.195% from its last close, with a market capitalisation of $ 2.45 billion on 14 May 2020.
CKF Declared Interim Dividend of 9.5 cents
An operator of foodservice retail outlets, Collins Foods Limited (ASX:CKF) had declared a fully franked interim dividend of 9.5 cents per ordinary share, up 5.6% against 9.0 cps during 1HFY19. The growing dividend is an indication of healthy operating cash flows of the business.
Below is the recent dividend history of the Company.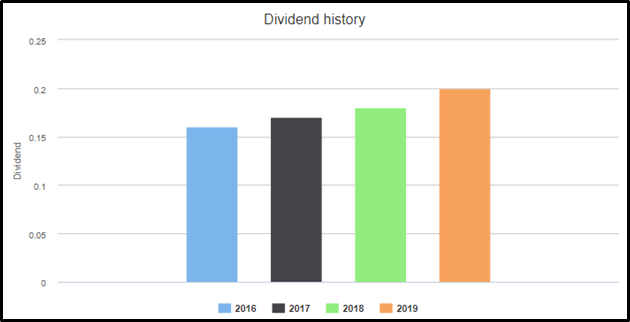 Source: ASX
With an annual dividend yield of 2.73% and a PE multiple of 22.470x, the stock settled at a price of $7.250, falling by 0.956 from its previous close, as on 14 May 2020, with a market capitalisation of $116.58 million.
JBH Declared Interim Dividend of 99 cents
Australia's leading retailer of home consumer products, JB HI-FI Limited (ASX:JBH) announced a fully franked interim dividend of 99 cents per share, up by 8.8% as compared to pcp, indicating 65% of Pre AASB 16 NPAT.
JBH has a decent dividend history and has been reflected below: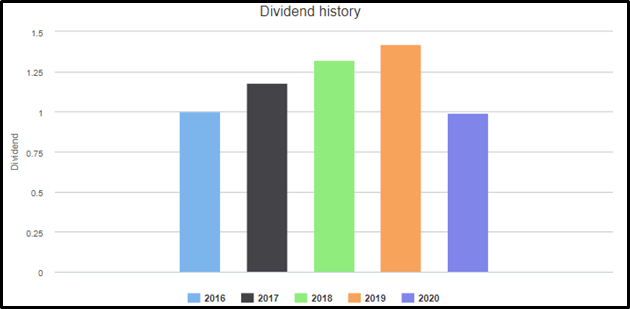 Source: ASX
JBH has an annual dividend yield of 4.28% and a PE multiple of 15.460x. For 1HFY20, the Company reported an increase of 3.9% in its sales to $4.0 billion and an increase of 8.9% on Net profit after tax (NPAT) to $174.4 million.
JBH stock settled at a price of $34.20 on 14 May 2020, falling by 2.369% compared to its last close, with a market capitalisation of $4.02 billion.
KGN Declared Interim Dividend of 7.5 cents
An online retail company operating in the consumer discretionary space, Kogan.Com Ltd. (ASX:KGN) declared a fully franked interim dividend of 7.5 cents per Share, and prior to the 1HFY20 interim Dividend, Kogan.com had paid more than $32.0 million in fully franked Dividends over the past three years.
Source: ASX
The KGN stock has an annual dividend yield of 1.81% and a PE multiple of 43.610x. The Company noted highest ever half of Gross Sales and Gross Profit of $322.9 million and $49.9 million, respectively during 1H FY20.
More recently, the active customers surged to 1,948,000 as at 30 April 2020 with a growth of 139,000 active customers in April 2020. Moreover, gross sales grew by more than 100%, and gross profit grew by more than 150% during the month compared to April 2019.
The KGN stock settled at a price of $ 8.560 on 14 May 2020, declining by 1.27% from its previous close, with a market capitalisation of $ 820.95 million.
SUL and HVN Cancel Dividend Distribution
Parallelly, retail businesses with decent dividend history, like Super Retail Group Limited (ASX:SUL) and Harvey Norman Holdings Limited (ASX:HVN) had cancelled their current distributions citing the uncertainty concerning the length of the COVID-19 pandemic and its possible impact on the business.
SUL had announced FY20 interim dividend of 21.5 cents per share on 20 February 2020, and the cancellation of the same was expected to result in $43 million of cash being retained in the business.
SUL last traded on 14 May 2020, at $6.65, falling by 1.773% from its last close.
HVN also cancelled FY20 interim dividend of 12 cents per share announced on 28 February 2020, which shall result in $149.5 million of cash being retained in the business
On 14 May 2020, HVN last traded at $2.79, declining by 0.712% from its last close.
Both SUL, as well as HVN, are of the view that preserving cash is the most prudent course of action in the current highly uncertain environment to maintain liquidity and protect shareholder value.