Australia's health care industry is one of the fastest growing industries in the country that is making substantial progress driven by new technological advancements. The country's government is injecting billions of dollars into modernising and developing health care nation-wide. The exciting developments in the industry have long been grabbing investors' attention who are eying multiple ASX listed health care stocks with attractive returns.
Health care stocks are an alluring form of investments due to their ability to offer lucrative returns to investors in a very short span of time. With a number of ASX listed health care stocks trading on the platform, choosing the right stock is a complex task. Considering this, we have summarised a list of six ideas below that can help an investor make a correct choice: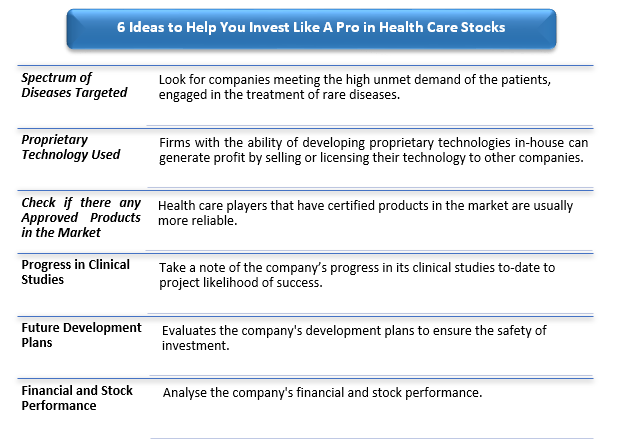 Let us move on to discuss some recent updates on ASX listed health care stocks that have delivered significant returns in the last one year:
Opthea's OPT-302 First-in-Human Clinical Data Published in a Leading Ophthalmic Journal
Biologics drug developer, Opthea Limited (ASX: OPT) focuses on ophthalmic disease therapies, controlling exclusive global rights to a considerable intellectual property portfolio around VEGF-D, VEGF-C and VEGFR-3. The company's product development programs are targeted at the advancement of OPT-302 for treating retinal diseases. OPT-302 is a novel therapeutic which is currently in clinical development phase. In Phase 2b clinical trial study, OPT-302 combination therapy has been found to deliver superior vision gains to the patients relative to standard therapy alone.
The company has recently notified about the publication of positive data from OPT-302 first-in-human clinical trial in a leading ophthalmic journal, Ophthalmology Retina, of the AAO (American Academy of Ophthalmology). The data was associated with patients suffering from neovascular age-related macular degeneration (wet AMD).
Performance in FY19
Opthea recorded a very positive financial year during the period ended 30th June 2019, reporting significant outcomes from OPT-302 Phase 2b clinical trial in wet AMD patients. The company mentioned that the results of the Phase 2b trial of OPT-302 mark a significant step forward for the treatment of patients with retinal vascular diseases, such as wet AMD and diabetic macular edema (DME).
The company's cash and cash equivalents at the end of the financial year were at $21.5 million.
Opthea is planning to rapidly advance OPT-302 into pivotal, registrational Phase 3 development on the back of strong clinical data.
OPT is currently trading at $3.05 (as at 3:58 PM AEST on 8th November 2019), with a fall of 1.6 per cent relative to the last closed price.
PolyNovo Makes Speedy Progress with NovoSorb® Polymer
Medical device company based in Australia, PolyNovo Limited (ASX: PNV) manufactures, designs and develops dermal regeneration solutions utilising its exclusive polymer technology, NovoSorb®.
The US FDA has recently validated in a pre-submission meeting that it sees the potential of NovoSorb BTM for the burn population. The company's clinical team is now engaged in revising the protocol design to include FDA input and intends to submit the design to the FDA in December 2019.
The company has recently strengthened its board by appointing Dr Robyn Elliott as the Non-Executive Director, who has a proven track record in clinical trials, audits, product development, quality management, regulatory affairs and operational strategy. In September 2019, the company also hired Mr Ed Graubart as Senior Vice President of PolyNovo North America LLC.
Financial Performance in FY19
PolyNovo reported a revenue of $13.683 million for the year, that was 128 per cent higher than the revenue recorded in FY18 of $5.989 million. The sales of goods (NovoSorb BTM) revenue was 435 per cent up from $1.747 million in FY18 to $9.348 million in FY19.
The company also witnessed a decrease of $2.784 million in net loss after tax from the prior year's $5.974 million to $3.190 million in FY19. The company had $13.9 million as cash on hand as at 30th June 2019.
It expects to breakeven in FY20, continuing reinvestment of cash flows. In the year ahead, the company anticipates accelerated revenues from its direct marketing in New Zealand, the US, Australia, the UK and Ireland.
As at 3:58 PM AEST on 8th November 2019, PNV is trading at $2.165, with a fall of 5.9 per cent relative to the last closed price.
Paradigm Reported Remarkable Performance in September 2019 Quarter
Paradigm Biopharmaceuticals Ltd (ASX: PAR) is a late stage ASX-listed biotechnology company focused on repurposing Pentosan Polysulfate Sodium (PPS), an FDA-approved drug that has a long track record of safely treating inflammation over sixty years.
The company's primary objective is to repurpose PPS (under the name ZILOSUL®) to treat Osteoarthritis (OA) disease that is currently being faced by over 31 million people in the US alone.
The company has recently released its quarterly report for the three months ended 30th September 2019, highlighting the following developments:
ZILOSUL® received FDA approval under the Expanded Access Program (EAP) to treat ten ex-NFL players patients suffering from Osteoarthritis. First US patient is expected to be treated by next month under the EAP.
Institution Review Board approved the treatment of the ten ex-NFL players.
Drug for treating ten ex-NFL players was shipped to the USA.
Additional biomarker data was reported from the Phase 2b clinical trial that showed iPPS (injectable pentosan polysulfate sodium) inhibits further cartilage loss.
Additional patents were filed.
Provisional Approval of iPPS to treat OA in Australia was submitted to the TGA. If successful, Paradigm could be generating revenue in Australia as early as Q3 2020.
Pain reducing effects of iPPS published in a peer-reviewed scientific journal.
Paradigm's cash balance was $75.39 million as at 30th September 2019. The company expects to receive an R&D Tax Incentive rebate of $2.97 million in the near future. The company is also likely to submit its pre-IND dossier to the US FDA in Q4 of CY 2019.
PAR is currently trading at $2.99 (As at 3:58 PM AEST on 8th November 2019), with a rise of 2 per cent relative to the last closed price.
Neuren Commenced Phase 3 Trial of Trofinetide in Rett Syndrome
Australian headquartered Neuren Pharmaceuticals Limited (ASX: NEU) develops novel therapies for debilitating neurodevelopmental disorders portrayed through impaired signalling and connections between brain cells. Trofinetide or NNZ-2566 is the company's lead product that has been licensed to ACADIA Pharmaceuticals for North America.
The company has recently informed that ACADIA has initiated the Phase 3 trial of trofinetide in Rett syndrome in the US. The US FDA has granted Fast Track designation along with the Orphan Drug designation for the Rett syndrome program.
The trial has been commenced to assess the safety and efficacy of f trofinetide for young women and girls with Rett syndrome. The company notified that the trial cost and other associated development costs are fully funded by ACADIA and the company has full and free access to all data for use to commercialise outside North America.
As at 3:58 PM AEST on 8th November 2019, NEU is trading at $2.56, with a fall of 0.39 per cent relative to the last closed price.
Must Read: [
Is Investing In ASX Healthcare Stocks A Good Idea?
]
---
Disclaimer
This website is a service of Kalkine Media Pty. Ltd. A.C.N. 629 651 672. The website has been prepared for informational purposes only and is not intended to be used as a complete source of information on any particular company. Kalkine Media does not in any way endorse or recommend individuals, products or services that may be discussed on this site. Our publications are NOT a solicitation or recommendation to buy, sell or hold. We are neither licensed nor qualified to provide investment advice.