The Fifth-generation or 5G is the latest technology in the telecommunication space, which is making in-roads to the industry gradually. Only a handful of nations have 5G services in the world; these 5G services include broadband and mobile services. 5G offers a better customer experience backed by the attractive speed of the network, which enables customers to compute remotely, virtual reality, smooth videos in higher resolutions, etc.
The 5G network transmits data on higher frequencies than the 4G network. According to media, 5G in Australia would operate at 3.6GHz while 4G used to operate at 700MHz to 2.6GHz. The Government in Australia closely monitors the activity in the space whether it would be the merger of TPG Telecom or the spectrum auction in late 2018. During the spectrum auction, the Australian Communications and Media Authority (ACMA) exerted restrictions on telecommunication companies from purchasing more than 60MHz in the metro regions and 80MHz in regional areas.
According to the media coverage, Telstra launched two 5G services with HTC Hub and Samsung Galaxy S10 5G. It was reported that HTC Hub is a wireless hotspot which could bring the Telstra network to the home. The 5G services in Australia are available in some cities which include Launceston, Gold Coast, Melbourne, Canberra, Adelaide, Perth, Brisbane, Hobart, Sydney and Toowoomba.
10 Year Performance of S&P/ASX 200 Communication Services (Sector) (Source: S&P Website)
S&P/ASX 200 Communication Services (Sector) is an index which includes the companies in S&P/ASX 200 that are classified under the communication services sector. After looking at the Communications Sector of the ASX/S&P 200 Index, it appears the sector had its best period during 2015, and the index is yet to recover that same level. It should be noted that the index has performed quite well this calendar year with returns at +29.68%.
Telstra Corporation Limited (ASX: TLS)
Telecommunications company Telstra Corporation Limited (ASX: TLS) provides full communications services and operates in all telecommunications market.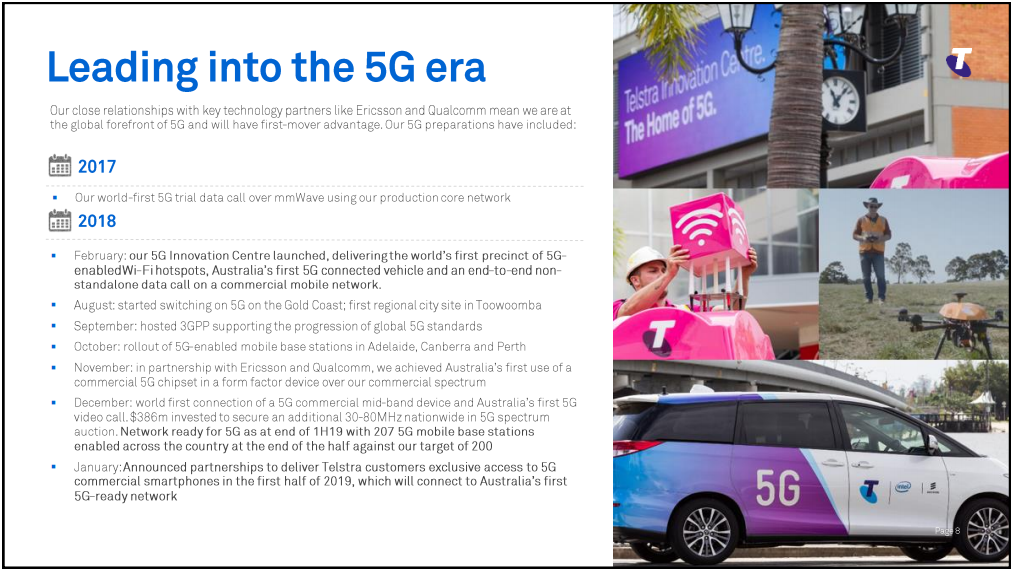 5G Timeline (Company's Presentation, February 2019)
On 29 May 2019, Telstra announced that consistent with T22 strategy, and as earlier indicated, it expects to write down the value of legacy IT assets by nearly $500 million through a non-cash impairment. The announcement read that the restructuring cost for FY19 would be increased by ~$200 million, which is now expected to range between ~$600 million to ~$800 million for FY19, as a result of initiating consultation on proposed job reductions.
On 9 April 2019, Telstra announced the appointment of Vicki Brady as Chief Financial Officer and Head of Strategy of the company. Vicki Brady would be assuming the role (s) by 1 July 2019. Also, Mr Michael Ackland would be assuming the responsibility to lead the Consumer & Small Business function.
On 13 March 2019, the company announced its Debt Issuance Program wherein Telstra might offer time to time bonds, notes and other debt instruments. Subsequently, on 19 March 2019, it had been announced that the company had priced the EUR 600 million bond issue with a coupon rate of 1.375%. The new bonds would get matured on 26 March 2029. It was also reported that the capital would be utilised for general corporate business.
On 14 February 2019, Telstra Corporation reported the half-year results ended 31 December 2018. In accordance with the release, the revenues were at $12.58 billion in 1H19, down by 1.7% from $12.80 billion in 1H18. Also, EBITDA was down by 16.4% to $4.25 billion in 1H19 compared with 5.09 billion in 1H18, and NPAT was down by 27.4% to $1.22 billion in 1H19 against $1.69 billion in 1H18. It had been reported that the results were affected by the rollout of the nbnTM network; however, the company added 239k retail post-paid users, and 125k users were added in Telstra Wholesale as prepaid and post-paid customers. The board of the company had announced a fully-franked dividend of 8 cents per share, which include ordinary & special dividend paid on 29 March 2019.
On 26 June 2019, TLS' stock was trading flat at A$3.860 (at AEST 11:55 AM). In the past one year, the return of the stock is +48.13%, and its year-to-date return is +40.68%. The performance of the stock in the past three months is +16.97% while it is +9.35% in the past one month.
TPG Telecom Limited (ASX: TPM)
TPG Telecom Limited (ASX: TPM) provides communications services to residential customers, wholesale customers, small & medium enterprises, large corporates, etc. It offers SIM-only mobile plans, telephony services, fibre optic & ethernet broadband access, ADSL2+ and NBN.
Currently, TPG Telecom is amid the proposed merger with Vodafone Hutchison Australia Pty. Ltd. (VHA), which has been scrutinised by the competition watchdog Australian Competition and Consumer Commission (ACCC). According to the most recent release, it was reported that Vodafone Hutchison Australia Pty. Ltd. filed a statement of claim for the approval of the proposed merger with TPG. Also, the statement of claim filed with the Federal Court of Australia enumerates VHA as an applicant while ACCC and TPG Telecom as respondents.
On 19 March 2019, the company released results for the half-year ended 31 January 2019. As per the releases, the revenues of the company were down by 1.5% to $1235.8 million in 1H19 against $1254.6 million in 1H18. Also, due to an impairment expense of $227.4 million, the EBITDA was at $192.6 million in 1H19 compared with $413 million in 1H18. It had been reported that the gross profits in the consumer segment were impacted adversely by the NBN rollout, which had resulted in the gross margin erosion along with loss of phone voice revenue; meanwhile, decrease in the employment and overhead costs helped to partially offset the effects of NBN rollout. The corporate results reflected the contribution from the contract to provide fibre service to VHA along with other on-net fibre sales.
Segment Results & Underlying EBITDA (Source: Company's Half Year Release, March 2019)
The telecommunications company also reported that the business in Singapore continues to progress, and its network had achieved nationwide outdoor coverage performance result of above 99%. In December 2018, TPG launched a service trial for the customers, allowing them to use the network for free for twelve months; meanwhile, the company would enhance the performance, network coverage and features. The board of the TPG Telecom had announced an interim dividend of 2 cents (fully franked), which had been paid on 21 May 2019.
On 26 June 2019, TPM's stock was trading at A$6.55, down by 0.304% (at AEST 12:01 PM). The performance of the stock in the past year is +26.35%, and its year-to-date return is +4.45%. Despite a dip of -1.94% in the past three months, TPM has returned +1.08% in the past one month.
5G Networks Limited (ASX: 5GN)
5G Networks Limited (ASX: 5GN) provides data networking, cloud & hosting services, managed services, virtual private network, business phone systems, integrated fibre and wireless network, among others.
On 23 May 2019, it was reported that the debt facility of the company with Commonwealth Bank of Australia had been increased to $7.2 million. In addition to this, 5GN also completed a placement through the issue of 10,000,000 new fully paid ordinary shares to investors at $0.80 per share and raised $8 million before costs on 8 April 2019.
As per the releases, the company expects to utilise the fresh capital in executing the strategy and expansion in the current market. Also, 5G Networks would continue to explore accretive acquisitions in data centres, managed service providers, AWS partners and software development companies.
On 23 April 2019, 5G Networks reported the completion of Melbourne Data Centre (MDC) transaction. Subsequently, the existing shareholder of MDC would be issued $1.75 million of shares. Previously, the company had released an announcement pertaining to the acquisition. As per the announcement, it had been reported that the purchase price of $5.7 million would be paid through $1 million in cash and $1.75 million in issued shares along with $2.95 million in cash over the next three years.
Acquisition: It had been reported that the acquisition of MDC would add $3 million annualised revenue, and annualised synergies of $600k would be realised in the initial three months. Also, the acquisition would be completed through a combination of debt and cash reserves. In addition to this, the acquisition had been priced at a 7x EBITDA multiple.
Acquisition Strategy (Source: Company's Half Year Presentation, February 2019)
In its latest quarterly activities reported for the period ended 31 March 2019 (Q3FY19), the company had reported that the business sustained the growth with year-to-date cash receipts at $38 million, representing 11 times increase from the previous corresponding period. Also, Q3 recorded cash receipts at $15.4 million up by 8% from the previous quarter.
On 26 June 2019, 5GN's stock was trading at A$1.55, down by 0.641% (at AEST 12:04 PM). The performance of the stock in the past one year is +218.37, and its year-to-date return is +271.43%. In the past three months and one month, the returns stand at +96.23% and +15.56%, respectively.
---
Disclaimer
This website is a service of Kalkine Media Pty. Ltd. A.C.N. 629 651 672. The website has been prepared for informational purposes only and is not intended to be used as a complete source of information on any particular company. Kalkine Media does not in any way endorse or recommend individuals, products or services that may be discussed on this site. Our publications are NOT a solicitation or recommendation to buy, sell or hold. We are neither licensed nor qualified to provide investment advice.