There are companies listed on ASX (Australian Stock Exchange), which have decent gains on a year-to-date basis. Among those, let's cover a few names – AQG, PPE, ALU and XRO whose stock appreciated 83.08%, 79.43%, 62.56% and 49.23%, respectively.
Alacer Gold Corp (ASX: AQG)
Alacer Gold Corp. (ASX: AQG) is a Canadian company, engaged in the production of gold with 80% interest in the Çöpler Gold Mine in Turkey. Alacer is listed on ASX and trades as CDI (CHESS Depositary Interests).
The company recently updated investors about the achievement of commercial production at its Çöpler sulfide plant. For the purpose, AQG analysed various aspects such as throughput, gold recovery rate, production, etc. In the month of May, the sulfide plant's average throughput rate stood at plus ~80%, gold recovery came in at approximately 93% and plant utilisation was ~85%. The company was able to recover over 22,000 oz of gold with as expected processing costs.
The company has revised its guidance for oxide plant to 125,000 oz to 145,000 oz from the earlier estimation of 90,000 oz to 110,000 oz. The upward revision was on account of the continued improvement witnessed by the oxide plant.
1Q FY19 Results Analysis: Cash for the company at the end of 1Q FY19 stood at $117 million, with a debt of $332 million, resulting in net debt of $215 million. Net debt witnessed a decline of $29 million from December 31, 2018. AQG sold 91,044 oz of gold in the quarter, which in turn has resulted in sales proceeds of $119 million. Cash flow from operations in Q1 came in at $33.4 million, excluding the sulfide plant production. 1Q FY19 attributable earnings stood at $3.3 million or $0.01 per share, whereas normalised attributable earnings came in at $18 million or $0.06 per security.
Total gold production of 89,354 oz in the period witnessed a record growth of 136% as compared to the prior corresponding period. With the higher production, total sales from the gold of 91,044 oz in the period posted a whopping growth of 116% on pcp.
Consolidated All-in Sustaining Costs per ounce sold of $721 came down by 2% as compared to the 1Q FY18, primarily on the back of lower C2 (Total Cash Costs), however, was partially offset by higher compensation costs (share based).
In the financial year 2018, AQG produced 170,865 oz of gold, with all-in sustaining costs per oxide ounce at $609.
At the current market price of $5.010, the stock is trading at a price to earnings multiple of 67.23x on 21st June 2019, AEST 03:32 PM.
People Infrastructure Ltd (ASX: PPE)
People Infrastructure Ltd (ASX: PPE) provides workforce management services to various sectors such as IT, Health and Community, Mining, Construction and Manufacturing, etc.
The company recently updated the market about its agreement for the acquisition of First Choice Care Pty Ltd (First Choice) and Carestaff Nursing Services Pty Ltd (Carestaff) for the consideration of $16.8 million. The sales proceeds will be funded from the cash reserves and funds raised through the recent placement. The acquisitions are expected to be EPS accretive in FY20. The acquisition is likely to be completed in the upcoming weeks. With this development, PPE will be the largest provider of health and community care staffing services in QLD. PPE expects that the target companies will add $3.4 million in EBITDA for the next 12 months.
PPE recently announced the issuance of 7,407,408 new fully paid ordinary shares at an issue price of $2.70 per share to institutional, sophisticated and professional investors.
The company previously informed that it had raised $20 million in new equity via a placement of new fully paid ordinary shares. The company increased the size of the Placement from $15 million to $20 million on the back of strong demand. The funds raised will be deployed for further acquisitions and costs associated with the placement.
At the current market price of $3.280, the stock is trading at a PE multiple of 24.260x on 21st June 2019, AEST 03:32 PM. The stock is trading towards its 52-weeks high price of $3.350 and has generated a return of 92.64% in the last one year.
Altium Limited (ASX: ALU)
Altium Limited (ASX: ALU) is engaged in developing and selling computer software for the design of electronic products. The company has enjoyed an excellent track record of financials with revenues of $61.9 million in FY13 to $140.20 million in FY18.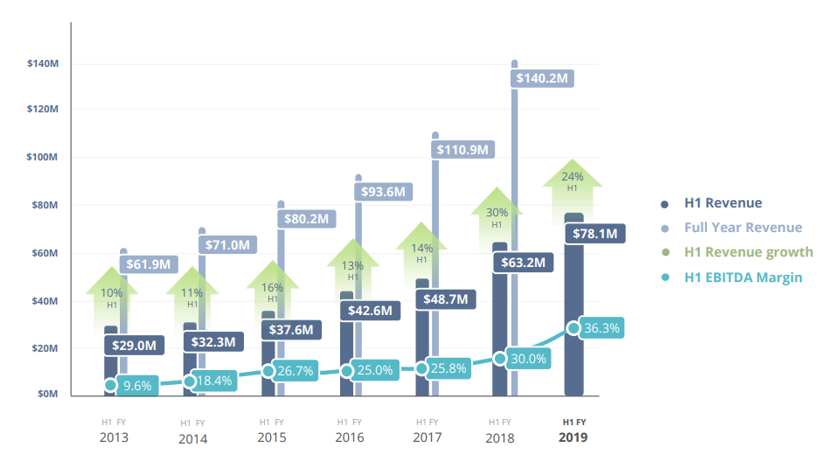 Revenue and EBITDA Margin Trend (Source: Company Reports)
The company recently communicated that ASIC (Australian Securities and Investments Commission) accepted its request to grant an extension of the duration to hold the Annual General Meeting (AGM) for 2019. Hence, the company has decided the AGM 2019 date on 6th December 2019.
1HFY19 Performance: The company recorded an excellent set of numbers in 1H FY19, with worldwide products top line growth at 24% to US$78.1 million and PBT (profit before tax) growth at 56% to US$25.8 million. PAT (Profit After Tax) for the period amounted to US$23.4 million, posting a growth of 58% on pcp. EPS (Earnings Per Share) came in at US18.00 cents. EBITDA posted a growth of 49% to US$28.4 million, with EBITDA margin of 36.3%. The robust financials in the first half of FY19 will lead the company to reach its FY20 revenue target of $200 million. All the segments witnessed double-digit top line growth, resulting in a higher bottom line with strong operating leverage. The company has been enjoying strong balance sheet since last few years. Operating cash flow of the company stood at US$26.8 million in 1H FY19, with a cash balance of US$58.0 million after a dividend payment of US$13.3 million as compared to US$12.5 million in FY18 and contingent consideration payments of US$5.5 million as compared to US$6.2 million in FY18.
China posted the strongest growth in top-line at 49%, with the increased scale of operations in the region. EMEA also delivered outstanding performance with excellent top line growth of 19% in 1H FY19. This was on the back of go direct in all key European markets and implementation of transactional sales model.
Both TASKING and Octopart businesses exhibited exuberant show in the first half of FY2019, recording a top line growth of 35% and 80%, respectively. TASKING received advantage from Infineon, a European semiconductor manufacturer, whereas Octopart consolidated its headship position in electronic parts search.
Outlook: With the given business scenario and growth prospects, the management believes that it will be able to achieve the forecasted FY20 revenue of US$200 million. In addition, the management aims to post an EBITDA margin of 35% or better. The company intends to achieve 100,000 designer subscribers before 2025. The company also fixed its goal to achieve a top line of $500 million in 2025.
At the current market price of $34.0, the stock is trading at price to earnings multiple of 70.50x as on 21st June 2019, AEST 03:32 PM. Currently, the stock trading close to its 52-week high of $35.590. The stock has gained ~47.17% in the last one year and 70.78% in the last six months.
Xero Limited (ASX: XRO)
Xero Limited (ASX: XRO) provides an online business platform for small businesses and their advisors. The company recently informed investors about the issuance of 71,312 fully paid ordinary shares. Issue price for the same is; (1) 55,000 issued on exercise of vested options at NZ$17.51 each; (b) 15,000 issued on exercise of vested options at NZ$25.75 each; and (c) 1,312 issued on vesting of RSUs, with no cash consideration required to be paid for the RSUs to vest.
The company recently released its Annual Report for FY19 with healthy revenue growth of 36% and positive free cash flows (ex-funds used for acquisitions) driven by strong operational discipline.
Operating revenue of the business stood at $552.8 million, posting a growth of 36% in FY19. For the period, subscribers grew by 31% to 1.82 million. Free cash flow landed in positive territory for the first time in FY19, amounted to $6.5 million, improving $35.0 million. The LTV (total lifetime value) subscribers came in at $4.4 billion, recording a growth of 36% on pcp. EBITDA (ex-impairments) witnessed a record growth of 84% to $91.8 million. AMRR (Annualised Monthly Recurring Revenue) saw an increase of 32% to $638.2 million in the period.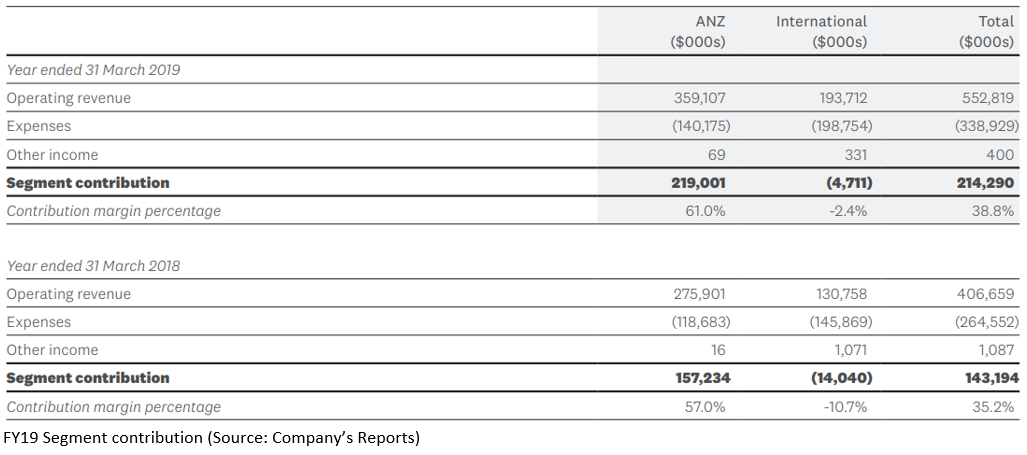 FY19 operating revenue for ANZ posted a growth of 30% as compared to FY18, increasing its position as a market leader in the region. Revenue growth stood above the subscriber growth of 22%, mainly on the back of improved ARPU. ANZ segment showed an addition of 193,000 subscribers in FY2019 to reach 1,077,000 subscribers.
FY2019 International operating revenue posted a growth of 48% on the back of 48% subscriber growth. Contribution of International towards losses declined to $4.7 million in FY2019, against $14 million in FY2018. Contribution margin also reflected an improvement of -2.4% from -10.7%, which was on the back of scaling and efficiencies, mainly in the UK while preserving decent top line growth. However, contribution margins came in below the ANZ segment level, echoing the investment in subscriber growth in the UK, North America and Asia.
Acquisition: Although the company exhibited excellent organic growth in FY2019, the management boosted its platform strategically via two targeted acquisitions. Hubdoc, acquired in August 2018, expanded the Xero platform and provided a leading data-capture solution to assist in accountants and administrative tasks. Instafile, acquired in December 2018, is a tax filing and accounts production solution, which extends the company's existing connectivity to the HMRC and Companies House.
At the current market price of $61.740, a market capitalisation for the stock stands at ~$8.83 billion on 21st June 2019, AEST 03:45 PM.
---
Disclaimer
This website is a service of Kalkine Media Pty. Ltd. A.C.N. 629 651 672. The website has been prepared for informational purposes only and is not intended to be used as a complete source of information on any particular company. Kalkine Media does not in any way endorse or recommend individuals, products or services that may be discussed on this site. Our publications are NOT a solicitation or recommendation to buy, sell or hold. We are neither licensed nor qualified to provide investment advice.