Summary

Fisher & Paykel Healthcare has reported a full-year net profit of NZD 287.3 million, up 37% year-on-year, and announced a final dividend of NZ 15.5 cps.
Western Areas has intersected copper and nickel sulphides through initial diamond drilling at the Sahara Prospect, Western Gawler Project.
Saracen Minerals expects over 500k oz production in FY20, while Sandfire Resources remains committed to proceed with feasibility study for the copper project in the US.
In this article, we are discussing four stocks listed on the ASX. Three of these company are from the metals and mining sector that are mainly gold, nickel and copper focused players. One company is a healthcare sector player, which has disclosed full-year results and final dividend for FY20.
Fisher & Paykel Healthcare Corporation Limited (ASX:FPH)
On 30 June 2020 (AEST 11:52 AM), Fisher & Paykel was trading near to its 52-week high of $ 32.900, at $ 32.610, inching upward by 2.968% from its previous close. Over the past five days, the stock was up by 11.55%. On 29 June 2020, the company disclosed its full-year results for the year ended 31 March 2020.
FPH recorded operating revenue of NZD 1.26 billion, up by 18% over the previous year. NPAT for the period was NZD 287.3 million, up by 37% over the previous year. Excluding R&D tax credit, impact of tax changes and building tax depreciation, its NPAT grew 23% in constant currency terms.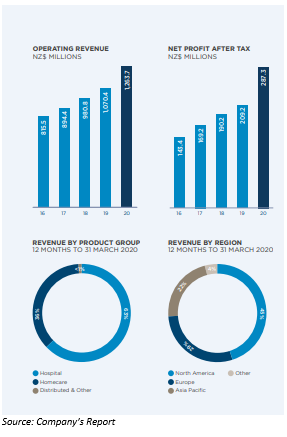 Increase in revenues was mainly driven by its OptiflowTM nasal high flow therapy, products to treat COVID-19 patients, and strong hardware sales during the year. Operating revenue of the hospital product group was NZD 801.3 million.
Its revenue from the homecare product group increased by 9% to NZD 457 million. Gross margin of the business was down by 73 bps to 66.1% due to an increase in air freight costs on raw materials to accelerate manufacturing and start-up costs of a manufacturing plant in Mexico.
FPH has declared a final dividend of NZ 15.5 cents per shares, up 15% over final dividend of the last year. The company has now declared total dividends of NZ 27.5 cents per share for the full year, up by 18% over the previous year. The final dividend has a record date of 7 July 2020 and pay date of 17 July 2020. And, it has full NZ imputation credit.
For FY21, the company is expecting full-year operating revenue of approximately NZD 1.48 billion and NPAT of ~NZD 325 million to NZD 340 million.
Good Read: Future of Healthcare and IVF Businesses
Western Areas Limited (ASX:WSA)
As on 30 June 2020, shares of Western Areas contracted 2.99% over the past five days and surged 14.04% in the last one month. Last week, the company announced promising results from the initial diamond drilling at the Sahara Prospect at its Western Gawler Project in South Australia.
It was reported that initial drilling intersected over 200m of nickel and copper sulphides. The first drill hole was completed on the Iluka farm-in and joint venture ground. Dan Lougher, MD, stated that the company targeted this area because of geological similarities to other nickel/copper deposits (Nova-Bollinger and Nebo-Babel).
Now, the company looks to test the western contact of intrusive body. WSA is prioritising logging and assaying for the recovered core to ascertain grade distribution of nickel-copper-PGE at the host intrusive.
The company also planned a follow-up hole to test other conductors. The second hole seeks to test for higher sulphide concentrations around the interpreted conductor. It has engaged down-hole electro-magnetic (DHEM) contractors, which would allow to optimise additional hole locations for further mineralisation.
Western Areas also maintained its 19.9% stake in Panoramic Resources Limited (ASX: PAN), which successfully closed a capital raising program. WSA was issued with around 108.6 million additional shares, as it was a sub-underwriter of the retail entitlement offer.
On 30 June 2020 (AEST 12:26 PM), WSA was trading at $2.660, up by 2.308% from the previous close.
Saracen Mineral Holdings Limited (ASX:SAR)
Saracen Mineral Holdings, which was added to S&P/ASX 100 index this month, has awarded additional work to GR Engineering Services Limited (ASX: GNG), with a combined value of $29 million. GNG secured an EPC contract for the Thunderbox Paste Plant Project and variation works for the Carosue Dam Operations Plant Expansion Project.
In May, Saracen Mineral released a presentation, highlighting guidance of over 500k oz for FY20 and over 600k oz in FY21.
SAR calls itself an all-Australian gold growth stock. The company seeks to derive production from its three operations at Super Pit, Carosue Dam and Thunderbox. In March, the company had cash of $106 million, pre-tax and voluntary debt repayment. At the end of March quarter, the company had $340.3 million in liquidity, which was after $25 million additional debt repayment and $25 million tax payment.
Its unaudited NPAT for the March quarter was between $65 million and $70 million, taking the FYTD range to $145 million to $150 million.
In the June quarter, the company expects accrual for ~$32 million related to stamp duty that would be expensed in FY20. Also, it would undertake the final valuation of historical stockpiles and purchase price allocation/D&A during the June quarter.
Over the past five days, the stock of the company was up by 4.64%. On 30 June 2020 (AEST 12:35 PM), SAR was trading at $5.300, down by 2.033% from the previous close.
Good Read: Five Aussie Gold Stocks Under Swing Traders' Lens- EVN, NST, NCM, WAF, and SAR
Sandfire Resources Limited (ASX:SFR)
Earlier this month, the company provided an update on Black Butte Copper Project, which is located in Montana, US. The update highlighted that the company's subsidiary completed a four- and half-year technical assessment and permitting process in April this year.
The company has an 85% stake in the Black Butte Copper Project via interest in Sandfire Resources America Inc. The project is an advanced, high-quality underground copper project in Tier-1 location.
Some groups in Montana have legally challenged resource development at the site. Its subsidiary, Sandfire Resources America Inc. would challenge the litigation. Sandfire is committed to proceed with feasibility study for the project to consider mining and financing decisions.
In May, the company released a presentation, unveiling guidance of 70-72kt Cu and 38-40koz Au in FY20. At the end of March, SFR had $242 million in cash with no debt. Sandfire is committed to create a diversified and sustainable mining company.
In Botswana, the company has a 100%-owned T3 Copper-Silver Project and dominant exploration licence-holding (~18,200 km2) in under-explored Kalahari Copper Belt, Botswana. SFR said that the nation is safe, democratic, politically stable, and mining-friendly jurisdiction.
The company is progressing with optimisation of T3 Copper-Silver Project Feasibility Study, and ESIA approval is expected soon with Mining Licence Application to follow.
On 30 June 2020 (AEST 12:42 PM), SFR was trading at $ 5.040, up by 2.231% from the previous close.
(All currencies in AUD, unless or otherwise stated)