Australia has an abundance of natural resources and while the global demand for resources continues to grow, the sector generated exports worth about $226 billion per year. The opportunities for this sector are under-utilized. With the newer companies getting the share of the sector here are 2 stocks that are doing fairly well.Â
WINCHESTER ENERGY LTD (ASX: WEL) – The company reported that after simple perforation and acidisation the White Hat 39 number 1 well produced 1,000 barrels of oil from the Strawn Formation over 10 producing days of swabbing and pumping. With CEGX holding various working interests between 40 - 50% in approximately 1,200 acres, Winchester has a 75% working interest (WI) and operatorship of the White Hat Ranch lease in approximately 7,400 acres. The revenue from continuing operations for 2018 was US$739,573 and 2017 was US$1,289,978. The company reported a net loss before tax of US$14,894,827 for the half year ended 30 June 2018 and 2017 loss of US$587,843. The cash position at 30 June 2018 was US$1,150,412 lesser than 31 December 2017 of US$2,794,081 which is still decent with the availability of cash in hand. The company has a market capitalization of $7.98 million. The stock price traded flat $0.028 as at November 14, 2018 and the stock has seen a performance change of 21.74% over the past three months.
WEL Cashflow, Source: Company Reports.
NORTHERN STAR RESOURCES LTD (ASX: NST) – The company has made legally binding offers to acquire the 49 percent stake in the East Kundana Joint Venture it does not already own from Tribune Resources Limited (ASX: TBR), Rand Mining Limited (ASX: RND) and Rand Exploration NL for A$150 million in cash. The company generated a sector leading average ROE of 27% in FY2018 and has averaged 35% since FY2014. While the return on Invested Capital of 25% in FY2018 and a 4-year average underlying ROIC of 28% was seen. Since FY2014 NST has returned an average total shareholder return of 76% per annum. Capital is forced to compete internally for project funding to ensure NST continues to generate sector leading returns for its Shareholders. The company has record earnings per share of 32.1¢ up 2% on FY2017 while final dividend up 11% to A5cps fully franked and full year payout of A9.5cps. The stock price traded at a market price of $8.200 as at November 14, 2018. The stock has seen a performance change of 12.32% over the past three months.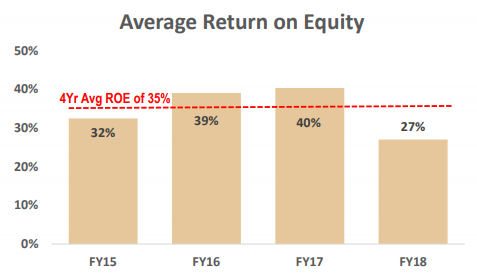 NST Return on Equity, Source: Company Reports.
---
Disclaimer
The advice given by Kalkine Pty Ltd and provided on this website is general information only and it does not take into account your investment objectives, financial situation or needs. You should therefore consider whether the advice is appropriate to your investment objectives, financial situation and needs before acting upon it. You should seek advice from a financial adviser, stockbroker or other professional (including taxation and legal advice) as necessary before acting on any advice. Not all investments are appropriate for all people. Kalkinemedia.com and associated websites are published by Kalkine Pty Ltd ABN 34 154 808 312 (Australian Financial Services License Number 425376). website), employees and/or associates of Kalkine Pty Ltd do not hold positions in any of the stocks covered on the website. These stocks can change any time and readers of the reports should not consider these stocks as advice or recommendations.
Â