In the recent times, Heavy Mineral Sands (HMS) are traded globally and are of the same crucial economic importance as non-metallic and metallic raw materials. Used primarily in the paint, chemical, aerospace, electricity and foundry industries, there is growing demand for HMS paving opportunities for miners, investors and businesses.
MRG Metals Limited (ASX: MRQ), an HMS explorer has joined the bandwagon to tap Mozambique's HMS opportunity via its recently acquired and highly prospective Heavy Mineral Sands Projects. The initial HMS exploration discovery at Koko Massava, the first target has shown excellent results.
The ramping up of the MRQ HMS Project in Mozambique, which is adjacent to one of the World's largest HMS titanium feedstock resources and has another major World-class mineral sands mine nearby, encouraged the Company to relinquish all Australian projects to concentrate on the HMS Projects.
HMS exploration discovery at Koko Massava
The HMS exploration discovery at Koko Massava has been showing signs of being globally significant and propelled MRQ to streamline its focus, relinquish lower value assets and garner new investor interest. The initial focus at Koko Massava was based on historic information and has proven to be well founded. Flying Airborne geophysics catalysed ground exploration campaign (including reconnaissance mapping and sampling, wide spaced Auger drilling and two phased Aircore drilling program (undertaken by Bamboo Rock Drilling Limited) initially at wide spacing followed by infill drilling).
The Company has delivered excellent exploration results-
On 15 November 2019, the Phase 1 Aircore drilling of wide spaced holes at 500 m x 1000 m concluded wherein 48 Aircore holes had been completed consisting of 2,439 m of drilling with holes varying in depth from 24 m–75 m with an average depth of 50.8 m.
On 21 November 2019, further high-grade assay results were reported from Auger samples, affirming that the drilling underpins an expansion of the project's high-grade footprint beyond the 20km2at Koko Massava.
Three laboratory assay results on Auger samples have demonstrated that the previous visual estimates have been understated. The third batch showed that 31 of the 34 holes have attained an uncut average downhole grade of more than 3% total heavy mineral, with 7 of the 34 holes having an uncut average downhole grade of over 5% THM.
Later, MRQ reported that 31 holes of the 34 holes concluded in Phase 2 Aircore drilling, intersected individual 3 m sample intervals of more than 4% estimated visual THM.
On 16 December 2019, the first highly significant laboratory assay results arrived, from Aircore drilling on the Koko Massava targetwithin the Corridor Central tenement (6620L), confirming the significant lateral and vertical extent of the mineralised footprint. The first 8 of the 82 Aircore holes drilled attained an uncut average downhole grade 3.70% – 6.23% THM, with hole depths ranging from 51 m – 75 m.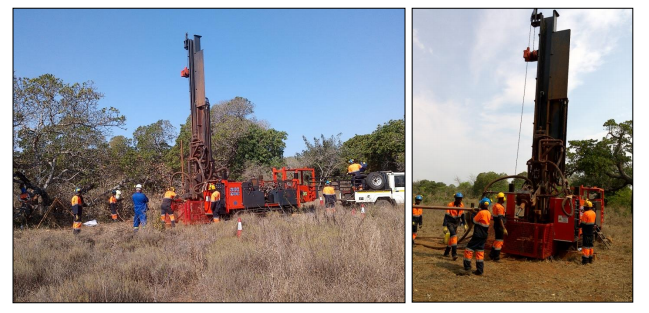 Field Photos at Koko Massava (Source: MRQ's Report)
The Aircore samples were sent to Western GeoLabs in Perth for heavy liquid separation analysis and MRQ was expecting additional new laboratory results for Aircore drill samples in the coming weeks, as it aims to complete the drill hole assaying and then deliver a maiden resource by the end of Q1 2020.
Casting Eye on MRQ's Bright Outlook for 2020
MRQ firmly believes that market awareness is growing for the Company, driven by the HMS advancements. 2019 has been a transformational year with the acquisition and HMS exploration discovery at Koko Massava. The substantial initial visual results followed by the laboratory assay results, has enabled MRQ to plan a Mineral Resource estimation processes within one year of commencement.
In 2020-
MRG will report on the 2nd batch of assay results (expected in early January) with the 3rd and final 4th batch to follow soon after
There will be updates on the Auger programs at Koko Massava (for footprint expansion)
The 20km2 footprint priority Auger drilling will commence in January.
Initial targeted programs at Poiombo, Nhacutse and Linhuane (when permitted) are expected in the first half of 2020.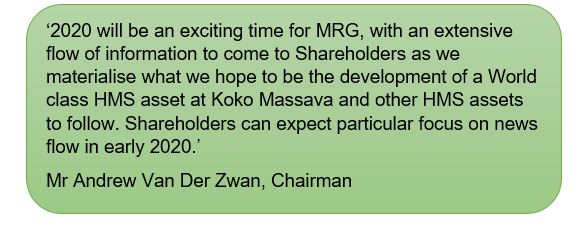 Share Price Information
Investor and shareholder has been building positively over MRQ. On 20 December 2019, the stock quoted $0.017 and has delivered an exceptional YTD return of 375%. In the last one month, the stock has delivered returns of 171.43%.
---
Disclaimer
This website is a service of Kalkine Media Pty. Ltd. A.C.N. 629 651 672. The website has been prepared for informational purposes only and is not intended to be used as a complete source of information on any particular company. The above article is sponsored but NOT a solicitation or recommendation to buy, sell or hold the stock of the company (or companies) under discussion. We are neither licensed nor qualified to provide investment advice through this platform.