Based in West Perth, BlackEarth Minerals NL (ASX: BEM), which is focused primarily on the development of its 100% owned Maniry and Ianapera graphite projects in southern Madagascar, released a quarterly update on the projects on 21 January 2020.
The three-month period ended 31 December 2019 was critical for the Company, as it continued to fast track the Maniry graphite project while successfully progressing towards the Bankable Feasibility Study (BFS) Stage, in under 2 years after getting listed in January 2018, for a total cost of less than $ 6 million, including full overheads.
Interesting Read: BlackEarth Minerals' Flagship Maniry Graphite Project Progresses to BFS in Under 2 Years; Stock Zooms 11.11%
BEM achieved several milestones during the December quarter. Let us go through each one of them in detail.
BGRIMM Appointed for Finalising Maniry Graphite Ore Testing
China-based Beijing General Research Institute of Mining & Metallurgy (BGRIMM) is a globally recognised technical leader in graphite processing and engineering, which has served number of graphite developers and producers from the domestic and global markets.
BEM appointed BGRIMM in October 2019 to conduct final testing on the Maniry graphite ore and finalise all process engineering related parameters under its Definitive Feasibility Study (DFS), with the institute expected to complete the two-stage test program in the first quarter of 2020. The test program is expected to be used to generate substantial graphite concentrate assisting in finalising binding offtake arrangements.
Under the first stage, BGRIMM will undertake laboratory scale test work based on an initial graphite ore sample weighing 250kg from the Maniry project. The Company will use the test results to confirm all work carried out at ALS Perth.
Additionally, for the next stage, the test results would provide:
optimal process flow
industrial equipment selection
reagent systems, and
process operating conditions
The second stage will involve a large-scale process pilot test on ~ 60 tonnes of the graphite ore, targeted towards optimising the project flow sheet and providing final equipment specifications. Additionally, the results will make significant input towards the final Environmental and Social Impact Assessment (ESIA) of the project.
Maniry Bulk Material Excavation Commenced
During the December quarter, the Company commenced the excavation of 60 tonnes of bulk material from the Maniry project, likely to arrive at BGRIMM in January 2020.
Backed by the full cooperation and involvement of the local community, BEM started mining from the defined Razafy Resource, with the full program designed to deliver greater understanding of early mining conditions, final process design criteria, final equipment sizing and power draws, analysis and test work on the final tailings, and adequate concentrate sample to finalise binding offtake arrangements before the commencement of construction.
Samples Dispatched to Potential Offtake Partners in China
BEM is currently in discussions with several parties to execute offtake agreements, in lieu of which the Company dispatched Maniry graphite concentrate samples to potential partners to conduct in-house test work and confirm whether the samples are good enough for use in the expandables, battery anode and high-end refractory markets.
These test results would be used by the Company to validate above industry average expandable results and high purity graphite anode material from Maniry concentrate achieved at ALS Perth and German graphite product testing laboratories.
With favourable test results, the Company is expecting to execute a Memorandum of Understanding (MoU) with suitable offtake partners and then proceed towards entering binding offtake arrangements.
Highly Positive Feedback Received on Maniry Concentrate Samples
The Company is majorly targeting its product for the refractory and expandable applications; however, it is also in discussions with leading lithium-ion battery anode manufacturers after conducting testing on fine graphite materials used in manufacturing spherical graphite for lithium-ion batteries.
December month was fruitful for the Company, as market leaders reported positive results and excellent quality from testing on the Maniry coarse flake graphite samples.
Below is the feedback from the world's largest producer of expandable graphite products, which agreed to work with BlackEarth Minerals to aid the Company in reliably meeting high-end spec requirements on a long-term basis.
Excellent quality and expansion rates from testing on the Maniry coarse flake graphite samples, highlighting that it is a high value product suitable for the rapidly growing expandable graphite market;
Significantly lower level of mica and other impurity content in the natural graphite concentrate when compared with the product of other overseas suppliers. The impurity content would be further lowered after some additional process optimisation work;
Coarse flake graphite highly suitable as raw material for the manufacturing of superior quality fire retardants, high quality graphite foil and sealing materials.
One of the world's leaders in refractories asked BEM to manufacture special "tailor-made" natural graphite concentrate product, as it intends to use this product as a raw material in its premium / high value quality refractories, demonstrating that the BEM product is capable of meeting the requirements for high-quality refractory products.
Meanwhile, BGRIMM initiated a comprehensive process mineralogy study to further understand the mineralogy and properties of the Maniry natural graphite ore.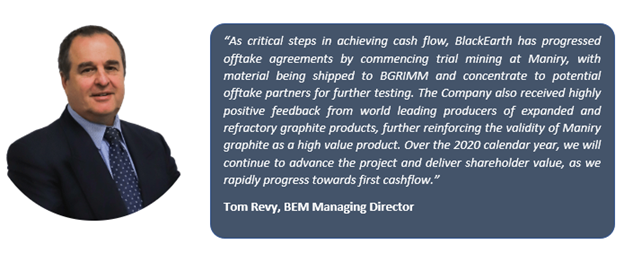 As quoted by the company
Since BEM is completely focusing its efforts on the Madagascan graphite projects, the Company has decided to relinquish its position in the Greenhills and Northern Gully exploration leases while continuing to review its West Australian tenements.
On 28 January 2020, the stock of BEM closed the day's trading at $ 0.046 with a market cap of around $ 5.2 million and approximately 113 million outstanding shares.
Interesting Read: BlackEarth Minerals' Memorable Journey Through the Year 2019
---
Disclaimer
This website is a service of Kalkine Media Pty. Ltd. A.C.N. 629 651 672. The website has been prepared for informational purposes only and is not intended to be used as a complete source of information on any particular company. The above article is sponsored but NOT a solicitation or recommendation to buy, sell or hold the stock of the company (or companies) under discussion. We are neither licensed nor qualified to provide investment advice through this platform.