Australia-based graphite exploration and development company, BlackEarth Minerals NL (ASX: BEM) is currently focusing on fast-tracking its flagship property, Maniry Graphite Project (100 per cent owned), backed by supportive infrastructure, including numerous water wells, roads and the Port d'Ehoala. The project is located in the southern region of Madagascar, which is a positive jurisdiction with more than 100 years of graphite history.
The Maniry Graphite Project is expected to hold significant expansion potential, on the back of the company's tenement position and declared exploration target (260-380Mt @ 6-8 per cent TGC). Moreover, the current project study outcomes have highlighted the project as 'a robust and financially attractive graphite project by global standards.'
Read More on Maniry Project at BlackEarth Minerals Releases September Quarter Highlights with Maniry in Focus
With the highly positive forecast for large flake high quality graphite (BEM's strategy revolves around naturally flake graphite) over the next 10-15 years and backed by the significant experience of the BEM Board and management, the company intends to complete the Maniry Project feasibility study during 2020 and start project commissioning in 2021.
It is not just BlackEarth Minerals; there are other companies as well that have identified the growing trends in demand for graphite. As a result, a number of players are targeting assets that are rich in specific types of high-value graphite, a commodity that is used in the growing markets of lithium-ion batteries for electric vehicles, next generation of fire-retardant material building materials, and crucibles/refractories, steel production and lubricants.
EV Growth Driving Demand for Graphite
Demand for graphite for use as an anode material in lithium ion batteries is forecast to grow more than 200 per cent in the coming four years, while the graphite amount needed would hit around 1.75 million metric tons by 2028, representing a nine-fold increase when compared with the level in 2017, according to Benchmark Mineral Intelligence (BMI), which is a price reporting agency. Moreover, natural and synthetic graphite are expected to account for 90 per cent of anode materials by 2030.
Over the coming years, graphite is likely to remain the anode material of choice for Li-ion batteries, as electric vehicle penetration rates are growing at a robust rate across the global level, sparking a dynamic change in the graphite market.
The governments, globally, are under pressure to cut pollution levels and meet the global action plan of limiting global warming to 2 degrees Celsius. In order to meet this objective, they are coming up with legislative changes giving equal importance to environmental protection. Consequently, the automotive industry is also getting ready to cater through electric vehicles, an environment friendly option.
According to Global EV Outlook 2019 released by the International Energy Agency in May 2019, electric car sales would reach 23 million with the stock surpassing 130 million vehicles across the globe in 2030. Last year, the global electric car fleet exceeded five million. The estimations from 2018 to 2030 highlights the growth scope for graphite developers and explorers like BlackEarth Minerals.
EV Demand Surges
The electric car space is buzzing with new announcements on a consistent basis, recently Tesla unveiled the Cybertruck and the company claims to have received a positive response with over 300,000 orders received since the announcement.
Maniry Concentrate and Anode Market Purification
In early September 2019, BEM announced to have achieved high purification specifications required by lithium-ion anode material manufacturers from the testing on concentrate from the Maniry Graphite Project. Initial test results achieved 99.97 per cent purity, surpassing the specifications needed for marketable battery grade graphite (99.95 wt.- per cent final carbon content).
As of now, the company has begun 60 + tonne bulk mining trial at the Maniry Graphite Project, with the majority of the material to be shipped to BGRIMM in China. The outcomes are crucial in completing the BEM's process development work and bankable feasibility study, scheduled for completion in the second half of 2020.
BEM Managing Director, Mr Tom Revy, commented
With the prospect of low capital expenditure, 10-year project life (Maniry Project), BlackEarth Minerals is believed to hold the potential of becoming a reliable provider of graphite materials critical to the burgeoning electric vehicle (EV) revolution, along with other highly lucrative expandable graphite applications for the electronics industry.
Read More: Seven Factors Aiding BlackEarth Minerals Towards Mining Success
Stock Appreciates over 15% in the past few days: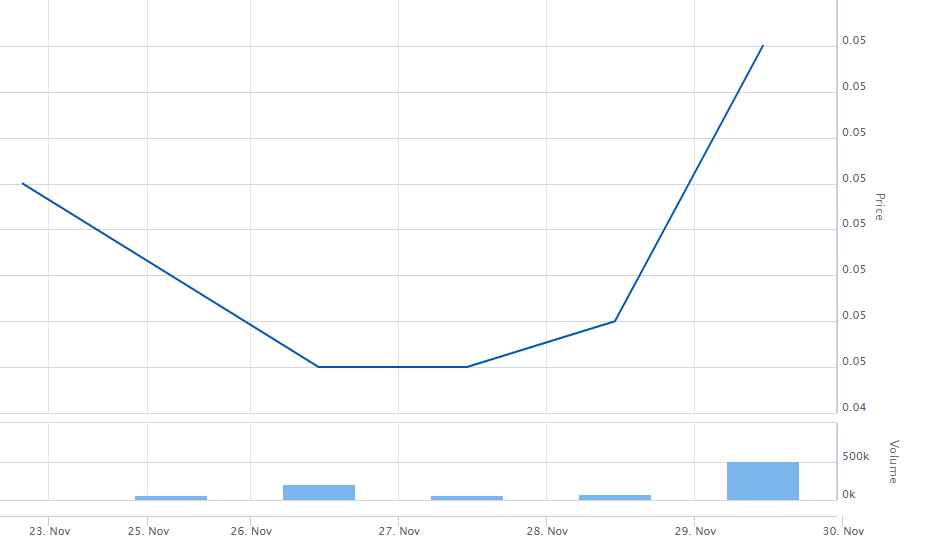 BEM Daily Stock Chart (Source: ASX)
BEM shares have been on an uptrend recently. Just a week back, the shares were trading at $0.045 and since 27 November 2019, the stock has appreciated by over 15% and currently trading at $0.052, with a market cap of ~ $ 5.87 million and approx. 113 million shares outstanding.
---
Disclaimer
This website is a service of Kalkine Media Pty. Ltd. A.C.N. 629 651 672. The website has been prepared for informational purposes only and is not intended to be used as a complete source of information on any particular company. The above article is sponsored but NOT a solicitation or recommendation to buy, sell or hold the stock of the company (or companies) under discussion. We are neither licensed nor qualified to provide investment advice through this platform.