Getting listed as a critical mineral by super economies, including Australia and the United States, graphite is slowly emerging as one of the hottest commodities in the globe.
Whether it is lithium-ion batteries that would fuel EVs or fire-retardant material building materials, natural high-grade flake graphite is required to meet the robust demand. And, it seems that the Maniry graphite project of ASX-listed minerals development company BlackEarth Minerals (ASX: BEM) is set to take the stage, given the positive initial results and feedback from leading world leaders in the related space.
BEM has successfully fast tracked the project to progressing the Bankable Feasibility Study (BFS) Stage, in under two years after getting listed with ASX in January 2018, for a total cost of less than $6 million, including full overheads.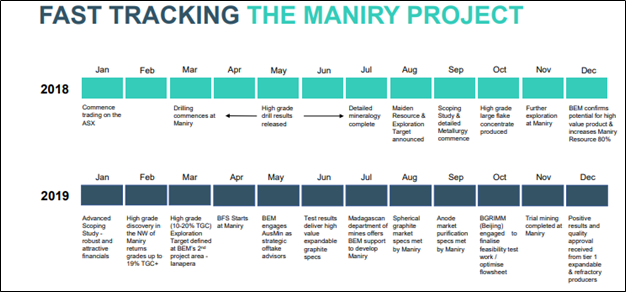 Source: Fast Tracking the Maniry Graphite Project- Presentation
The Company credits its mining success to 7 factors including geopolitics, financial return, people, land tenure, infrastructure, product, and resource, mining and process.
Interesting Read: Seven Factors Aiding BlackEarth Minerals Towards Mining Success
Maniry, Southern Madagascar - A Robust and Financially Attractive Graphite Project
After scouring the world for prospective flake graphite system, BEM identified its flagship asset in Madagascar, which has been mining and exporting graphite for over 100 years and is a major graphite supplier to the United States, China, India and other global consumers. The project is believed to be a robust and financially attractive graphite project by global standards, based on the current project study outcomes. Completion of the project scoping study also transitioned BEM from a graphite explorer to a developer.
Source: Fast Tracking the Maniry Graphite Project- Presentation
Significant Milestones Achieved for Maniry Graphite Project
The key markets for the Company's flagship property are:
Expandables- $ 400 million Market by 2026
Expandable graphite, which is manufactured by treating flake graphite with reagents, has great potential for flame retardant building materials, electrically conductive fillers, material processing, instrumentation & measurement, and several other high-end applications.
The fire-retardant building materials market is projected to account for ~$ 400 million by 2026, according to some research reports.
The Maniry graphite project has met specifications consistent with those required by the expandable graphite market, achieving 400 cm3/g, which is significantly higher than the industry benchmark rate of 250 cm3/g. Positive test results and quality approval were secured from the largest expandable graphite producer in China, Yichang Xincheng Graphite.
Interesting Read: BlackEarth Minerals Tapping Opportunities in Graphite Expandables Market
Refractories- Successful Sample tests
With respect to specifications required by the refractory industry, sample concentrates from the Maniry graphite project have demonstrated very low content of deleterious material (CaCO3), highlighting that the project is highly suitable for refractories and many other applications.
Major properties and quality were approved by RHI - China.
Batteries- Graphite Demand Set to Go 3x by 2028
As per research by Benchmark Mineral Intelligence (BMI), in the next 4 years, demand for graphite for use as an anode material in lithium-ion batteries is projected to grow over 200%, and by 2028, graphite amount needed is likely to register a nine-fold increase to hit around 1.75 million metric tons when compared with level in 2017.
Initial test results of spherical graphite from the Maniry project have met specifications required by lithium-ion anode material manufacturers, with production yields of up to 52% vs industry average of 40%.
Moreover, the project met anode market purification specifications, with the samples achieving 99.97% purity compared with 99.95% needed for marketable battery grade graphite, according to initial test results.
Government Backing
Additionally BEM has full support from the Madagascan Ministry of Mines and Strategic Resources for the Maniry Project, which is believed to hold significant expansion potential given the Company's tenement position and declared Exploration Target (260-380Mt at 6-8%TGC).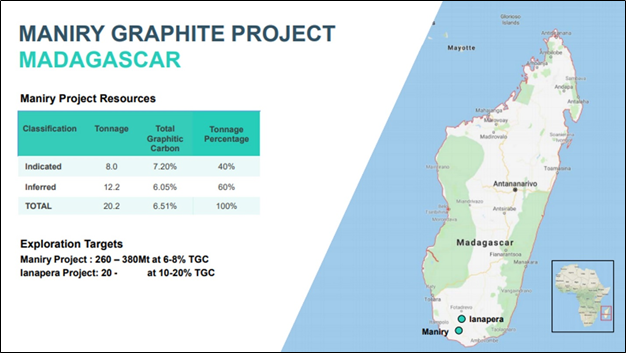 Source: Fast Tracking the Maniry Graphite Project- Presentation
What's next for Australian Born and Madagascar Bred Graphite-Focused Player?
2020 could turn out to be a landmark year to BEM, as the Company is expecting:
Completion of large-scale pilot metallurgical program, being undertaken by BGRIMM in China.
Completion of testing on bulk samples underway with Tier 1 players in the refractory, expandable graphite and battery anode markets in China and across the globe.
Completion of BFS or Bankable Feasibility Study.
Finalisation of strategic offtake agreements, for which the Company is currently in discussions with several parties.
Backed by experienced Board and management, and highly positive feedback for Maniry graphite concentrate samples from world leaders in the related space, BlackEarth Minerals is rapidly progressing towards first cashflow while advancing the project with access to key infrastructure, to deliver shareholder value.
Do Read: Highly Positive Feedback on BlackEarth Minerals' Coarse Flake Graphite Samples Pushes Stock Up by 12%
All the above-mentioned factors highlight that the Maniry graphite project has the potential to cater to high demand / high value products for end-users at the global level.
On 17 December 2020, the BEM stock inched upward by 11.111% to close at $ 0.050 with a market cap of around $ 5.65 million and approx. 113 million outstanding shares.
---
Disclaimer
This website is a service of Kalkine Media Pty. Ltd. A.C.N. 629 651 672. The website has been prepared for informational purposes only and is not intended to be used as a complete source of information on any particular company. The above article is sponsored but NOT a solicitation or recommendation to buy, sell or hold the stock of the company (or companies) under discussion. We are neither licensed nor qualified to provide investment advice through this platform.
---