Highlights

The two of the most high-profile CEOs of the world – Jeff Bezos and Elon Musk's heated rivalry has been popular over the last 15 years.
Tesla's CEO openly called out the Amazon founder over some of the Amazon's business ventures.
Bezos criticised Musk for his intentions to send humans to Mars.
The equation between Tesla Inc (NASDAQ:TSLA) CEO Elon Musk and the Amazon Inc (NASDAQ:AMZN) founder Jeff Bezos has been publicly sour for the last 15 years. Recently, the two executives clashed over their respective pursuits for glory in the space missions, as Elon Musk controls SpaceX and Jeff Bezos owns Blue Origin. The things got ugly from there.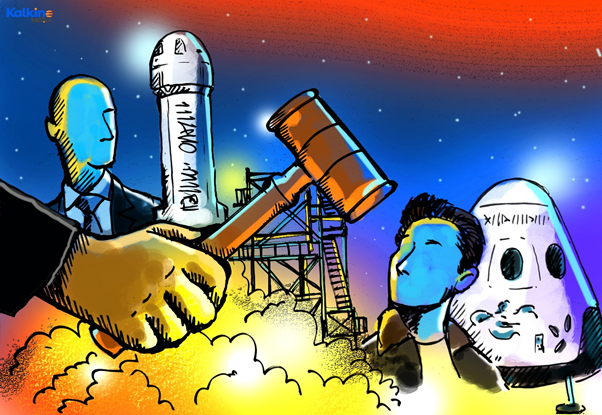 Representative image Copyright © 2021 Kalkine Media
Bezo's Blue Origin initiated a lawsuit against Musk's SpaceX.
How did it go so ugly?
To start with, the founder and former top boss of Amazon – Jeff Bezos urged the Federal Communications Commission (FCC) to dismiss SpaceX's latest amendment to its Starlink network. He said that it violates the FCC rules as it proposes two different configurations in the orbit. Following this, the Commission suspended the approval for Starlink. Starlink has around 1,700 satellites in orbit, serving around 100,000 users across the world.
Jeff Bezos and Elon Musk slug it out in space
This action annoyed Musk who in turn knocked Bezos on his resignation from Amazon. Frustrated by the lawsuits filed by NASA on SpaceX, Elon Musk called out Jeff Bezos in a tweet. Musk sarcastically said that its Jeff Bezos' full time job, post retirement, to file legal actions against his SpaceX. In the tweet, Musk also misspelt Bezos as Besos, which in Spanish means kisses.
Musk also said in his tweet – it took 400 days for Amazon to inform the FCC,ss but it took only four days to file the lawsuit against his SpaceX.
SpaceX's director of satellite policy – David Goldman also supported Musk in a statement, saying that Amazon waited for 15 months to explain the working process of its proposed system, but it has been very quick to lodge objections to SpaceX on an average about every 16 days this year.
Both the companies are competing against each other to get a coveted contract from US Government that will allow them to launch a constellation of low-earth orbit satellites (LEO). After their successful launch, the LEO satellites will provide high-speed broadband services across the world.
RELATED READ - Amazon on a hiring binge, to add 55,000 people to its workforce
Amazon further addressed the FCC concerns of its model through one of its blogs that stated – A project of this scale will require lot of efforts and resources which is not the kind of initiative that can start with small resources, due to its nature.
The Twitter war
Recently, Musk also criticised Bezos for lobbying the government instead of focusing on his own business. Bezo's Blue Origin space firm sued NASA over the agency's decision to give US$2.9 billion moon lander contract to Musk's SpaceX.
Representative image Source: © Jirsak | Megapixl.com
However, earlier in July, Elon Musk also laughed at a joke by a Twitter user on Jeff. This tweet was shared by SpaceMMR on Twitter that said, "The 5 stages of J E F F" with a meme featuring five pictures of the Amazon founder, making fun of latter's journey from denial to acceptance.
Blast off
On Wednesday evening, Elon's SpaceX blasted off the Inspiration4 crew, which is the first all-private team to venture into orbit. It spaceship has already gone past Jeff Bezo's highest point.
Falcon 9 rocket took off around 8 PM EDT from NASA's Kennedy Space Centre, it took only three minutes to blast past the Karman line.
SpaceX has created a milestone in the history of private spaceflight with none of the four passengers going through NASA's brutal astronaut training. These passengers will spend their next three days in the space watching the Earth below through a massive 180-degree glass dome that totals over 2,000 square inches of viewing area as per SpaceX.
Billionaire adventurer – Jared Issacman has funded the Inspiration4 launch team, where the rest of the team is made up of –
Hayley Arceneaux – 29-year-old bone-cancer survivor and physician's assistant.
Sian Proctor – Community college professor from Arizona and science communication specialist.
Chris Sembroski – Former space camp counsellor, Aeronautical engineer and Air Force veteran