Marijuana vs Liquor in the United States ???
Recent studies have revealed that the consumer demands in Cannabis and alcohol market space are not as correlated as was anticipated by the industry participants with the legalisation of marijuana in countries like the United States.
According to the study released in January 2019 by the Distilled Spirits Council, the spirits sales recorded gains in the three US states with marijuana legalization, namely Oregon, Colorado and Washington state. The sales went up 7.6% rise in Colorado and around 3.6% in Oregon.
The Distilled Spirits Council of the United States (DISCUS), established in 1973, is a national industrial trade group/ association formed with the merger of three organizations -the Bourbon Institute, the Distilled Spirits Institute, and the Licensed Beverage Industries, Inc. DISCUS advocates the interest of and comprises some of the leading companies from the US distilled spirits sector space as its members.
The council conducted a sort of longitudinal study whereby per-capita alcohol sales were examined in the three states for the two years prior to marijuana being legalized and up to four years after its legalisation. The study was based on the analysis of state-level alcohol tax receipts and shipment data.
Weed has been legal for the longest time in the states mentioned above. Yet, the new study confirmed that despite the rising popularity of legalized recreational marijuana (weed), there were no apparent decline in the spirit sales in these regions so far.
However, wine and beer businesses remained on their average to negative course. Washington state recorded a dip for wine sales while they were up in Colorado and Oregon. Beer businesses have been losing the fizz in all three states for over a decade.
Concludingly, the results of the study showed that the total sales of spirits, wine and beer were nearly consistent.
In addition, as per recently released official stats, Colorado?s marijuana industry has generated ~$1.02 billion tax revenue over 5 years since cannabis? commercial legalization.?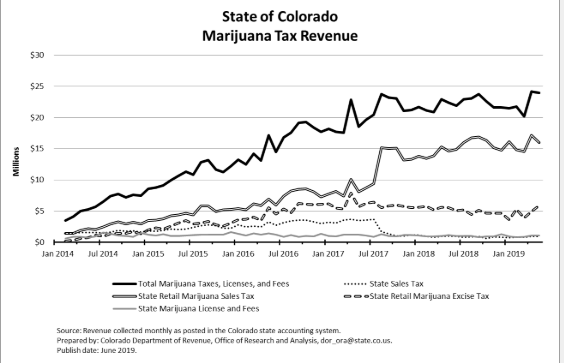 Source: https://www.colorado.gov/pacific/revenue/colorado-marijuana-tax-data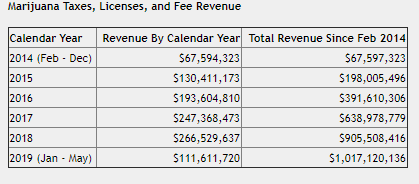 Source: https://www.colorado.gov/pacific/revenue/colorado-marijuana-tax-data
Market Belief: Marijuana vs Alcohol
Many industry analysts still expect pot to capture a greater share of market presence and consumers? disposable income, with marijuana consumption gaining gradual social acceptance amidst health benefits and crossing regulatory hurdles.
However, some market participants are of the belief that it is too early to reach conclusions with the evolving compositions of the consumer base in terms of demographic groups and different generations.
Currently, there are mixed positions and the outlook remains uncertain. There is no clear trend, or a link observed between the alcohol industry and the growing prominence of recreational cannabis. This is one of the widely discussed, debated, and researched subjects globally.?
Cannabis Legalization
Around 10 states in the US have recently legalized recreational marijuana; several more are considering it in 2019. Meanwhile, various states and cities around the world are gradually permitting products containing Cannabidiol (CBD), the non-psychoactive component of cannabis, which, according to several clinical trials, help reliving anxiety and muscle pain without intoxicating the users.
New Zealand commercialised cannabis last year.
Worldwide, various organisations in the alcohol industry have expressed their opinion in support of the states choosing to legalise marijuana. However, this should be implemented with a proper regulatory regime in place, to avoid any consumption misuse.
Millennials preference- Cannabis or Alcohol?
Various studies around the same debate have showed that while weed consumptions enhance hunger, pot smokers are still at lower risk of obesity and higher BMIs. On the other hand, alcohol, specifically beer is caloric and largely associated with extensive weight gain.
Talking of the disadvantages, frequent marijuana users are at an increased risk of developing schizophrenia and excessive consumption may trigger temporary symptoms of paranoia and hostility. The harmful effects of alcohol cannot be overlooked either with chronic drinkers experiencing depression and anxiety, as indicated by several studies.
With that noted, certain millennials are of the view that spending on alcohol is not worth the calories or hangovers while cannabis products cost less money.
The Australian Scenario
In Australia, cannabis is still considered to be an illicit narcotic drug and its cultivation for any purpose other than that allowed under the licence and permit schemes of the Narcotic Drugs Amendment Act 2016 is called an offence.
In Australia, the Office of Drug Control (ODC) was established with an agenda to prevent the risk of diversion of medicinal cannabis. The regulation of medical cannabis products in the country is being looked after by Therapeutic Goods Administration (TGA).
Both these regulators are a part of the Australian Government Department of Health, making an entire Health Products Regulation Group.
As per the legal regime, to legally produce cannabis, the company must acquire a research license (ODC licence) following which the cannabis research permit (an ODC permit) needs to be granted. It is only after these regulatory milestones that the company may commence the cultivation of the crop.
Related Industry Players
Gaining on the cannabis legalization environment, many healthcare/pharma players in the cannabis space are developing hemp-based drugs for treatment of severe diseases. Besides, companies are increasingly developing products for mothers in need of relaxation as well as for elderly population. Creso Pharma Limited (ASX: CPH), Althea Group Holdings Limited (ASX: AGH), MMJ Group Holdings Limited (ASX: MMJ), Elixinol Global Limited (ASX: EXL), Cann Group Limited (ASX: CAN), AusCann Group Holdings Limited (ASX: AC8) and many other belong to the gradually flourishing Cannabis sector space.
Some of the well-established leading liquor industry players in Australia include Australian Vintage Limited (ASX: AVG), Treasury Wine Estates Ltd (ASX: TWE), Broo Ltd (ASX: BEE) Gage Roads Brewing Co Limited (ASX: GRB).
Outlook
With the burgeoning cannabis revolution, it may take a while for the Alcohol industry to gradually adapt to the new market dynamics. According to Euromonitor, a UK-based market research company, the global cannabis market, for both legal and illegal products, is valued somewhere over $ 150 billion.
Large segments of the conventional alcohol industry are evidently intimidated and perceive the growing demand for cannabis as a threat to their penetration rates and profitability.
Regardless of the recent change in the social acceptance towards marijuana, the commodity still holds a questionable reputation among certain sections of the society.amongst the critics.
---
Disclaimer
This website is a service of Kalkine Media Pty. Ltd. A.C.N. 629 651 672. The website has been prepared for informational purposes only and is not intended to be used as a complete source of information on any particular company. Kalkine Media does not in any way endorse or recommend individuals, products or services that may be discussed on this site. Our publications are NOT a solicitation or recommendation to buy, sell or hold. We are neither licensed nor qualified to provide investment advice.