Highlights

The Society Pass stock will be added to Russell 2000 Index, effective Monday, Dec 20.
The SOPA stock was up over 47% in the pre-market session on Monday.
The US Russell 2000 index gave a return of over 11% YTD.
Stocks of Society Pass Incorporated (NASDAQ: SOPA) rallied in pre-market trading on Monday after it announced that the Russell 2000 Index would add its stocks on Dec 20.
On Dec 19, the California-based company announced the planned listing of its stocks on the Russell 2000 Index. Its shares jumped over 47% in the pre-market on Monday.
Also Read: Top 3 US 5G stocks to watch in 2022
Society Pass, which acquires and operates e-commerce platforms, started trading in the US stock market on Nov 9. Currently, it operates seven e-commerce platforms and aims to provide next-generation loyalty and data-focused services to customers. The company offered 2,888,889 shares of its common stock for US$9 per share in its initial public offering (IPO).
Also Read: 2 US energy stocks with over 7% dividend yield
Society Pass CEO Dennis Nguyen described the Russell 2000 listing as an "exciting milestone" after the company's IPO in November. He said the listing would help create market awareness about the firm and achieve its business goals for Southeast Asia.
Also Read: Nauticus Robotics to go public with CleanTech Acquisition SPAC deal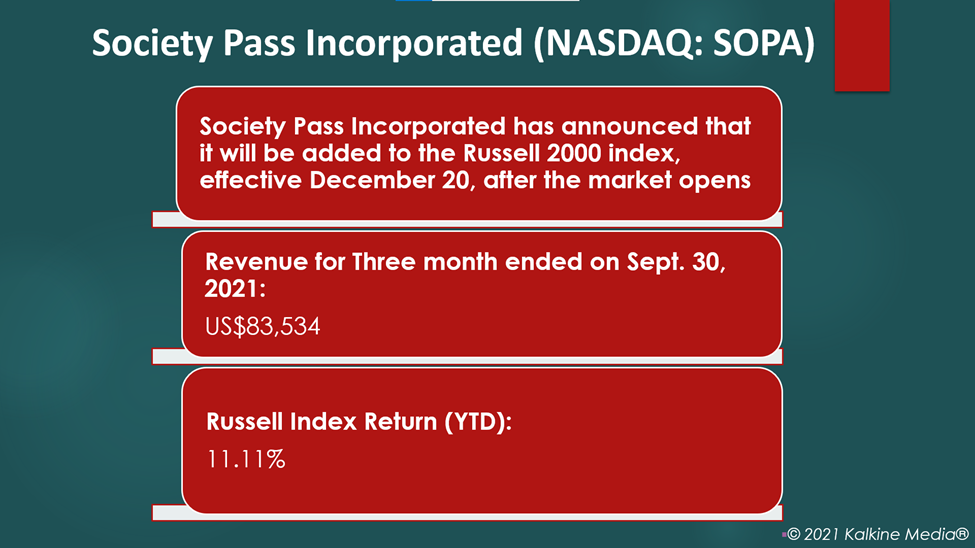 Also Read: 5 best US oil & gas stocks that returned over 100% in 2021
Stock performance and financial highlights of Society Pass Incorporated (NASDAQ: SOPA)
The stock traded at US$4.88 at 6:59 am ET on Dec 20, up 47.43% from its previous close. Its 52-week highest price was US$77.34, and the lowest price was US$3.27. The stock price fell 91.51% over the last month. Its trading volume was 683,706 on Dec 17.
Society Pass has a market cap of US$63.49 million.
The revenue was US$83,534 for the quarter ended Sept 30, 2021, compared to US$11,629 in the same quarter of the previous year. It reported a net loss of US$8.42 million For the period, against a loss of US$1.62 million for the quarter ended Sept 30, 2020.
Also Read: J&J, Sputnik & Sinopharm vaccines ineffective against Omicron: Study
Bottomline

The Russell 2000 Index accounts for the small-cap segment's performance of the US equity market. The index's market cap is around US$1.81 trillion. It rose 11.11% YTD.