Highlights

Trade Desk, Inc. (NASDAQ: TTD) revenue jumps 39% YoY to US$301.1 million in the third quarter of 2021.


Black Knight, Inc. (NYSE: BKI) revenue increased 21% YoY to US$378 million.


Black Knight raises outlook for fiscal 2021 after robust quarterly results.
Technology company The Trade Desk, Inc. (NASDAQ: TTD), and fintech firm Black Knight, Inc. (NYSE: BKI) posted strong revenue growth in their fiscal third quarter on Monday, helped by the launch of new products and brisk sales.
Here's a snapshot of their third-quarter performance:
The Trade Desk Inc
Trade Desk's revenue rose 39% YoY to US$301.1 million in its fiscal third quarter ended September 30, 2021, compared to US$216.1 million in the year-ago quarter.
The net income was US$59.4 million or US$0.12 per share diluted against US$41.2 million or US$0.08 per diluted share a year ago.
In addition, the adjusted EBITDA was US$122.7 million, up 41% YoY, while the non-GAAP net income was US$89.2 million or US$0.18 non-GAAP EPS diluted in the quarter.
The Ventura, California-based company retained 95% of its customer during the quarter, in line with its last seven-year performance, Trade Desk said in a release.
In July this year, the company launched a trading platform called Solimar that offers ad buyers an opportunity to create and manage their digital advertising campaigns on the cloud platform.
Trade Desk held the 6th position in the Fortune 100 list of fastest-growing companies in 2021.
Also Read: 2 lithium stocks to watch with over 100% YTD returns as COP26 convenes
Outlook for fiscal fourth-quarter 2021
Trade Desk expects its fourth-quarter revenue to be at least US$388 million and adjusted EBITDA to be around US$175 million in Q4, FY2021.
The company has a market capitalization of US$32.8 billion and a P/E ratio of 128.37.
On November 5, 2021, the stock closed at 68.55. The Trade Desk stock fell 14.42% YTD.
Also Read: Five logistics stocks to watch as retailers build up holiday inventory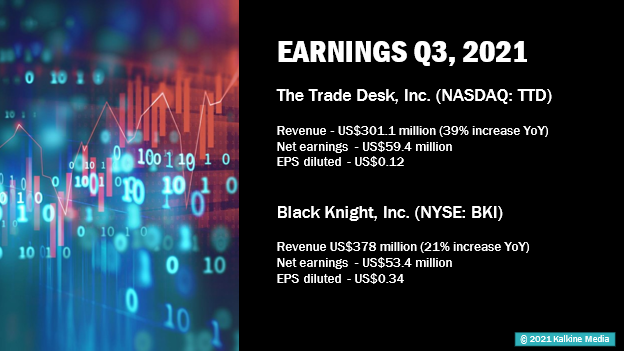 Source – Pixabay
Also Read: Seven HR stocks to explore amid tight labor market
Black Knight Inc.
Its revenue increased by 21% in the quarter to US$378.0 million, with organic revenue growth of 10%.
Segment-wise, the Software Solutions generated US$319.6 million, up 23% YoY or an Organic revenue increase of 10%. The Data and Analytics revenue was US$58.4 million, reflecting a growth of 10% and an organic revenue growth of 7% in the third quarter.
Black Knight's operating income was US$82.7 million, up 39% increase YoY. Its operating margin also rose by 21.9% in the period from 19.0% in Q3 of 2020.
The net earnings were US$53.4 million, compared to US$127.8 million in the third quarter of 2020. The earnings before equity relating to unconsolidated affiliates increased 60% to US$44.7 million, which includes Dun & Bradstreet Holdings, Inc.'s (DNB) IPO and concurrent private placement, against US$28.0 million in Q3 of 2020.
Also Read: Top EV stocks to explore as nations set emissions reduction target
Besides, its earnings per share diluted were US$0.34 compared to US$0.82 in the corresponding period of the prior year. The adjusted EBITDA was US$184.8million, up 19.5% YoY.
The adjusted operating income was US$148.3million, and adjusted net earnings were US$93.1 million, showing a growth of 23% and 15%, respectively. The adjusted EPS was US$0.60.
The company repurchased 1.4 million shares worth US$100.0 million in the quarter, with about 8.0 million shares yet to be repurchased.
Also Read: UBER's gross bookings reach ATH in Q3 2021, Cloudflare revenue up 51%
Outlook for Full-Year 2021
The technology company has raised its outlook for fiscal 2021. It expects the revenue to be in the range of US$1,466 million to US$1,472 million, the adjusted EBITDA to be in the range of US$720 million to US$724 million, and the adjusted EPS to be between US$2.34 and US$2.36.
The Jacksonville, Florida-based company provides software and data analytics solutions to the loan, real estate, and capital market players. These solutions help in loan origination, processing, data integration, risk assessment, etc.
Black Knight's market capitalization is US$11 billion, and the P/E ratio is 40.87.
The stock closed at US$70.29 on November 5, 2021. It fell 20.44% YTD.
Also Read: Datadog (DDOG) & UiPath (PATH) rally after quarterly reports
Bottomline
Trade desk delivered solid third-quarter results, retaining 95% of its customers, which has been the norm for the last seven consecutive years. With the launch of the Solimar platform, the company hopes to offer precise data to clients.
On the other hand, Black Knight saw strong revenue growth for the second consecutive quarter, helped by the launch of innovative solutions and sales. However, investors must evaluate the companies carefully before investing in stocks.