Highlights:

Target Corporation (NYSE: TGT) announced a quarterly operating margin cut on Tuesday, weeks after its Q1 results.
The company plans to offer discounts on products to clear excess inventory.
It intends to add five distribution centers in the next two years to build its upstream supply chain capacity.
General merchandise retailer Target Corporation (NYSE: TGT) stock fell sharply in the premarket trading on Tuesday after announcing an operating margin cut for the second quarter.
The stock plunged 7.05% to US$148.4 in the premarket before recovering some losses.
The company plans to right-size its inventory for the rest of the year. The company said inventory reduction would add flexibility in the fast-changing environment. However, the plans may not have gone well with investors as the stock saw a sharp drop.
At the same time, shares of other retailers like Walmart Inc. (WMT) fell 3.13%, and Costco Wholesale Corporation (COST) plunged 3.98% in the premarket.
Besides reducing excess inventory, it plans to increase its holding capacity near US ports. It hopes to cut transportation and fuel costs by shortening the distance and lead time.
Also Read: 5 consumer stocks under US$50 to watch: MAT, LRN, HRB, TEN & UTI
Target also plans to strengthen its fast-moving categories, such as food and beverage and household essentials. In a press release, the company also said it would add five distribution centers to build its upstream supply chain capacity in the next two years.
Target expects its second-quarter operating margins to be around 2%, down from 5.3% in the first quarter. The operating margin for the rest of the year is expected to be around 6%.
Also Read: UNP to MANH: Top supply chain stocks to watch amid global concerns
Target offers food and beverages besides non-essential items for home furnishings and décor.
It has a market capitalization of US$74 billion. Its P/E ratio is 13.24, and the forward P/E for one year is 14.41. The company's annualized dividend is US$3.60, with a dividend yield of 2.24%.
Also Read: WM to CWST: 5 recycling stocks to watch as climate takes center stage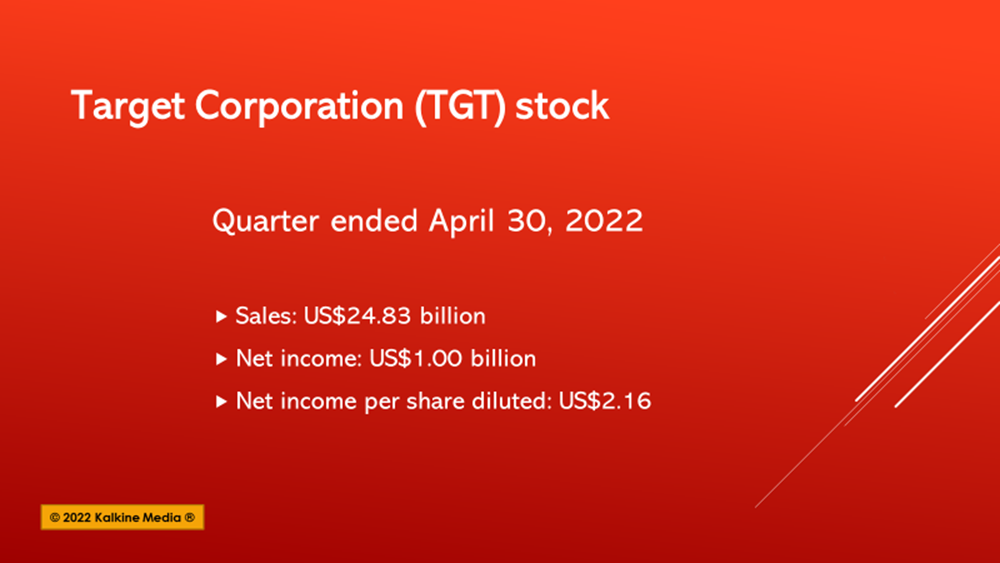 Also Read: Top 5 mid-cap stocks to explore: UTHR, SWX, ACHC, WWE & Y
Financials:
For the first quarter ended April 30, 2022, its sales were US$24.83 billion, and the net income was US$1.00 billion or US$2.16 per share diluted. In the year-ago quarter, its sales and net income were US$23.88 billion and US$2.09 billion, respectively. The EPS diluted was US$4.17.
Also Read: BPT to PBT: 5 small-cap stocks that gave over 275% returns
Bottom line:
TGT stock plunged 70.43% year-to-date and 30.85% in one year at the closing price of US$159.67 on June 6, 2022.