Highlights:

The HIL stock jumped about 20 per cent in the morning trading on August 29.
The company had recently announced a merger deal with an engineering and construction firm.
Hill International expects its Consulting Fee Revenue (CFR) to be as much as US$ 350 million in fiscal 2022.
Hill International, Inc. (NYSE: HIL) appears to have gained traction as its price increased in the morning trading on August 29. The price of the HIL stock soared about 20 per cent in intraday trading on Monday morning.
Let's explore the stock and financial performance of the construction consulting firm after taking a closer look at its recent developments.
Why is Hill International, Inc. (NYSE: HIL) soaring?
The HIL stock was in focus recently after it said on August 16 that it had entered into a definitive merger agreement with the engineering and construction firm Global Infrastructure Solutions Inc.
According to the announcement, Global Infrastructure would propose an all-cash offer for buying the full issued and outstanding shares of HIL stock for US$ 2.85 apiece, a premium of 62.8 per cent of HIL's closing price of August 16.
The all-cash transaction deal was valued at about US$ 173 million, and both companies agreed to the merger on August 16.
On August 27, the companies announced the all-cash transaction values of about US$ 207 million or US$ 3.4 apiece, plus the assumed debt. The deal amendment provided a price surge from the previously announced US$ 2.85 per share to US$ 3.4 per share, representing a jump of 19.3 per cent.
The board of directors of both firms has nodded to the merger agreement for the diversified construction management firms. The company release said it would help enhance competitiveness and accelerate the firm's organic growth in the consulting sector.
The merger deal between Hill International and Global Infrastructure Solutions is anticipated to be closed by the final quarter of the ongoing year.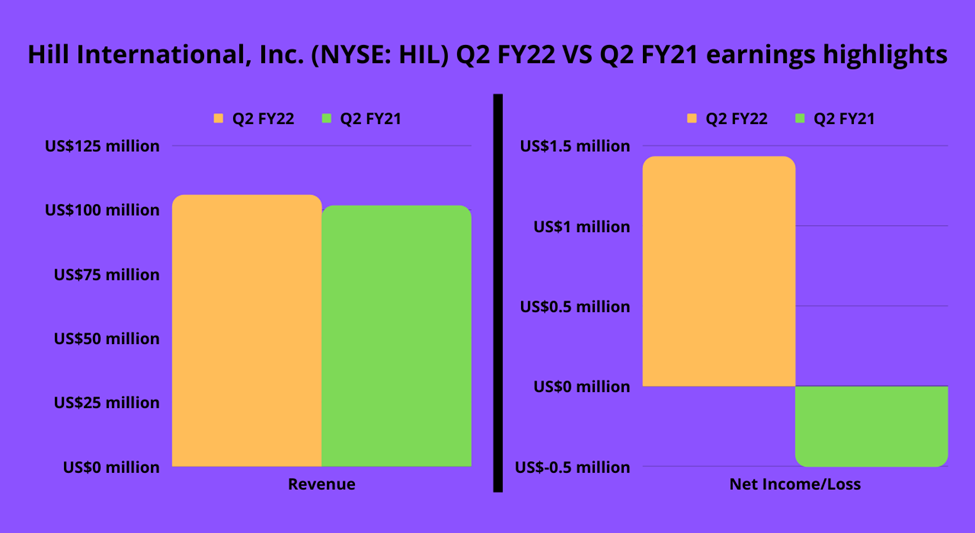 Source: ©Kalkine Media®; © Canva Creative Studio via Canva.com
Hill International financial highlights:
The Philadelphia, Pennsylvania-based firm reported a revenue of US$ 105.7 million in Q2 FY22, relatively up from US$ 101.5 million in the previous year.
Hill International's net income also improved to US$ 1.4 million in the latest quarter of 2022, from a net loss of US$ 0.5 million in the same quarter of the prior year.
The firm reiterated its full fiscal financial guidance during its second-quarter earnings release. For the ongoing year, it expects its Consulting Fee Revenue (CFR) to be between US$ 340 million and US$ 350 million.
For its adjusted EBITDA in fiscal 2022, it provided a guidance range of US$ 22 million to US$ 24 million.
Bottom line:
The HIL stock added 20 per cent at 10:38 am ET on August 29 to trade at US$ 3.36. Its trading volume was about 2.99 million simultaneously, and its market cap stood at US$ 192.32 million.
At its current trading price, the HIL stock soared more than 37 per cent in the trailing 12 months while gaining over 72 per cent year-to-date (YTD). On a quarter-to-date (QTD) basis, its price skyrocketed by about 100 per cent.