Highlights:

LULU stock jumped over nine per cent in the pre-market hours on Friday.
lululemon's revenue jumped 29 per cent YoY in Q2 FY22.
The company now expects its fiscal 2022 revenue to be as much as US$ 7.940 billion.
The lululemon athletica inc. (NASDAQ: LULU) stock soared during pre-market hours on Friday, September 2, a day after the athletic apparel retailer announced its latest quarterly earnings results.
The LULU stock price jumped over nine per cent in the pre-market hours after closing at over one per cent down in the prior session.
Let's look at the latest quarter earnings highlights and guidance with Kalkine Media® before closely looking into the recent stock performance of the retailer.
Second quarter financial highlights of lululemon:
lululemon reported a revenue of US$ 1.86 billion in the second quarter of fiscal 2022, representing a jump of 29 per cent from a revenue of US$ 1.45 billion in the year-ago quarter.
Its revenue from the North American segment rose 28 per cent year-over-year (YoY), while its international revenue soared 35 per cent YoY.
Compared with the second quarter of 2019, its net revenue increased by US$ 1 billion or 112 per cent, showing a three-year compound annual growth rate (CAGR) of 28 per cent.
The net income of the Vancouver, Canada-based firm also improved to US$ 289.52 million in Q2 FY22, from an income of US$ 208.07 million in the same quarter of the prior year.
Talking about its guidance, the firm now expects its net revenue to be between US$ 1.78 billion and US$ 1.805 billion in the third quarter of fiscal 2022. The guidance range represents a three-year CAGR of around 25 per cent.
It expects its Q3 FY22 diluted earnings per share to be between US$ 1.9 and US$ 1.95 apiece.
For fiscal 2022, the Canada-based retailer expects its net revenue to be between US$ 7.865 billion and US$ 7.940 billion.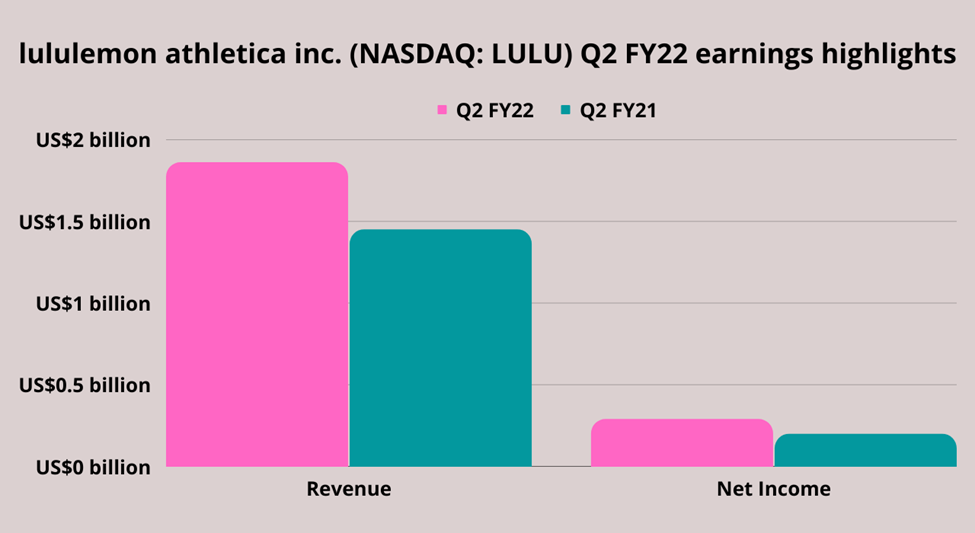 Source: ©Kalkine Media®; © Canva via Canva.com
Bottom line:
The price of the LULU stock was US$ 321.87 at 8:13 am ET on September 2, up 9.31 per cent from its previous close of US$ 294.45 (down 1.84 per cent). Its trading volume was about 28,721 at the same time.
lululemon athletica holds a market cap of US$ 41.07 billion, and its price-to-earnings ratio (P/E) was 34.48 at the time of writing.
Investors have closely watched the second quarter retail earnings for consumer sentiment and spending cues. Several retail firms said that the strong dollar and the higher inflation had impacted their profits while restricting consumer spending.