Highlights:

Dollar General's inventories grew 25.1 per cent to US$ 6.9 billion.
Dollar Tree cut its full-year 2022 estimates between US$ 7.10 and US$ 7.40 per share.
Big Lots has a market cap of US$ 664.23 million.
With rising inflation, people queue up at dollar stores for discounted products. Two flagship retailers, Dollar Tree and Dollar General reported their quarterly earnings on Thursday, August 25.
It seems that dollar stores could gain more attention due to rising prices. Hence, we explore four such stocks curated by Kalkine Media®:
Dollar General Corporation (NYSE: DG)
Dollar General is a US discount retailer running over 18,000 stores spanning 47 states. The Goodlettsville, Tennessee-based company has a market valuation of US$ 55.38 billion.
On a year-to-date basis, DG jumped over five per cent. It closed at US$ 246.08 on August 25, 2022. The share price of Dollar General increased by 24.35 per cent over the past six months.
DG stock reached its 52-week high of US$ 262.205 on April 21, 2022. In contrast, it dropped to its 52-week lowest price of US$ 183.25 on May 20, 2022.
It has a price-to-earnings ratio of 25.03. Dollar General paid a quarterly dividend of US$ 0.55 per unit. On August 25, 2022, Dollar General promoted John Garratt to the position of President and Chief Financial Officer of the company, effective September 1, 2022.
In its Q2 2022 financial results, Dollar General posted net sales of US$ 9.4 billion. Meanwhile, the operating profit for the reported quarter jumped to US$ 913 million.
The company said its inventories grew 25.1 per cent per store to US$ 6.9 billion in Q2 2022. The same-store sales soared 4.6 per cent over the year.
Dollar Tree Inc. (NASDAQ: DLTR)
Dollar Tree is a US multi-price-point discount chain operating over 15,000 stores in the US and Canada. The US$ 33.7 billion market valuation company Dollar Tree's price-to-earnings (P/E) ratio is 22.79, and the earnings-per-share (EPS) was US$ 6.57.
DLTR stock gained over 17 per cent year-to-date (YTD) and on a yearly basis, it increased by 82.61 per cent.
Dollar Tree also reported its second quarter fiscal 2022 earnings on August 25, 2022. Its consolidated net sales in the second quarter of 2022 were US$ 6.77 billion, compared to US$ 6.34 billion in the same period a year earlier.
Dollar Tree reported a net income of US$ 359.9 million in Q2 2022 versus US$ 282.4 million in Q2 2021.
Dollar Tree slashed its full-year 2022 earnings forecast to range between US$ 7.10 and US$ 7.40 per share, from the earlier US$ 7.80 and US$ 8.20. The company has lowered estimates because it is cutting prices on Family Dollar stores.
Dollar Tree has increased its investment in its Family Dollar segment to improve merchandising and standards of the stores.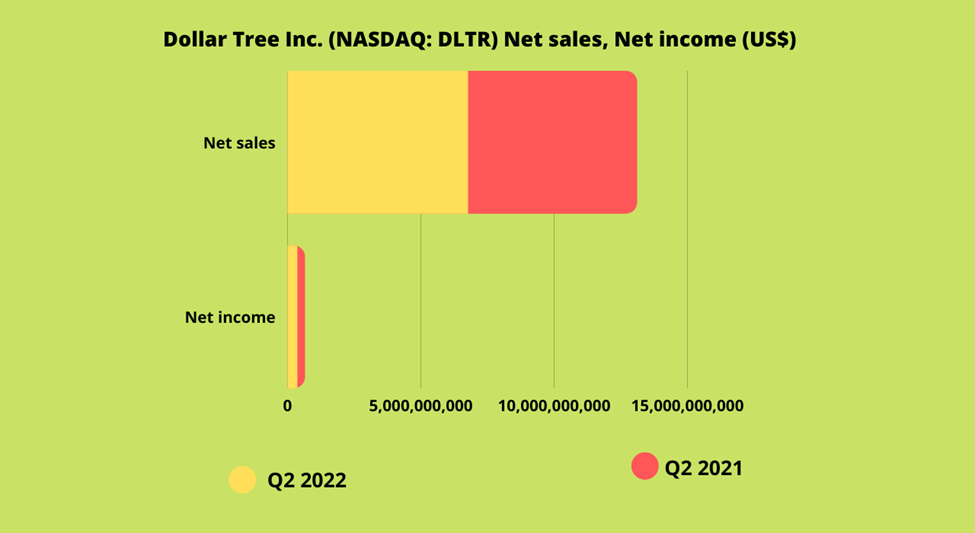 Source: ©Kalkine Media®; © Canva via Canva.com
Big Lots, Inc. (NYSE: BIG)
Big Lots, Inc. is a US retail chain with more than 1,400 stores across 47 states. The Columbus, an Ohio-based company, Big Lots, has a market cap of US$ 664.23 million.
Big Lots distributes a dividend of US$ 0.30 per share on a quarterly basis. On a year-to-date basis, the BIG stock slid 0ver 51 per cent. However, it has gained close to 23 per cent in the past month.
Big Lots shares reached the 52-week highest price of US$ 58.6675 on August 25, 2021. It tanked to its 52-week lowest of US$ 18.16 on July 27, 2022.
Big Lots will likely report its Q2 2022 earnings results on August 30, 2022. In its first quarter 2022 financial results, the company reported a net loss of US$ 11.1 million or $0.39 per share. The Q1 2022 net sales were US$ 1.37 billion, a 15.4 per cent decline from US$ 1.63 billion in the corresponding quarter of the previous year.
Big Lots attributed this drop in sales to the supply chain disruptions, which affected most businesses this year.
Five Below Inc. (NASDAQ: FIVE)
Five Below is a US specialty discount stores chain that sells products priced less than US$ 5. There is also a bevvy of products priced between US$ 6 and US$ 25.
Most of the company's products are directed at tweens and teens. Five Below has a market cap of US$ 7. 5 billion, and its P/E ratio is 28.71.
On a year-over-year basis, FIVE stocks fell below 40 per cent. But, in the past month, it rose 17.69 per cent.
Its 52-week highest price was US$ 237.86 on August 25, 2021, while its 52-week lowest price was US$ 109.49 on July 5, 2022.
It closed at US$ 134.20, up 0.17 per cent, with a share volume of 650,469 0n August 25, 2022. Five Below is slated to release its Q2 2022 earnings results at market close on August 31, 2022.
The company's net sales for Q1 2022 surged by seven per cent to US$ 639.6 per cent compared to US$ 597.8 million in the previous year's first quarter.
It opened 35 new stores during the reported quarter, taking the tally to 1,225 stores in 40 states. Its first quarter 2022 net income was US$ 32.7 million versus US$ 49.6 million in the year-ago quarter.
Bottom line
Dollar stores are now witnessing a higher footfall as consumers look for cheaper-priced items. Due to the rising inflation, people have now moved to staples like food items available at much lower prices in dollar stores across the country. However, investing in stocks needs extensive analysis to gain returns. Hence, investors must understand the risks before investing.