Highlights

PepsiCo, Inc's (NASDAQ: PEP) operating profit was US$3.15 Bn in Q3, FY21.
PEP's revenue was US$54.22 billion for the first three quarters of fiscal 2021.
PepsiCo expects its organic revenue to grow by 8% in fiscal 2021.
The stock of PepsiCo, Inc. (NASDAQ: PEP) was gaining traction on Wall Street Tuesday after reporting solid quarterly earnings before the opening bell. PepsiCo raised its full-year earnings forecast after beating Wall Street expectations in the third quarter of fiscal 2021.
The company also said that supply chain and labor market disruptions, higher commodity and transportation prices had affected its Q3 results.
Here we explore the quarterly performance of the company.
Also Read: Duckhorn's (NAPA) net sales jump 35% in Q4, stocks up 4%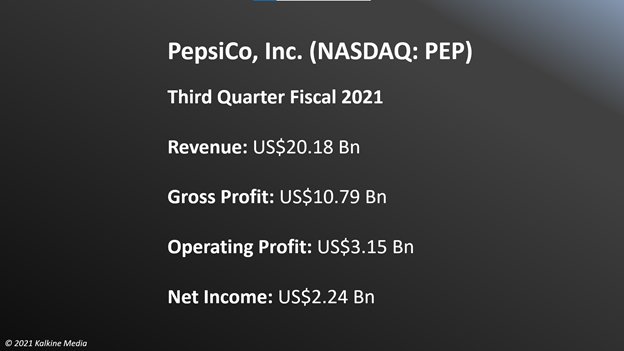 Also Read: Five education stocks to watch as campuses reopen
PepsiCo, Inc. (NASDAQ: PEP)

PepsiCo is a food, snack, and beverage company based in New York and operates globally. It manufactures and sells various products under the PepsiCo brand and its subsidiaries.
In Q3 of FY21, the company's net revenue rose to US$20.18 billion from US$18.09 billion in the year-ago quarter. PepsiCo's gross profit was US$10.79 billion against US$9.93 billion in Q3 FY20.
In addition, the operating profit was US$3.15 billion against US$3.01 billion in Q3 FY20. PepsiCo's net income was US$2.24 billion compared to US$2.30 billion in Q3 FY20.
Also Read: Xenon (XENE), OpGen (OPGN) stocks soar on drug results, FDA approval
Furthermore, on a GAAP basis, the net income per share attributable to the company was US$1.60 in Q3 FY21 versus US$1.65 in Q3 FY20. On a non-GAAP basis, the core net income per share rose from US$1.66 in the year-ago quarter to US$1.79 in Q3 FY21. For the 36 weeks ended Sep 4, 2021, PepsiCo's net income was US$6.33 billion on revenue of US$54.22 billion.
On Sep 23, PepsiCo's subsidiary Frito-Lay launched a compostable bag under the "Off the Eaten Path" brand as part of its focus on biodegradable products. The bags are now available at the stores.
Also Read: Key dividend dates: Why are they important for investors?
The PEP stock traded at US$150.86 at 9:07 am ET on Oct 5, up 0.44 percent from its previous close. Its stock rose 4.11 percent YTD. PepsiCo's market cap is US$207.59 billion, the P/E ratio is 25.37, and the forward P/E one year is 24.07.
Its EPS and annualized dividend are US$5.92 and US$4.30, respectively. PepsiCo's 52-week highest and lowest stock prices were US$159.63 and US$128.32, respectively. On Oct 4, the trading volume was 5,404,863.
Also Read: US markets retreat as technology stocks dip
Bottomline

According to a Refinitiv survey, analysts had predicted PepsiCo's earnings per share to be around US$1.73 and revenue of US$19.39 billion. The strong quarterly result has prompted the company to raise its full-year revenue guidance.
It now expects its organic revenue to grow by 8 percent from its previous forecast of 6 percent while reiterating its core constant currency EPS growth of 11 percent. However, investors should evaluate the companies carefully before investing in the stock market.