Highlights:

Electric vehicle maker Rivian Automotive Inc (NASDAQ:RIVN) has announced to cut six per cent of its workforce.
RIVN stock fell by 73 per cent year-over-year.
Rivian to report its Q2, FY2022 earnings results on August 11, 2022.
Electric vehicle maker Rivian Automotive Inc (NASDAQ:RIVN) announced to cut six per cent of its workforce, citing uncertain economic conditions.
An internal memo from the CEO, RJ Scaringe, confirmed the cuts on Wednesday, July 27. Rising inflation, sharp interest rate hikes by the US Federal Reserve, and supply chain disruptions have affected business operations of several companies, including Rivian.
Rivian's stock performance
Rivian stock was above par a year ago, performing better than Ford and General Motors (GM). The stock reached its all-time high price of US$ 172.01 within a week of going public in November 2021 at US$ 78 per share.
The stock has plummeted since the IPO with the stock taking a dive of over 73 per cent year-over-year since.

Volatile market conditions have weighed down heavily on the EV maker. Supply chain woes and rising commodity prices slowed down production. Even amid a negative outlook, the stock was able to gain 19 per cent over the last month.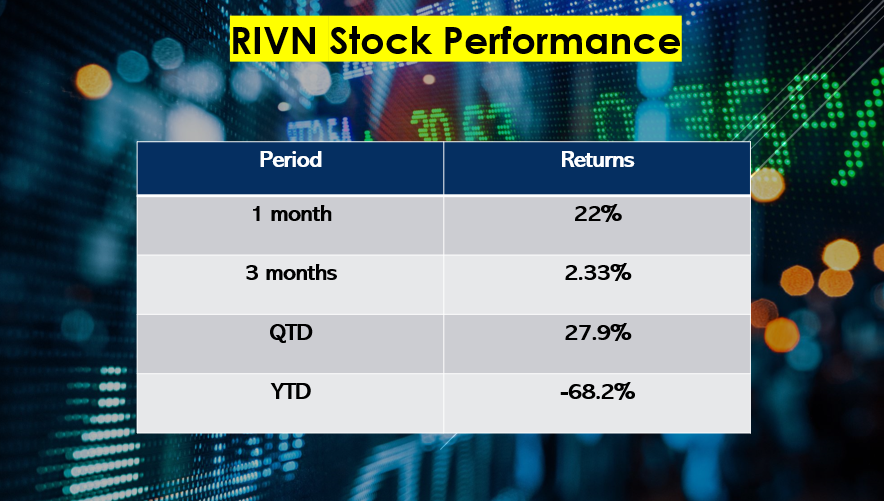 ©2022 Kalkine Media®
Moreover, with a Relative Strength Index (RSI) of 55.63 as depicted on Refinitiv, the RIVN stock indicates that it is not experiencing an overselling condition.
RIVN first-quarter earnings
In the first quarter earnings of fiscal 2022, RIVN reported revenue of US$ 95 million. It was the first quarterly earnings of the EV maker after making its public debut.
The company registered a gross profit of US$ 502 million in this quarter. Rivian reported a net loss of US$ 1,593 million in the first quarter of fiscal 2022, compared to US$ 414 million in the corresponding quarter a year ago.
Rivian: Key details
Rivian manufactured 4,401 vehicles in the second quarter of fiscal 2022 at its facility in Normal, Illinois. It also delivered 4,467 vehicles in the quarter.
The company opened three fast charging stations in June in Colorado and California. These sites will have the capacity to dispense over 200 kilowatts of power initially. Rivian also announced its plans for a large-scale wind turbine at its manufacturing premises in the Normal Plant. It will provide clean energy for R1 vehicles to be powered by renewables for their maiden charge.
Bottom line:
Amazon signed a contract with Rivian to buy 100,000 of its electric delivery vehicles, which are supposed to be delivered by 2030. The first fleet has been already rolled out this month.
Rivian has three main vehicles in its repertoire. They are the R1T pickup truck, Amazon electric delivery van (EDV), and R1S SUV. Its R1 vehicles have the capacity to ply more than 300 miles on a single charge.
Rivian is set to release its second-quarter earnings results on August 11, 2022.