Highlights

TSR Inc. (TSRI) is a staffing company, founded in 1969.

TSR, Inc. announced its second-quarter results with increased revenue for the quarter ended November 30, 2021.
The stock spiked 29.25% in one year.
TSR, Inc. (NASDAQ: TSRI) was up by 35.80% at 8:23 am ET on Tuesday in the pre-market. The stock traded at US$11.76.
The TSRI stock jumped on announcing the second-quarter results, ended November 30, 2021, on January 10 in the after-market hours. The trading volume rose to 8,161,911 compared to its 90-day average trading volume of 119,923.
Q2 results:
Its Q2 revenue increased 48.5% compared to the previous year's second quarter. It was US$23.9 million compared to the revenue of US$16.1 million in the same quarter the previous year.
The net income attributable to the company came in at US$0.243 million, or US$0.12 per share diluted, against a net loss of US$0.247 million, or US$0.13 per share diluted for Q2 of the prior year.
Also Read: Top technology and gaming stocks to explore in 2022
The operating income was US$415 million for the November quarter of 2021 compared to the net operating loss of US$223 million in the prior-year quarter.
Its cash and cash equivalents were US$6.27 million as of November 30, 2021, and debt was less than US$50,000.
According to Thomas Salerno, CEO of TSR Inc., the revenue increased due to organic growth from new and existing customers in the second quarter. The company expects its operating income to grow by leveraging selling, general and administrative expenses if the current trend continues.
Also Read: Five cybersecurity stocks to watch in the first quarter of 2022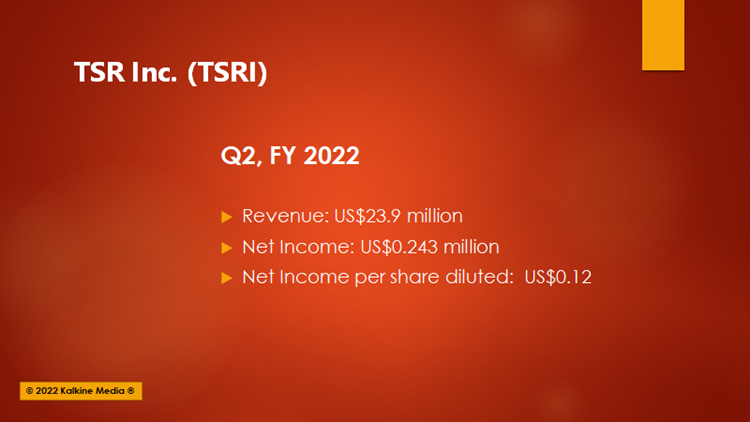 Also Read: Two media stocks to explore in 2022
Hauppauge, New York-based TSR Inc. was founded in 1969. It went public in 1976. TSR is a staffing company engaged in providing contract computer programming services to customers.
Also Read: FGI Industries Ltd IPO: What does kitchen & bath firm's FGI stock cost?
The company offers staffing capabilities to provide personal computer support, client-server support, mainframe computer operations, mid-range computer operations, internet and e-commerce operations, voice and data communications, and help desk support. It recruits IT professionals for various assignments, permanent jobs, and project work.
Its current market capitalization is US$17 million. The company has a P/E ratio of US$2.77. The stock traded in the range of US$18.73 to US$6.20 in the last 52 weeks.
Also Read: Top 5 US e-commerce stocks to explore in Q1 2022
Bottom line
TSR offers its services to banking, insurance, financial services, biotechnology and pharmaceuticals, media, project utilities, and other industries. The company has been long existing and may continue doing so. However, investors must be careful while investing in stocks and exercise due diligence.