Highlights:

GATX Corporation (NYSE: GATX) pays a dividend of US$ 0.52.
Union Pacific Corporation reported a revenue of US$ 312.7 million in Q2 2022.
CSX Corporation has a market cap of US$ 68.97 billion.
The US weekly railroad traffic grew by 3.7 per cent YoY in August 2022, according to data by the Association of American Railroads (AAR)
Although things can change quickly, this growth shows that the economy has improved to stimulate perennial improvements in rail volumes, said AAR Senior Vice President John T. Gray.
The report mentioned that weekly rail traffic in North America soared by 5.3 per cent YoY to 704,503 carloads and intermodal units for the week ending September 3, 2022.
Here, we take a look at five railroad stocks, including GATX Corporation (NYSE: GATX), Union Pacific Corporation (NYSE: UNP), and CSX Corporation (NASDAQ: CSX), curated by Kalkine Media® to explore their performances:
GATX Corporation (NYSE: GATX)
GATX Corporation is a railcar lessor with operations in North America, Europe, and Asia. The Chicago, Illinois-based company also owns one of the biggest aircraft spare engine leases.
The US$ 3.4 billion market cap company declared a dividend of US$ 0.52. This quarterly dividend remained the same as the previous quarter.
GATX announced it had increased its 2022 full-year earnings guidance to US$ 5.6 - US$ 6 per diluted share. Amid demand for railcars across all regions in the second quarter of 2022, the company's investment volume touched US$ 314.1 million, and a total of US$ 684.5 million YTD (year-to-date).
For the three months ended June 30, 2022, GATX Corporation posted total revenue of US$ 312.7 million against US$ 317.1 million in the same period a year ago.
Union Pacific Corporation (NYSE: UNP)
The company is a freight-hauling railroad company. It runs 8,300 locomotives across 23 US states west of Chicago and New Orleans.
The US$ 143.9 billion company, Union Pacific, distributed a quarterly dividend of US$ 1.3 per share, next payable on September 30, 2022.
UNP stock gained over 10 per cent year-over-year (YoY) while rising 0.8 per cent over the past month.
Union Pacific saw a 14 per cent increase in its second quarter 2022 revenue to US$ 6.3 billion compared to the year-ago quarter.
The railroad company also saw a one per cent spurt in its Q2 2022 operating income to US$ 2.5 billion.
Union Pacific said it repurchased 3.1 million shares in the second quarter of 2022 at an aggregate cost of US$ 722 million.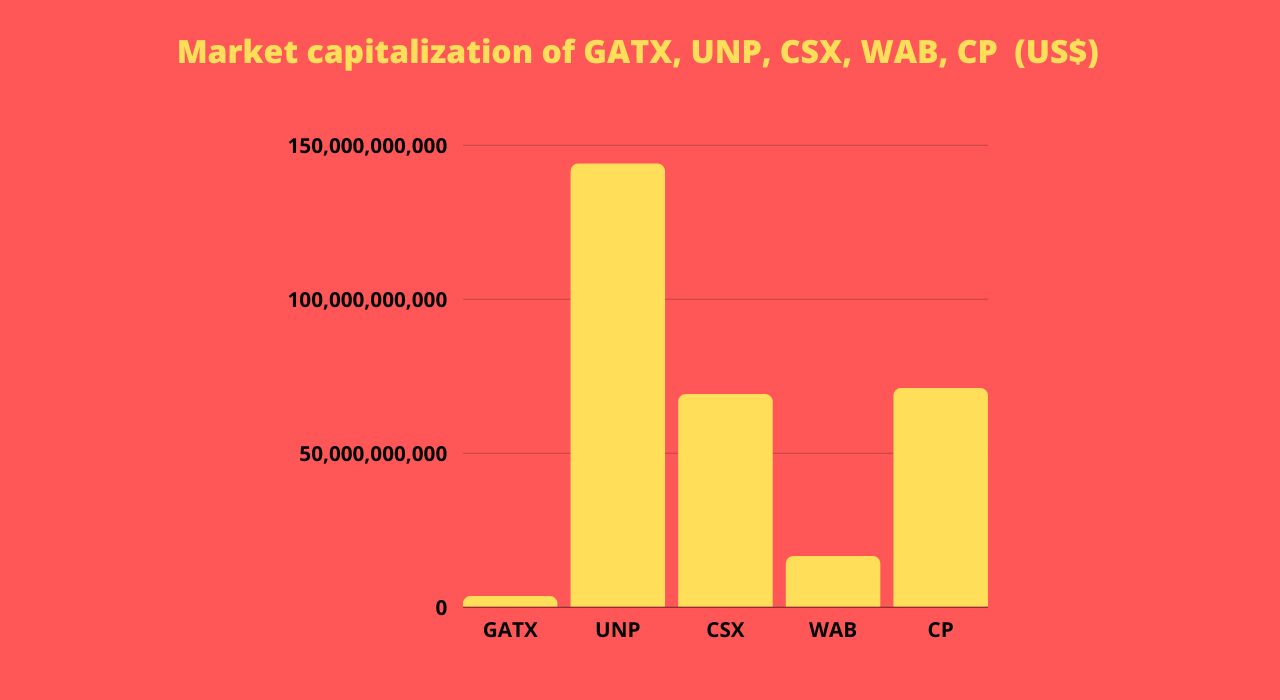 Source: ©Kalkine Media®; © Canva via
CSX Corporation (NASDAQ: CSX)
Founded in 1980, CSX Corporation is a US holding company engaged in North American rail transportation and real estate.
The CSX stock of the US$ 68.97 billion company returned 1.87 gains YoY. It paid a dividend of US$ 0.1 per share.
CSX Corporation reported Q2 2022 net earnings of US$ 1,178 million, a 0.43 per cent increase from US$ $1,173 million from the same period in 2021.
Relative to the previous year's Q2 operating income of US$ 1.69 billion, CSX Corporation reported Q2 2022 operating income of US$ 1.7 billion.
The company said its Q2 2022 revenue of US$ 3.82 billion is a 28 per cent YoY growth over the past year. It resulted from soaring revenue in all the markets triggered by fuel surcharges, pricing gains, and the inclusion of quality carriers.
The Q2 2022 financial results also included gains of US$ 122 million accrued from the property sales by the company. It also incurred an expense of US$ 18 million due to the acquisition of Pan Am Railways in the second quarter.
Westinghouse Air Brake Technologies Corp. (NYSE: WAB)
Born out of a merger between Westinghouse Air Brake Company and MotivePower Industries Corporation in 1999, Wabtec Corporation provides tech-based products and services to the rail industry.
The Pittsburgh, Pennsylvania-based company that adds value to the rail sector has a market cap of US$ 16330536497. It distributes a quarterly dividend of US$ 0.15.
Westinghouse said that its second-quarter 2022 GAAP EPS (earnings per share) was US$ 0.91, and the adjusted EPS was US$ 1.23, which was a growth of 16 per cent YoY. This increase was mainly due to higher sales and enhanced operating margins.
The company said that it achieved strong growth in the second quarter of 2022, delivering profitability, continued margin expansion, and enough increase in backlog.
It saw a 1.8 per cent increase in the Q2 2022 net sales to US$ 2,048 million, compared to US$ 2,012 million in the corresponding quarter a year earlier.
Another highlight in Q2 2022 was the acquisition of Beena Vision and ARINC for US$ 69 million. Westinghouse also repurchased US$ 103 million of Wabtec shares in the 2022 second quarter.
Canadian Pacific Railway Limited (NYSE: CP)
Also known as CPR, the company is a Canadian Class I railway founded in 1881. It operates on over 12,500 miles of track across Canada and parts of the US.
The US$ 70.93 billion market company has a P/E ratio of 33.31. CP stock sprinted over 9 per cent YoY.
Canadian Pacific's revenue in the second quarter of 2022 soared seven per cent to US4 2.2 billion, compared to US$ 2.05 billion in the same period a year ago.
It clocked a net income of US$ 765 million in Q2 2022 versus US$ 1,246 million in Q2 2021.
The total assets at the end of the three months on June 30, 2022, for Canadian Pacific Railway was reported at US$ 69,874 million, whereas it was US$ 68,177 million in the same quarter in 2021.
Bottom line
The discussed stocks look promising, but when it comes to investing in the stock market, it is dicey considering the present conditions. The US stock market has been volatile since the start of 2022, and it's been a roller coaster ride for investors. So, traders should carefully analyze the stocks and their fundamentals before putting their money in. However, long-term strategies can save them from losing their money while also gaining some returns.