Highlights

The current macroeconomic situation remains precarious as the pandemic and high inflation continue to persist.


This year, inflation would remain the dominant theme that will dictate investment priorities and asset performance.

The ETFs may offer hope to some investors amid the uncertainty.
The Federal Reserve is making plans to increase the interest rates as US inflation climbed to record highs in recent months. Economists believe the central bank has preponed its timeline for the rate revision given the inflation's cascading effect across the economic spectrum.
Although the economy had benefited from a loose monetary policy for most of 2021, the rising consumer prices have threatened to ruin the gains made so far.
But the stock market has its own share of troubles to deal with. It has been jittery of late amid concerns about the impact of a rate hike on equities. Traders are apparently taking a calculative pause by withdrawing from growth stocks which had been the growth-engines last year.
So, amid these volatile circumstances, investors could be looking at steady yet profitable avenues for investments like bonds, ETFs, and even cryptocurrencies.
Investors might distance themselves from growth stocks altogether in the situation, and exchange-traded funds (ETFs) could be a safer bet for some. Moreover, most growth stocks currently seem overvalued, and a rate hike might provide the necessary cooling-off period.
Though ETFs comes in varied categories, the following factors may influence their market in 2022.
Also Read: Top defense stocks to explore in 2022
Inflation
This year, inflation would remain the dominant theme that will dictate investment priorities and asset performance. The US inflation climbed to a 30-year high in November 2021, prompting the central bank to draft a rate revision for 2022.
Although inflation is typically transitory, it still can have a debilitating effect on the economy. The long-term government bonds may witness large selloffs as they are more likely to be affected than the short-term Treasury bonds.
Conversely, corporate bonds are less sensitive to a rate impact and may perform better.
Likewise, commodity ETFs, gold ETFs, bond ETFs etc., may see more trading volume.
Also Read: 5 best US hospital stocks for 2022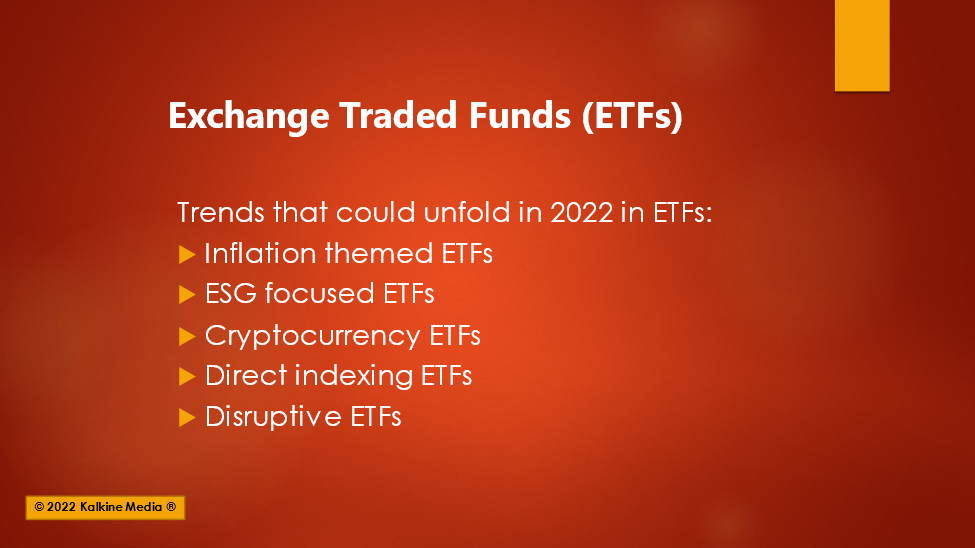 Also Read: Best US communication stocks with dividends to watch in 2022
ESG focused ETFs
Global warming has caught the attention of the government and citizens lately. It has been a subject of debate for a growing number of Americans. As such, investments in ESG-focused (environment, social and governance) ETFs may grow. In 2021, these ETFs attracted huge sums of funds from both institutional and retail investors.
Besides climate, the ESG-focused ETFs also emphasize companies with strong social and governance leanings. Thus, more ESG-focused products could be expected this year.
As the pandemic continues to wreak havoc in the communities, analysts say these ETFs will likely draw considerable attention in the market in 2022.
Also Read: These 2 NYSE basic industry stocks returned over 200% in a year
Cryptocurrency ETFs
With the digital assets penetrating different market segments, more players are likely to enter the cryptocurrency ETF space. These ETFs invest in the physical cryptocurrency and cryptocurrency futures.
The ProShares Bitcoin Strategy ETF became the first cryptocurrency ETF to debut in the US stock market. It was launched in October 2021. Its warm reception in the market has encouraged others to plan for similar ETFs in the future.
For investors who can't afford to buy individual tokens, these ETFs provide a chance to venture into the money-spinning crypto market.
Moreover, the crypto ETFs could be less risky given the exposure is divided into different cryptocurrencies. Also, the regulatory oversight gives investors some peace of mind, considering the varied risks involved in the crypto market.
Besides, these ETFs offer many benefits to investors, such as low ownership costs, outsourced knowledge, and time-sensitive pickings.
Also Read: How to research a stock? A beginner's guide to share selection
Direct indexing
Traditionally, professionals manage ETFs, but direct indexing allows investors to customize their portfolios. For example, they can choose to include or exclude a stock contributing to carbon emission or global warming from the portfolio.
Interestingly, the concept gained popularity after Prince Harry and Meghan announced joining one of the direct indexing managers in October last year. Direct indexing may also reduce the investors' tax liabilities and allow them to manage their portfolios.
The concept has drawn investors' interest of late.
Also Read: Top 5 US semiconductor stocks to watch in 2022
Also Read: In tit-for-tat move, US suspends 4 Chinese airlines in Omicron row
Disruptive ETFs
Around US$900 billion flowed into US ETFs in 2021. Experts believe the inflow of funds into ETFs will increase in 2022 to offset the inflation and pandemic-related disruptions. Many new products could be launched to capitalize on this extraordinary situation.
The ETFs could be disruptive and could come from various sectors. Hence, investors could expect a theme that never existed in the ETF world, like the crypto ETF in 2021.
Also Read: Falling prices stoke a winter of discontent for the crypto market
In conclusion, exchange-traded funds are considered a safe investment because of risk diversification. They are also cheaper than mutual funds and have various options to choose from.