US stocks closed higher on Monday, May 23, lifted by gains in mega-cap technology and bank shares following eight straight weekly declines of the indices, the longest streak since the 2001 dot com bubble.
The S&P 500 was up 1.86% to 3,973.75. The Dow Jones rose 1.98% to 31,880.24. The NASDAQ Composite increased by 1.59% to 11,535.27, and the small-cap Russell 2000 was up 1.10% to 1,792.76.
The S&P 500 briefly fell into the bear territory before recovering some grounds on Friday. The US market has been volatile over a host of concerns. The red-hot inflation, a tight labor market, and declining production have deepened fresh worries of an economic slowdown.
The central bank is expected to increase the rates by 50-basis points in June, followed by another one in July. The rates increased by 25 basis points and 50 basis points in March and May.
Rate fears are already taking a toll on some growth stocks. Traders are cautious with bearish sentiments pervading the global markets.
Last week's weak retail earnings had plunged the market into a bearish grip. Most retailers blamed the high fuel and freight costs for their poor performance in the latest quarter.
Investors would now keep a close watch on this week's earnings.
Macy's Inc (M), Dollar General Corporation (DG), Dollar Tree, Inc. (DLTR), and Costco Wholesale Corporation (COST) are scheduled to report their earnings this week.
The Fed is also expected to release the minutes of its last meeting this week. Besides, the government will likely release a new set of economic data, which would provide cues to inflation and growth.
All 11 sectors of the S&P 500 index stayed in the positive territory on Monday. The financials, information technology, and consumer staples sectors were the top movers.
Shares of JPMorgan Chase & Co. (JPM) rose 6.52% in intraday trading after it raised its interest income guidance for the current year.
Cloud computing firm VMware, Inc. (VMW) stock gained 20.62% following reports that chipmaker Broadcom Inc. (AVGO) is in talks to acquire the firm. The AVGO stock plunged 3.53%.
Chinese EV maker Xpeng Inc. (XPEV) stock fell 6.81% after reporting steep first-quarter losses and providing weak guidance for the second quarter. Xpeng blamed the supply disruptions on China's decision to isolate major cities to tackle the spread of Covid-19 cases.
In the financial sector, Berkshire Hathaway Inc. (BRK-B) increased by 2.02%, Visa Inc. (V) rose 4.29%, and Bank of America Corporation (BAC) gained 5.94%. Mastercard Incorporated (MA) and Wells Fargo & Company (WFC) added 3.64% and 5.16%, respectively.
In technology stocks, Apple Inc. (AAPL) surged 4.01%, Microsoft Corporation (MSFT) jumped 3.20%, and NVIDIA Corporation (NVDA) soared 1.22%. ASML Holding N.V. (ASML) and Adobe Inc. (ADBE) advanced 4.09% and 1.92%, respectively.
In the consumer staples stocks, The Procter & Gamble Company (PG) gained 2.30%, Walmart Inc. (WMT) added 2.85%, and The Coca-Cola Company (KO) rose 3.08%. PepsiCo, Inc. (PEP) and Costco Wholesale Corporation (COST) ticked up 2.09% and 3.13%, respectively.
In the crypto space, Bitcoin (BTC) and Ethereum (ETH) decreased by 2.19% and 0.73%, respectively. The global crypto market cap fell 1.27% to US$1.27 trillion at 4:48 pm ET on May 23.
Also Read: Is Fantom (FTM) crypto rising on Andre Cronje news?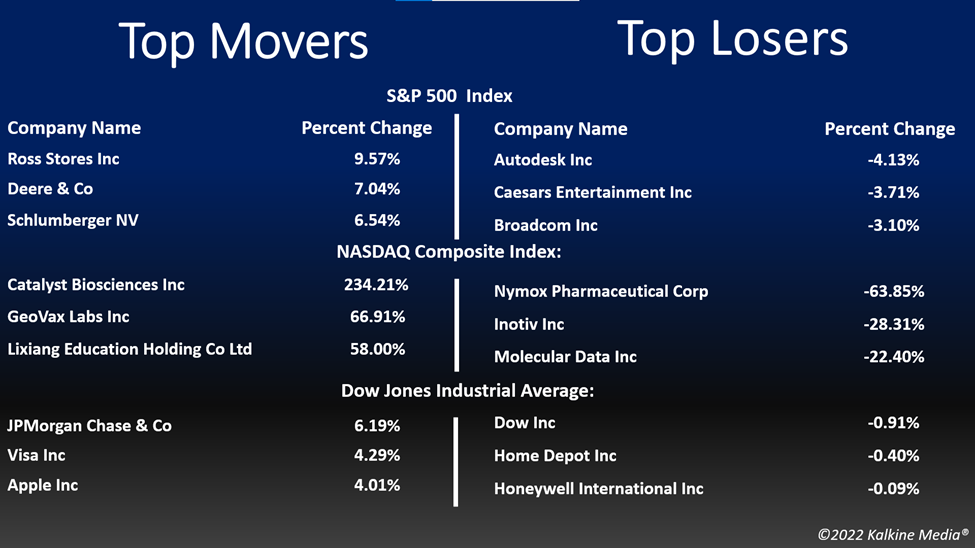 Also Read: 5 EV stocks to explore in Q2: TSLA, LCID, NIO, XPEV & FSR
Also Read: Five REIT stocks to explore in June: FPI, APTS, NREF, WSR & ACC
Futures & Commodities
Gold futures were up 0.55% to US$1,852.19 per ounce. Silver increased by 0.51% to US$21.784 per ounce, while copper rose 1.54% to US$4.3407.
Brent oil futures traded flat at US$110.91 per barrel and WTI crude was up 0.30% to US$110.61.
Also Read: GameStop (GME) stock gets premarket boost on crypto wallet launch
Bond Market
The 30-year Treasury bond yields were up 1.99% to 3.056, while the 10-year bond yields rose 2.38% to 2.853.
US Dollar Futures Index decreased by 1.07% to US$102.065.