Major US indexes edged lower on Wednesday, June 22, after Fed Chair Jerome Powell told a Congressional panel that as a soft landing is difficult, a recession is possible, throwing investors on the mat.
The S&P 500 fell 0.13%, to 3759.89. The Dow Jones Industrial Average tanked 0.15%, to 30483.13. The Nasdaq Composite Index plunged 0.15%, to 11053.08. Small-cap Russel 2000 fell 0.22% to 1690.28.
Stocks retreated from their early gains after Powell conceded during a Senate Banking Committee hearing on Wednesday that interest rate hikes could lead to a recession.
Powell noted that the wild surge in inflation was a surprise, but there could be more surprises while reiterating his commitment to curb price rise. The bank, he said, would continue to evaluate the "incoming data" and push harder if inflation doesn't ease.
Investors grew worried after Powell's remarks and accessed the possible consequences to their profitability in such a scenario.
Oil prices also dropped on Wednesday, weighed down by fears that a possible recession could reduce demand. Global benchmark Brent crude fell 2.5% to around US$111 a barrel, its lowest level in a month.
Sector summary
Of the 11 S&P 500 sectors, only three were in the positive territory. Real estate, healthcare, and utilities were in the green, while consumer cyclical, technology, consumer non-cyclical, financials, industrials, basic materials, and energy were down.
In real estate, American Tower Corporation (AMT) rose 2.09%, Prologis, Inc. (PLD) gained 2.76%, and Crown Castle International Corp. (CCI) jumped 3.77%.
In healthcare, Johnson & Johnson (JNJ) ascended 1.58%, UnitedHealth Group Incorporated (UNH) climbed 1.95%, and Eli Lilly and Company (LLY) increased 3.14%.
In the utility sector, NextEra Energy, Inc. (NEE) gained 2.69%, Duke Energy Corporation (DUK) increased 0.96%, and The Southern Company (SO) surged 0.80%.
In consumer cyclical, Tesla, Inc. (TSLA) fell 0.40%, Alibaba Group Holding Limited (BABA) tanked 1.17%, and The Home Depot, Inc. (HD) decreased 0.80%.
In technology stocks, Apple Inc. (AAPL) fared badly falling 0.38%, Microsoft Corporation (MSFT) sank 0.24%, and NVIDIA Corporation (NVDA) tumbled 1.24%.
In the financial sector, Berkshire Hathaway Inc. (BRK-B) tanked 0.73%, Visa Inc. (V) dropped 0.29%, and JPMorgan Chase & Co. (JPM) fell 0.56%.
In the crypto market, Bitcoin and Ethereum declined by 4.74% and 6.66%, respectively. The global crypto market fell 4.04% to US$ 882.62 billion.
Also Read: Wall Street retreats after Biden-Powell talks; DXCM, AUY, UL rally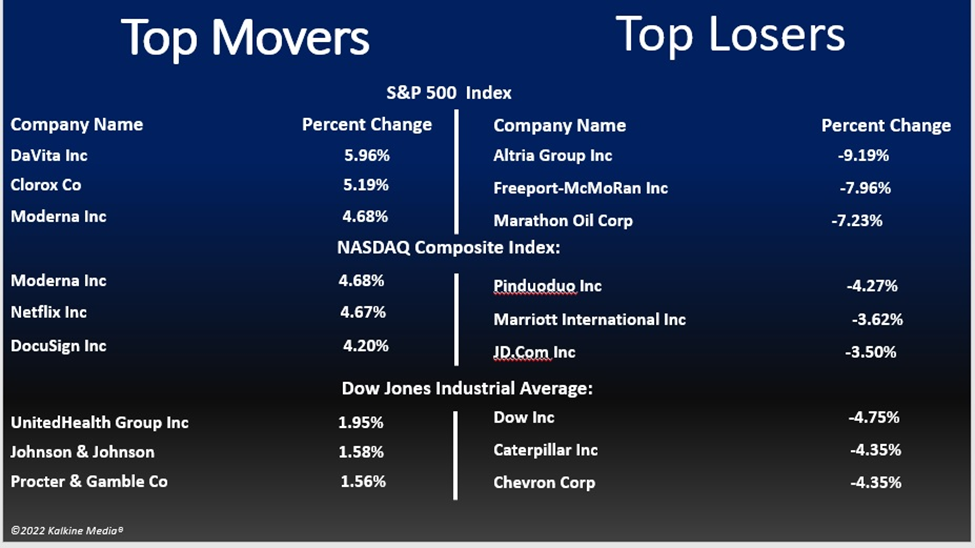 Also Read: Powell hints at possible recession as soft landing is 'challenging'
Also Read: Revlon (REV) stock extends rally as traders flock to 'buy the dip'
Futures & Commodities
Gold futures were up 0.05% to US$1,839.70 per ounce. Silver decreased by 1.69% to US$21.400 per ounce, while copper slipped 2.49% to US$3.9385.
Brent oil futures increased by 0.20% to US$110.09 per barrel and WTI crude was down 4.77% to US$104.30.
Also Read: AAPL to UNH: Can these five blue-chip stocks beat inflation?
Bond Market
The 30-year Treasury bond yields plunged 4.18% to 3.248, while the 10-year bond yields fell 4.39% to 3.160.
US Dollar Futures Index decreased by 0.21% to US$103.995.