US stocks closed the session in red on Monday, July 18, after mega-cap growth stocks declined as investors traded cautiously ahead of the big earnings of companies due this week.
The S&P 500 fell 0.84% to 3,830.85. The Dow Jones was down 0.69% to 31,072.61. The NASDAQ Composite lost 0.81% to 11,360.05, and the small-cap Russell 2000 ticked down 0.34% to 1,738.42.
Stocks traded in the green for most of the day before retreating in the closing hour. Traders were cautious not to target volatile assets before carefully assessing the latest quarterly results.
On Monday, banking giants such as Bank of America Corporation (BAC), Goldman Sachs Group Inc (GS), and Charles Schwab Corporation (SCHW) reported better-than-expected quarterly earnings.
Bank stocks were expected to perform better in a high rate environment. The results helped ease concerns over Fed's rate hikes, which had recently troubled investors.
The central bank will again reevaluate its rate policy at its monthly conclave, which has been pushed to the last week of July. It is expected to increase the interest rates by a further one percentage point.
The bank has so far raised the rates by 1.5% to curb the soaring inflation. In June, US CPI inflation rose to 9.1%, driven by higher gasoline and food costs.
Tesla Inc (TSLA) and Netflix, Inc (NFLX) are among some big companies to report this week.
On Monday, the energy and consumer discretionary sectors led gains in the S&P 500 index. Six of the 11 segments of the index stayed in the negative territory on Monday. Healthcare and information technology sectors were the laggards.
Shares of Apple Inc. (AAPL) declined 1.81% after reports said that the iPhone maker is planning to cut hiring and big spending next year.
In bank stocks, Bank of America Corporation (BAC) stock ticked up 0.17% in intraday trading after its second-quarter profits slipped by around 32%, better than the average analysts' expectations.
Goldman Sachs Group, Inc. (GS) shares increased by 2.07% after its second-quarter earnings topped Wall Street estimates. Likewise, shares of Charles Schwab Corporation (SCHW) were up 0.05% after its second-quarter profits jumped 42%, beating analysts' expectations.
Shares of Prologis, Inc. (PLD) dropped 0.39% after reporting strong revenue growth in its latest quarter. The REIT firm has also raised its fiscal 2022 earnings guidance.
In airline stocks, The Boeing Company (BA) soared 1.32% after Delta Air Lines (DAL) said it would purchase 100 MAX 10 jets from the company, with options to buy another 30. The deal would value over US$13 billion. The DAL stock rose 4.62% after the news.
In the energy sector, Exxon Mobil Corporation (XOM) increased by 1.93%, Chevron Corporation (CVX) surged 1.34%, and Shell plc (SHEL) rose 2.36%. PetroChina Company Limited (PTR) and TotalEnergies SE (TTE) ticked up 3.44% and 2.50%, respectively.
In consumer discretionary stocks, JD.com, Inc. (JD) soared 2.97%, Booking Holdings Inc. (BKNG) gained 2.37%, and Airbnb, Inc. (ABNB) added 3.18%. Stellantis N.V. (STLA) and Li Auto Inc. (LI) advanced 1.28% and 1.85%, respectively.
In the healthcare sector, UnitedHealth Group Incorporated (UNH) decreased by 1.92%, Johnson & Johnson (JNJ) fell 2.19%, and Eli Lilly and Company (LLY) declined by 2.95%. Pfizer Inc. (PFE) and AbbVie Inc. (ABBV) plummeted by 2.95% and 2.62%, respectively.
In the crypto space, Bitcoin (BTC) and Ethereum (ETH) gained 2.85% and 8.87% in the last 24 hours, respectively. The global crypto market cap rose 3.66% to US$997.02 billion at 4:15 pm ET on July 18.
Futures & Commodities
Gold futures were up 0.19% to US$1,706.80 per ounce. Silver increased by 0.23% to US$18.637 per ounce, while copper rose 2.47% to US$3.3138.
Brent oil futures increased by 4.47% to US$105.68 per barrel and WTI crude was up 4.60% to US$98.92.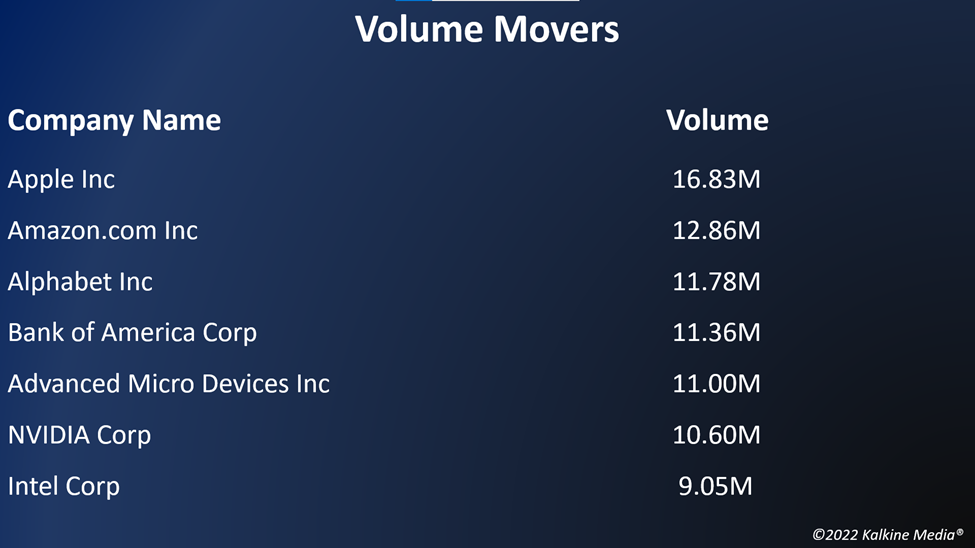 Bond Market
The 30-year Treasury bond yields were up 2.03% to 3.157, while the 10-year bond yields rose 2.09% to 2.991.
US Dollar Futures Index decreased by 0.58% to US$107.287.