All major US indexes ended higher on Wednesday, August 10, as CPI data revealed a slowing down of inflation in July. Cooler inflation is expected to ease the pressure on the central bank to retract from its stringent monetary policies and take to smaller rate hikes ahead. Although inflation is here to stay, a slowing of price rise is still good news during times when it soared to the level of a four-decade high.
The S&P 500 rose 2.13 per cent to 4,210.24. The Dow Jones climbed 1.63 per cent to 33309.51. The NASDAQ Composite surged 2.89 per cent to 12,854.80, and the small-cap Russell 2000 increased 2.95 per cent to 1969.25.
While lower gasoline price brings cheer, US food prices touched their highest since 1979, in July, pushing the cost of living up.
On Wednesday, all the 11 segments of the S&P 500 index stayed in the positive territory, with basic materials, consumer cyclical, and technology sectors being the top movers. While consumer non-cyclical, energy, and utilities stayed at the bottom.
Restaurant chain Wendy's (WEN) felt the pressure of rising inflation as Q2 2022 sales and margin of its restaurant business shrank and failed to measure up to market estimates. Sky high inflation compelled consumers to refrain from spending on anything away from essentials. Wendy's stock slid 0.10 per cent on Wednesday, August 10.
Spirit Airlines Inc. (SAVE) saw a jump in its price by 0.34 per cent after reporting revenue growth in the second quarter of fiscal 2022. Spirit entered into an agreement to be acquired by JetBlue for US$ 3.8 billion in July, which will make the conglomerate the fifth largest airline to fly in the US skies.
In the basic materials sector, BHP Group Limited (BHP) rose by 1.91 per cent, Linde plc (LIN) increased by 2.90 per cent, and Rio Tinto Group (RIO) gained 0.60 per cent.
In the consumer cyclical sector, Amazon.com, Inc. (AMZN) soared 3.53 per cent, Tesla Inc. (TSLA) climbed 3.89 per cent, and The Home Depot, Inc. (HD) surged 2.09 per cent.
In the energy sector, Chevron Corporation (CVX) gained 0.26 per cent, PetroChina Company Limited (PTR) fell 1.08 per cent, and ConocoPhillips (COP) rose 0.49 per cent.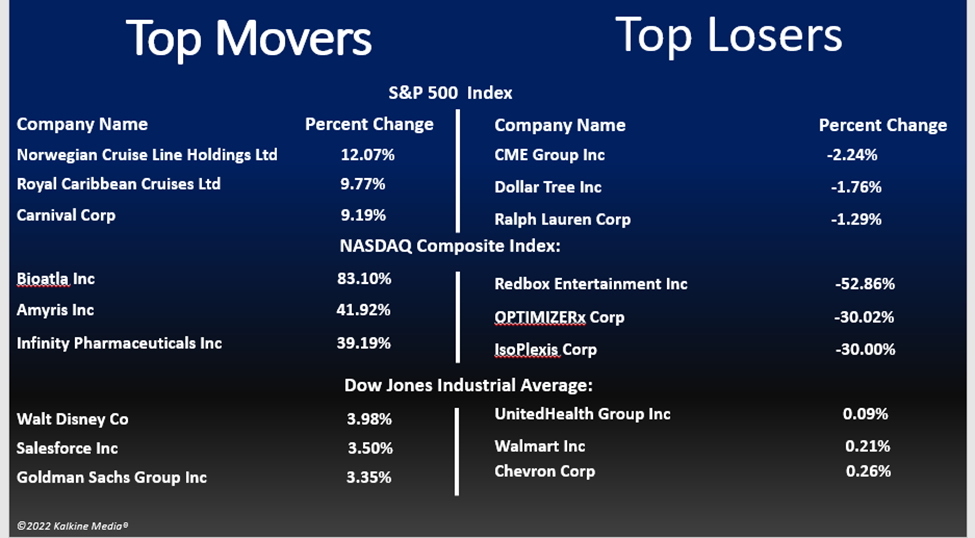 Futures & Commodities
Gold futures fell by 0.26 per cent to US$ 1,807.60 per ounce. Silver increased by 0.41 per cent to US$ 20.565 per ounce, while copper gained by 1.42 per cent to US$ 3.6365.
Brent oil futures increased by 0.76 per cent to US$ 97.04 per barrel and WTI crude was up 1.17 per cent to US$ 91.56.
Bond Market
The 30-year Treasury bond yields were up 1 per cent to 3.035, while the 10-year bond yields fell by 0.38 per cent to 2.786.
US Dollar Futures Index decreased by 1.08 per cent to US$ 105.102.