Wall Street indices climbed higher on Wednesday, May 4, following the Federal Reserve's announcement of its widely anticipated half-point interest rate hike, marking the highest rate increase since 2000.
The S&P 500 was up 2.99% to 4,300.17. The Dow Jones rose 2.81% to 34,061.06. The NASDAQ Composite increased by 3.19% to 12,964.86, and the small-cap Russell 2000 was up 2.69% to 1,949.92.
The Federal Reserve concluded its two-day meeting with the announcement of raising interest rates by half a percentage point on Wednesday while adding that the central bank would start winding back its US$9 trillion asset portfolio from next month.
The market witnessed choppy trading so far this year, on concerns over Fed's hawkish stance to tackle inflation, the Russia-Ukraine war, and other macroeconomic factors. The growth stocks were worst-hit as investors kept their distance from risk-bet assets in anticipation of higher interest rates. In addition, the mixed earnings from the big companies also raised concerns of the market participants.
Meanwhile, the US trade deficit hit a record high in March, affirming that trade weighed on the economy in the first quarter. The US trade deficit rose 22.3% to US$109.8 billion in March amid a record surge in imports, the Commerce Department reported on Wednesday.
Energy, communication services, and information technology were the top movers in the S&P 500 index on Wednesday. All the 11 sectors of the index stayed in the positive territory.
The coffee chain, Starbucks Corporation (SBUX) gained 10.09% in the intraday session, a day after the company reported strong revenue in the first quarter that topped Wall Street estimates.
Shares of the biotechnology company, Moderna, Inc. (MRNA) increased by 5.15% in intraday trading, after the company reported robust first-quarter earnings results. In addition, the company guided higher Covid-19 vaccine sales in the second half of 2022 as compared to the first half.
Livent Corporation (LTHM) added 27.37% after the company posted a better-than-anticipated quarterly profit while providing strong guidance for fiscal 2022 revenue due to higher demand for lithium in the EV batteries.
Advanced Micro Devices, Inc. (AMD) soared 7.13% after the company provided upbeat guidance for full-year and second-quarter revenue.
In the energy sector, Exxon Mobil Corporation (XOM) increased by 3.99%, Chevron Corporation (CVX) rose 3.18%, and Shell plc (SHEL) surged 2.34%. TotalEnergies SE (TTE) and ConocoPhillips (COP) advanced 2.38% and 5.04%, respectively.
In technology stocks, Apple Inc. (AAPL) gained 4.01%, Microsoft Corporation (MSFT) soared 2.89%, and NVIDIA Corporation (NVDA) added 3.44%. Broadcom Inc. (AVGO) and ASML Holding N.V. (ASML) ticked up 3.81% and 3.74%, respectively.
In the communication services sector, Alphabet Inc. (GOOGL) surged 4.08%, Meta Platforms, Inc. (FB) jumped 5.33%, and Netflix, Inc. (NFLX) grew 2.00%.
In consumer discretionary stocks, Amazon.com, Inc. (AMZN) added 1.32%, and Tesla Inc. (TSLA) increased by 4.74%.
In the crypto space, Bitcoin (BTC) and Ethereum (ETH) increased by 5.53% and 6.33%, respectively. The global crypto market cap rose 5.84% to US$1.80 trillion at 4:00 pm ET on May 4.
Also Read: PLD to SPG: Can these 5 REIT stocks provide hedge against inflation?
Also Read: Is Petoverse (PETO) crypto the new big name in the metaverse industry?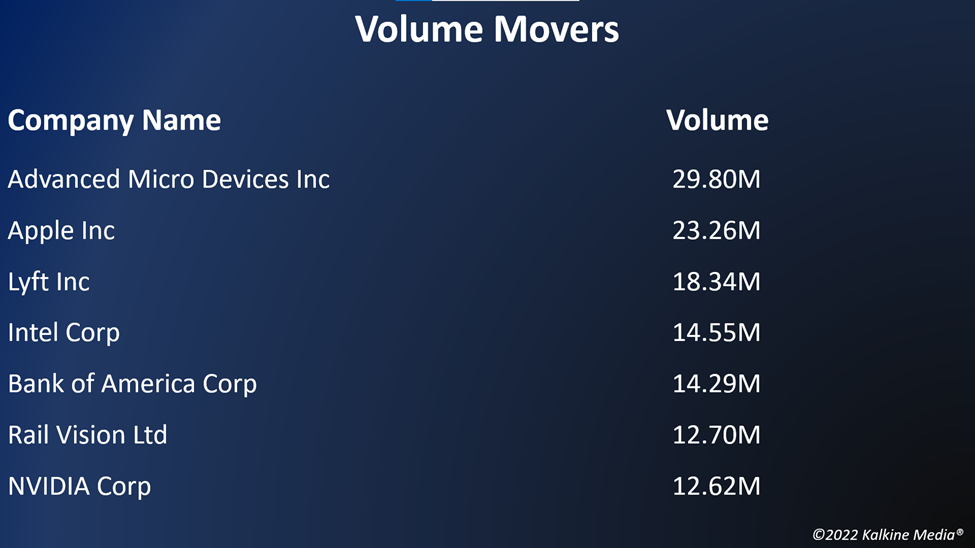 Also Read: MSFT to GME: Five top gaming stocks to explore in Q2
Futures & Commodities
Gold futures were up 0.58% to US$1,881.46 per ounce. Silver increased by 1.66% to US$23.042 per ounce, while copper rose 1.93% to US$4.3655.
Brent oil futures increased by 4.75% to US$109.96 per barrel and WTI crude was up 5.00% to US$107.53.
Also Read: Five Chinese internet tech companies to watch: BABA, JD to WB
Bond Market
The 30-year Treasury bond yields were up 1.13% to 3.040, while the 10-year bond yields fell 0.34% to 2.948.
US Dollar Futures Index decreased by 0.93% to US$102.530.