Benchmark US indices closed higher on Thursday, October 28, after the latest economic data showed jobless benefits claims dropped to the lowest level since March last year.
The S&P 500 rose 0.98% to 4,596.42. The Dow Jones was up 0.68% to 35,730.48. The NASDAQ Composite gained 1.39% to 15,448.12, and the small-cap Russell 2000 rose 2.02% to 2,297.98.
The Commerce Department on Thursday said the US GDP grew at an annual rate of 2% in the third quarter after increasing 6.7% in the previous quarter. The slowdown was due to the outbreak of the Delta variant that hampered the economic activities.
Global Markets moved toward record highs
Meanwhile, the Labour Department said the number of unemployment benefits claims fell by 10,000 to 281,000 last week, the lowest since March last year, when it was 256,000.
Consumer discretionary and industrial segments of the S&P 500 index were the top gainers on Thursday. All 11 stock segments of the index stayed in the positive territory.
Mastercard Incorporated (MA) stock fell 1.61% after reporting quarterly results. Its revenue rose 30% YoY to US$5 billion in Q3, FY21. The net income was up 59% YoY to US$2.4 billion.
Caterpillar, Inc. (CAT) stock rose 3.37% after quarterly results. The company's sales and revenue surged 25% YoY to US$12.4 billion in Q3, FY21. Its adjusted profit per share came in at US$2.66 compared to US$1.52 in the year-ago period.
Shares of Shopify Inc. (SHOP) jumped 6.96% after its third-quarter revenue soared 46% YoY to US$1.12 billion. Its net income was US$1.14 billion, or US$9 per diluted share.
In the consumer discretionary sector, Nike, Inc. (NKE) increased by 1.11%, McDonald's Corporation (MCD) gained 1.09%, and Ford Motor Company (F) rose 8.93%. Aptiv PLC (APTV) and Ross Stores, Inc. (ROST) ticked up 1.84% and 2.50%, respectively.
In industrial stocks, Union Pacific Corporation (UNP) rose 1.02%, Deere & Company (DE) jumped 3.07%, and CSK Corporation (CSK) soared 1.02%. Norfolk Southern Corporation (NSC) and Waste Management, Inc. (WM) advanced 1.98% and 1.19%, respectively.
In the financial sector, JPMorgan Chase & Co. (JPM) gained 1.11%, Bank of America Corporation (BAC) rose 1.29%, and Wells Fargo & Company (WFC) increased by 2.11%. Blackrock, Inc. (BLK) surged 1.66%, while American Express Company (AXP) tumbled 2.06%.
Also read: Mastercard (MA) revenue jumps 30%, STMicro (STM) profits nearly double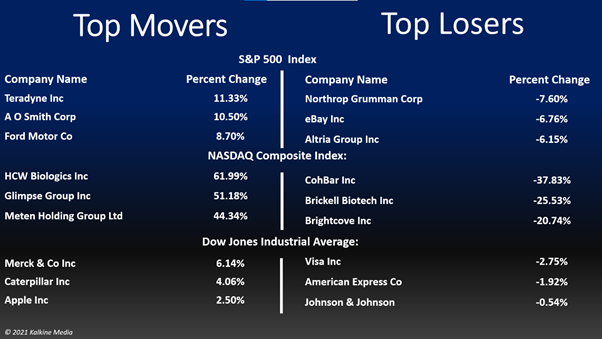 Also read: Linde (LIN) lifts guidance, Comcast (CMCSA) beats profit expectations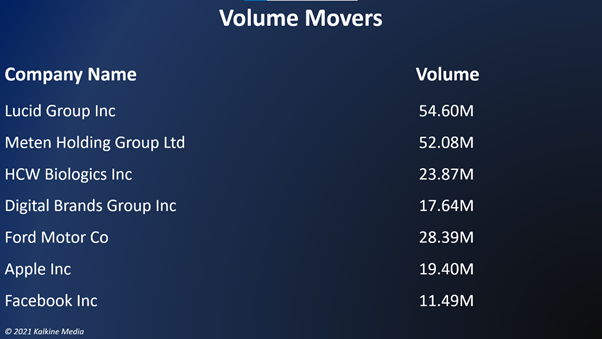 Also read: Yum! (YUM) beats profit estimates, Hershey (HSY) raises guidance
Futures & Commodities
Gold futures were up 0.10% to US$1,800.55 per ounce. Silver decreased by 0.29% to US$24.122 per ounce, while copper rose 1.00% to US$4.4333.
Brent oil futures increased by 0.12% to US$83.97 per barrel and WTI crude was up 0.51% to US$83.08.
Bond Market
The 30-year Treasury bond yields was up 1.84% to 1.978, while the 10-year bond yields rose 3.05% to 1.576.
US Dollar Futures Index decreased by 0.49% to US$93.340.