Wall Street showed modest gains on Thursday, September 8, as the investors seem to have digested the hawkish comments from the Federal Reserve officials, that backed bigger rate hikes at their upcoming meeting.
The S&P 500 rose 0.66 per cent to 4,006.18. The Dow Jones was up 0.61 per cent to 31,774.52. The NASDAQ Composite added 0.60 per cent to 11,862.13, and the small-cap Russell 2000 rose 0.81 per cent to 1,846.91.
Fed Chair Jerome Powell said that the central bank is "strongly" focusing on bringing down inflation, and would stay on its track until it comes under their target level.
Adding to that, Chicago Fed President Charles Evans said that the central bank is focusing on taming inflation. The comments have cemented bets that the Fed may raise the interest rates again by 75 basis points at their upcoming meeting on September 20-21.
In economic news, the number of Americans filing for new unemployment benefits claims declined to its three-month low, after falling for four consecutive weeks, pointing towards a strong labor market despite the higher rates.
The number of US unemployment insurance applications dropped by 6,000 to 222,000 in the previous week, the Labor Department reported on Thursday.
The healthcare and financial sectors were the top movers in the S&P 500 index on Thursday, September 8. Six of the 11 segments of the index stayed in the positive territory. The consumer staples and information technology were the bottom movers.
Shares of Rivian Automotive, Inc. (RIVN) added more than 10 per cent in the intraday trading after the EV maker announced entering into a strategic partnership with Mercedes-Benz Vans. The companies would work together to produce electric vans, according to the partnership announcement.
The popular meme stock, GameStop Corp. (GME) soared over seven per cent in the intraday session, a day after the consumer electronics and gaming merchandise retailer reported its latest quarterly earnings results.
The internet and video sharing company, Bilibili Inc. (BILI) decreased by more than 15 per cent on September 8, after the Chinese firm released its second quarter fiscal 2022 financial results.
In the healthcare sector, UnitedHealth Group Incorporated (UNH) increased by 1.06 per cent, Eli Lilly and Company (LLY) jumped by 1.23 per cent, and Pfizer Inc. (PFE) rose by 2.06 per cent. AbbVie Inc. (ABBV) and Thermo Fisher Scientific Inc. (TMO) advanced 1.33 per cent and 2.70 per cent, respectively.
In financial stocks, Berkshire Hathaway Inc. (BRK-B) added 1.14 per cent, JPMorgan Chase & Co. (JPM) soared 2.33 per cent, and Bank of America Corporation (BAC) surged 3.22 per cent. Wells Fargo & Company (WFC) and Morgan Stanley (MS) ticked up 3.17 per cent and 1.82 per cent, respectively.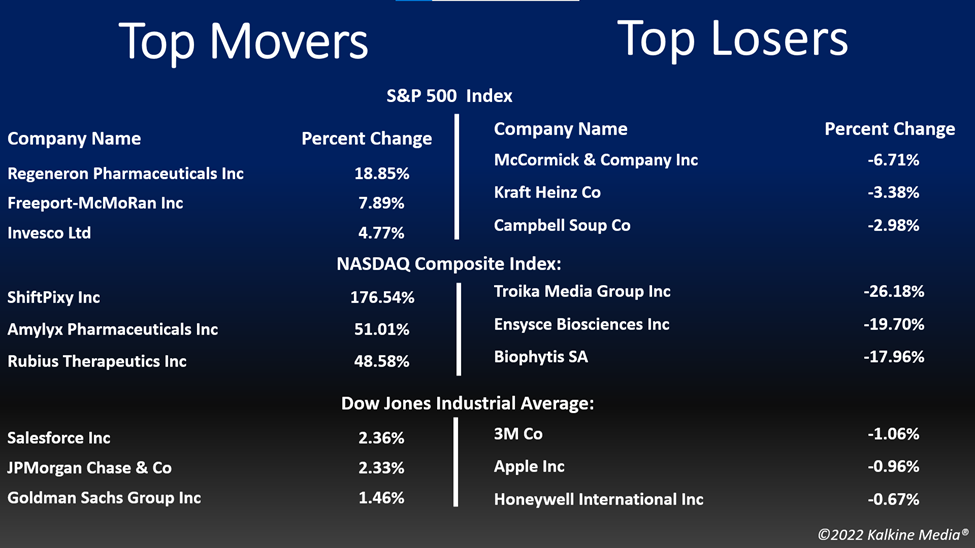 Futures & Commodities
Gold futures were down 0.46 per cent to US$1,719.80 per ounce. Silver increased by 1.03 per cent to US$18.448 per ounce, while copper rose 3.50 per cent to US$3.5507.
Brent oil futures increased by 0.59 per cent to US$88.52 per barrel and WTI crude was up 0.99 per cent to US$82.75.
Bond Market
The 30-year Treasury bond yields were up by 2.00 per cent to 3.473, while the 10-year bond yields rose 1.59 per cent to 3.317.
US Dollar Futures Index decreased by 0.17 per cent to US$109.650.