Wall Street's main indices rallied on Friday, May 13, ending the week on a positive note after investors shrugged off concerns about inflation and other negative market trends.
The S&P 500 was up 2.39% to 4,023.89. The Dow Jones rose 1.47% to 32,196.66. The NASDAQ Composite increased by 3.82% to 11,805.00, and the small-cap Russell 2000 was up 3.06% to 1,792.67.
This week, the Labor Department released a series of data, from CPI inflation, and producer prices to unemployment claims, highlighting the continuing pressure on different economic sectors.
Fed Chair Jerome Powell on Thursday reiterated the central bank's resolve to curb inflation while rejecting concerns that the US economy may fall into a recession.
Meanwhile, earnings of more than 75% of the S&P 500 companies that have reported so far beat Wall Street estimates. Markets have traded lower for most of the week amid various negative sentiments.
All the 11 sectors of the S&P 500 index stayed in the positive territory, with information technology, energy, and consumer discretionary segments gaining the most.
Shares of Robinhood Markets, Inc. (HOOD) increased by 23.48%, after the Chief Executive Officer of FTX, Samuel Bankman-Fried said that he has acquired a 7.6% stake in the company.
The oil and gas company, Occidental Petroleum Corporation (OXY) gained 7.77% after Warren Buffett's Berkshire Hathaway said that it purchased more shares of the company.
The language-learning service provider, Duolingo, Inc. (DUOL) soared 33.17% after the company reported strong quarterly earnings results, that showed significant growth in revenue and monthly active users.
The social-media giant, Twitter Inc. (TWTR) slumped 9.67% after Tesla CEO Elon Musk said that his US$44 billion deal to take the company private is on hold temporarily.
In technology stocks, Apple Inc. (AAPL) increased by 3.19%, Microsoft Corporation (MSFT) rose 2.26%, and NVIDIA Corporation (NVDA) surged 9.47%. Broadcom Inc. (AVGO) and ASML Holding N.V. (ASML) jumped 2.92% and 4.97%, respectively.
In the consumer discretionary sector, Amazon.com, Inc. (AMZN) gained 5.73%, Tesla, Inc. (TSLA) soared 5.71%, and The Home Depot, Inc. (HD) added 2.19%. Alibaba Group Holding Limited (BABA) and Nike, Inc. (NKE) advanced 8.51% and 4.74%, respectively.
In the energy sector, Exxon Mobil Corporation (XOM) rose 2.97%, Chevron Corporation (CVX) gained 1.92%, and Shell plc (SHEL) surged 2.68%. TotalEnergies SE (TTE) and ConocoPhillips (COP) ticked up 3.50% and 3.32%, respectively.
In the crypto space, Bitcoin (BTC) and Ethereum (ETH) increased by 3.89% and 5.89%, respectively. The global crypto market cap tumbled 5.21% to US$1.29 trillion at 4:51 pm ET on May 13.
Also Read: Top 5 travel stocks to explore: MAR, BKNG, ABNB, DAL & LUV
Also Read: MCK to ABC: 5 healthcare stocks that returned strong 1-year, YTD gains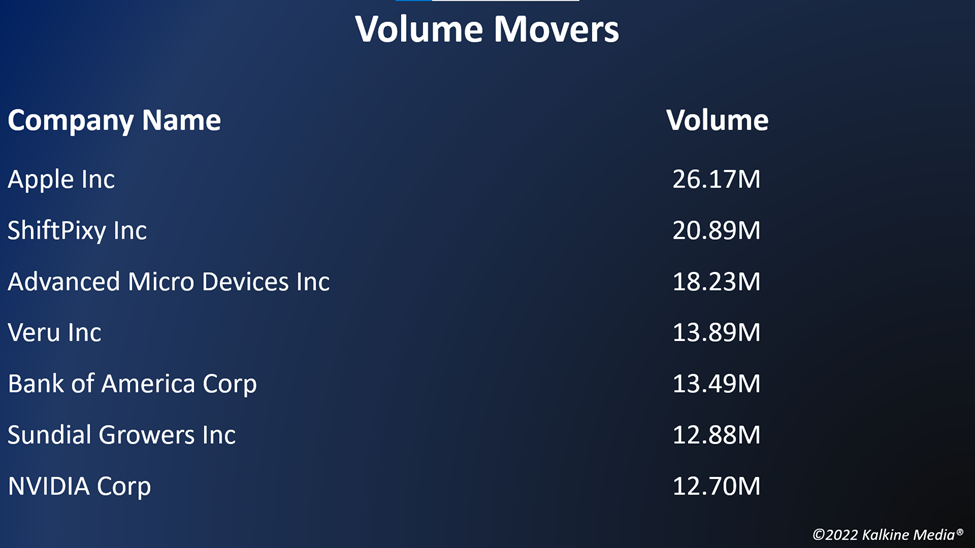 Also Read: Why is Step App (FITFI) crypto up 200%?
Futures & Commodities
Gold futures were down 0.74% to US$1,811.15 per ounce. Silver increased by 1.59% to US$21.103 per ounce, while copper rose 1.59% to US$4.1655.
Brent oil futures increased by 3.39% to US$111.09 per barrel and WTI crude was up 3.69% to US$110.05.
Also Read: Why are Cronos (CRO) and Crypto.com in focus?
Bond Market
The 30-year Treasury bond yields were up 3.95% to 3.089, while the 10-year bond yields rose 3.95% to 3.089.
US Dollar Futures Index decreased by 0.33% to US$104.550.