Benchmark US indices extended their losses for the third consecutive session on Tuesday, August 30, as rate-hike fear intensified after a surge in job openings raised concerns over Fed's aggressive move to tackle inflation.
The S&P 500 fell 1.10 per cent to 3,986.16. The Dow Jones was down 0.96 per cent to 31,790.87. The NASDAQ Composite lost 1.12 per cent to 11,883.14, and the small-cap Russell 2000 fell 1.45 per cent to 1,855.59.
US job openings soared in the prior month, and revised data from July indicated that strong demand for labor remains. Meanwhile, it gave another reason to the Federal Reserve to stay on its path to tighten its monetary support.
The US job openings jumped to 11.239 million in the prior month, and the revised data was also notably higher, the Labor Department reported on August 30.
While Fed Chair in his speech on Friday renewed fears over the higher rates in the coming months, the strong Labor Department data from Tuesday worsened the situation, sending all the indices down.
All 11 segments of the S&P 500 index retreated on Tuesday, August 30. The information technology and energy sectors were the top laggards.
Shares of Best Buy Co., Inc. (BBY) added 1.63 per cent in the intraday trading on Tuesday, after the consumer electronics retail firm reported its latest quarter earnings results that may have topped the market estimates.
Another retail firm, Big Lots, Inc. (BIG) increased by more than 11 per cent in the intraday session on August 30, after the firm released its quarterly earnings results. However, the companies provided warnings over cooling consumer spending due to the elevated inflation.
Baidu, Inc. (BIDU) lost more than six per cent on Tuesday after the internet-related Chinese technology firm reported a five YoY per cent decline in its latest quarter revenue.
In the technology sector, Apple Inc. (AAPL) plunged 1.53 per cent, Nvidia Corporation (NVDA) plummeted 2.82 per cent, and Broadcom Inc. (AVGO) fell 1.52 per cent. ASML Holding N.V. (ASML) and Cisco Systems, Inc. (CSCO) slipped 1.37 per cent and 1.03 per cent, respectively.
In energy stocks, Exxon Mobil Corporation (XOM) decreased by 3.82 per cent, Chevron Corporation (CVX) slumped by 2.48 per cent, and Shell plc (SHEL) lost 2.24 per cent. ConocoPhillips (COP) and Equinor ASA (EQNR) ticked down 2.57 per cent and 3.95 per cent, respectively.
In the consumer discretionary sector, Tesla, Inc. (TSLA) dropped by 2.50 per cent, The Home Depot, Inc. (HD) slipped by 1.08 per cent, and Lowe's Companies, Inc. (LOW) retreated by 1.92 per cent. JD.com, Inc. (JD) and Marriott International, Inc. (MAR) plummeted 1.30 per cent and 1.53 per cent, respectively.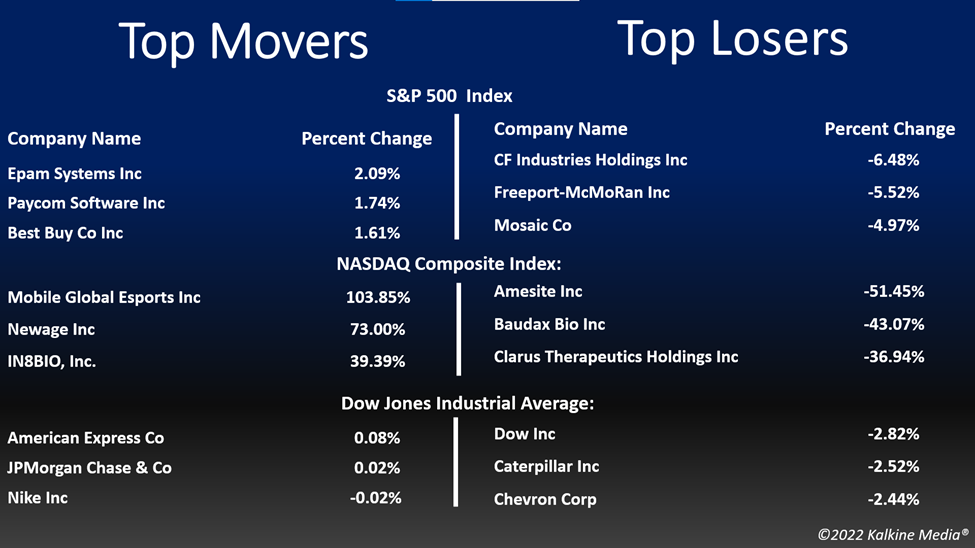 Futures & Commodities
Gold futures were down 0.81 per cent to US$1,735.45 per ounce. Silver decreased by 2.09 per cent to US$18.170 per ounce, while copper fell 1.56 per cent to US$3.5540.
Brent oil futures decreased by 4.39 per cent to US$98.41 per barrel and WTI crude was down 4.94 per cent to US$92.22.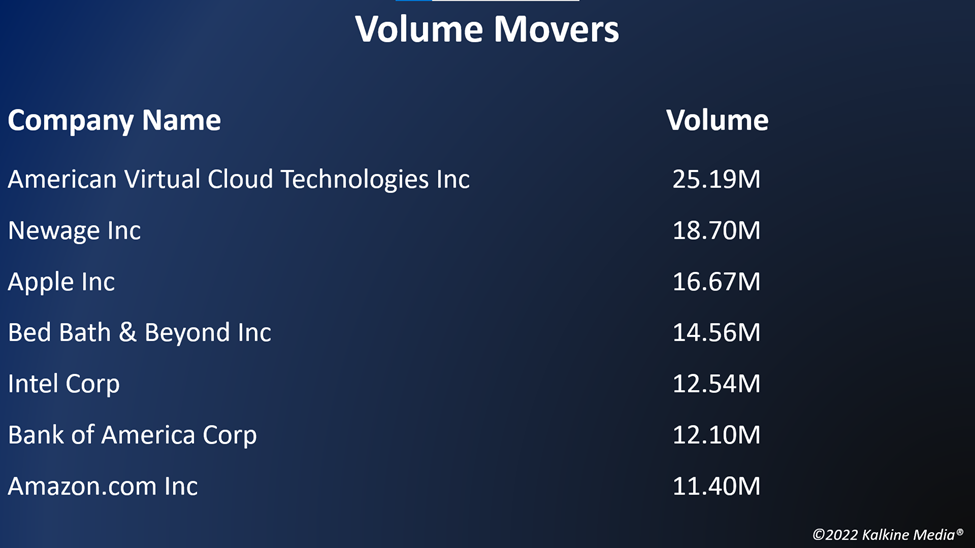 Bond Market
The 30-year Treasury bond yields were down 0.43 per cent to 3.233, while the 10-year bond yields rose 0.30 per cent to 3.119.
US Dollar Futures Index decreased by 0.03 per cent to US$108.760.