Wall Street extended losses on Friday, September 16, marking their highest weekly losses in two months as the traders stayed away from the risk-bet assets. The inflationary pressures, rate hike concerns, and gloomy guidance from the corporations have dampened the market sentiment.
The S&P 500 fell 0.72 per cent to 3,873.33. The Dow Jones was down 0.45 per cent to 30,822.42. The NASDAQ Composite lost 0.90 per cent to 11,448.40, and the small-cap Russell 2000 fell 1.48 per cent to 1,798.19.
A flurry of economic data this week, including the CPI, producer price index, and retail sales data have cemented bets that the Federal Reserve may stick to its aggressive monetary plans in the near future.
The investors, who were anticipating that the central bank may turn dovish at their upcoming meeting, are now anticipating another 75 basis point hike at Fed's meeting next week.
Only the consumer staples sector was in the green in the S&P 500 index on Friday, September 16. Ten of the 11 segments of the index stayed in the negative territory, with the industrials and technology sectors as the laggards.
Shares of FedEx Corporation (FDX) lost more than 21 per cent in the intraday session on Friday after the transportation firm said that its latest quarter revenue came below its prior expectations. In addition to that, FedEx also said that it is closing offices.
NCR Corporation (NCR) plummeted more than 21 per cent in the intraday trading on September 16, after the consultation and technology firm unveiled its plans to split into two separate publicly traded firms. According to its plans, one firm would be engaging in digital commerce, while the other would stick to its ATM segment.
In the consumer staples sector, PepsiCo, Inc. (PEP) added 0.66 per cent, Philip Morris International Inc. (PM) gained 1.63 per cent, and Anheuser-Busch InBev SA/NV (BUD) soared 0.94 per cent. Mondelez International, Inc. (MDLZ) and Dollar General Corporation (DG) advanced 1.23 per cent and 1.25 per cent, respectively.
In industrial stocks, United Parcel Service, Inc. (UPS) decreased by 4.71 per cent, Union Pacific Corporation (UNP) fell by 2.96 per cent, and Deere & Company (DE) slipped by 1.23 per cent. Caterpillar Inc. (CAT) and The Boeing Company (BA) ticked down 1.65 per cent and 3.67 per cent, respectively.
In the technology sector, Apple Inc. (AAPL) lost 1.10 per cent, Oracle Corporation (ORCL) dropped by 2.01 per cent, and Salesforce, Inc. (CRM) plunged by 2.11 per cent. Adobe Inc. (ADBE) and ServiceNow, Inc. (NOW) declined 3.12 per cent and 2.24 per cent, respectively.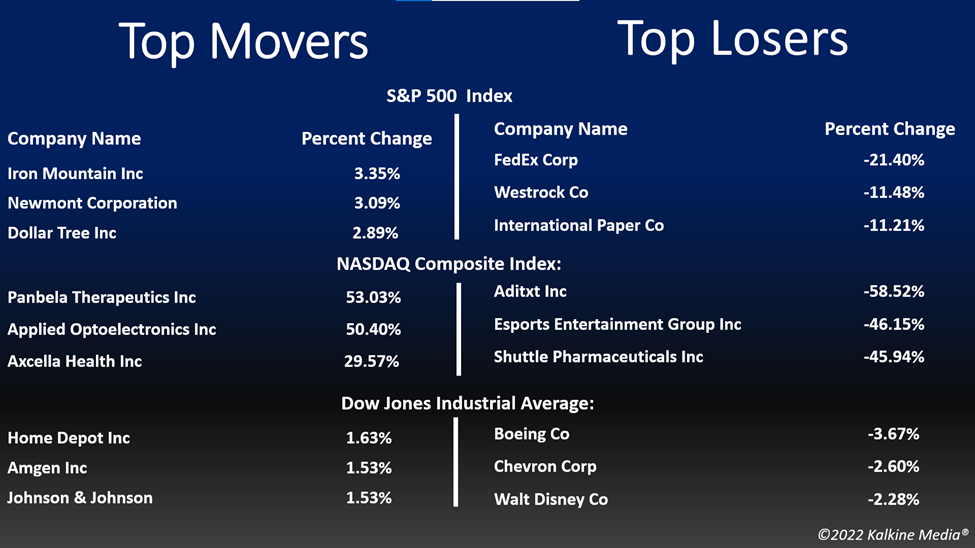 Futures & Commodities
Gold futures were up 0.35 per cent to US$1,683.25 per ounce. Silver increased by 1.55 per cent to US$19.567 per ounce, while copper rose 1.44 per cent to US$3.5400.
Brent oil futures increased by 0.79 per cent to US$91.56 per barrel and WTI crude was up 0.26 per cent to US$85.32.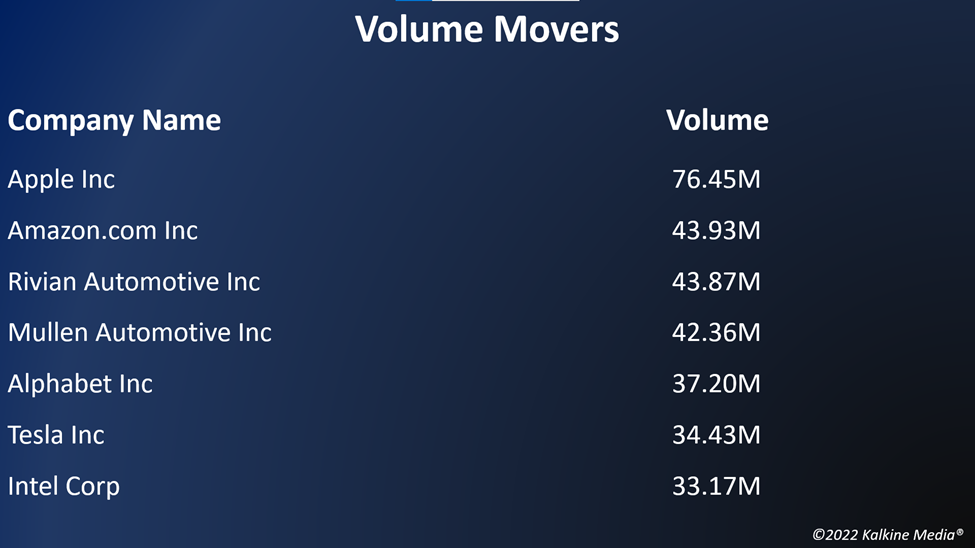 Bond Market
The 30-year Treasury bond yields were up by 1.14 per cent to 3.519, while the 10-year bond yields fell 0.16 per cent to 3.453.
US Dollar Futures Index decreased by 0.03 per cent to US$109.415.