Wall Street indices were mixed on Monday, July 25, as investors treaded cautiously ahead of the Federal Reserve's meeting and important earnings from big companies that are due to release later this week.
The S&P 500 rose 0.13% to 3,966.84. The Dow Jones was up 0.28% to 31,990.04. The NASDAQ Composite lost 0.43% to 11,782.67, and the small-cap Russell 2000 ticked up 0.60% to 1,817.77.
Several big companies, including Microsoft Corporation (MSFT), Alphabet Inc. (GOOGL), Apple Inc. (AAPL), and Amazon.com, Inc. (AMZN), are scheduled to report this week. The market participants would keep a close watch on the earnings for cues on how they have performed amid the topsy-turvy scenario in the global market.
In addition, comments from Fed Chair Jerome Powell would be closely watched by the investors at the end of the Federal Reserve's two-day policy meeting on Wednesday. The Federal Reserve is expected to raise the interest rates by 75 basis points this month.
Another key data that would shed some light on the economy, advanced Gross domestic product (GDP) data for Q2 is due to release by the Commerce Department on Thursday.
On Monday, the energy and health care sectors led gains in the S&P 500 index. Seven of the 11 segments of the index stayed in the positive territory. The information technology and consumer discretionary sectors were the laggards.
Shares of Newmont Corporation (NEM) slipped 13.41 percent in intraday trading after the gold mining firm cut its annual gold production guidance due to operational challenges at one of its mines. In addition, the competitive labor market also weighed on its business, it said.
Weber Inc. (WEBR) declined 15.65 per cent on Monday after the manufacturing company withdrew its sales and earnings guidance for the current year and announced the departure of its CEO.
World Wrestling Entertainment, Inc. (WWE) added 8.36 per cent, after the CEO of the professional wrestling firm, Vince McMahon on Friday said that he would retire.
In the energy sector on Monday, Exxon Mobil Corporation (XOM) increased by 3.24%, Chevron Corporation (CVX) gained 2.96%, and Shell plc (SHEL) soared by 2.84%. PetroChina Company Limited (PTR) and TotalEnergies SE (TTE) ticked up 1.55% and 2.21%, respectively.
In health care stocks, UnitedHealth Group Incorporated (UNH) rose 1.50%, Pfizer Inc. (PFE) added 1.06%, and AbbVie Inc. (ABBV) surged 1.16%. Novo Nordisk A/S (NVO) added 1.18%. Thermo Fisher Scientific Inc. (TMO) and AstraZeneca PLC (AZN) advanced 1.07% and 1.39%, respectively.
In the technology sector, NVIDIA Corporation (NVDA) decreased by 1.70%, Adobe Inc. (ADBE) fell 2.47%, and Salesforce, Inc. (CRM) declined 2.84%. Intuit Inc. (INTU) and ServiceNow, Inc. (NOW) plummeted by 1.96% and 1.49%, respectively.
In the crypto space, Bitcoin (BTC) and Ethereum (ETH) plunged 3.71% and 6.67%, respectively, in the last 24 hours. The global crypto market cap slipped 4.68% to US$994.81 billion at 4:03 pm ET on July 25.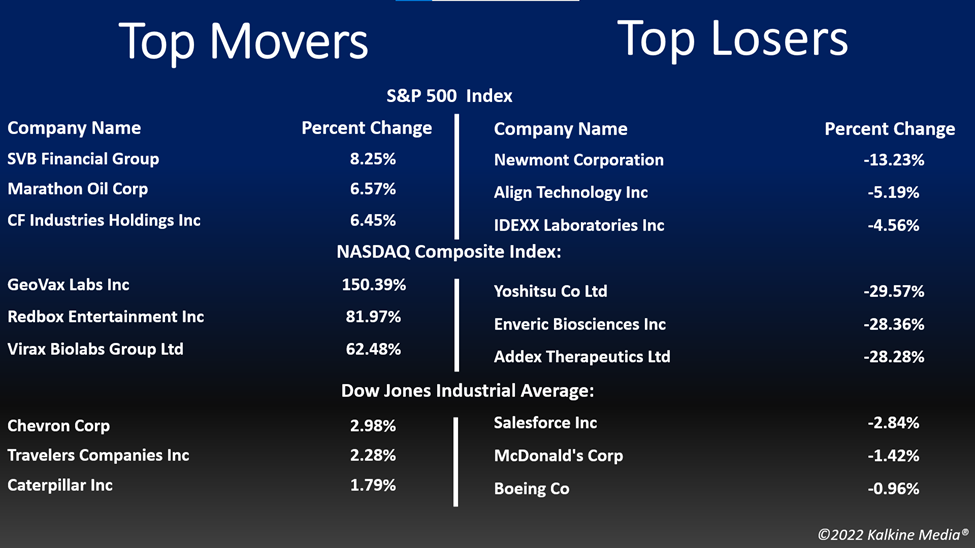 Futures & Commodities
Gold futures were down 0.61% to US$1,716.85 per ounce. Silver decreased by 1.61% to US$18.317 per ounce, while copper rose 0.41% to US$3.3632.
Brent oil futures increased by 1.68% to US$100.03 per barrel and WTI crude was up 2.03% to US$96.62.
Bond Market
The 30-year Treasury bond yields were up 1.16% to 3.031, while the 10-year bond yields rose 1.00% to 2.809.
US Dollar Futures Index decreased by 0.30% to US$106.300.