Wall Street closed mixed on Wednesday, April 20, after growth stocks took a beating following Netflix's disappointing quarterly results the day before.
The S&P 500 was down 0.06% to 4,459.45. The Dow Jones rose 0.71% to 35,160.79. The NASDAQ Composite decreased by 1.22% to 13,453.07, and the small-cap Russell 2000 was up 0.37% to 2,038.19.
Companies posted mixed results in the latest round of quarterly reports. Experts attributed the muted growth to the hostile market forces in the quarter, ranging from the Russia-Ukraine war, inflation, and supply constraints to interest rate concerns.
However, over 80% of the 60 S&P 500 companies that reported their quarterly earnings have topped Wall Street estimates.
Netflix Inc. (NFLX) stock dropped 35.96% in intraday trading, on course for its worse day in over a decade, after the company reported subscriber loss by 200,000 in the last quarter while predicting deeper losses ahead. It blamed the inflation, Russia-Ukraine turmoil, and fierce competition for the loss.
Healthcare and consumer staples sectors were the top gainers in the S&P 500 index on Wednesday. Nine of the 11 sectors of the index stayed in the green. The communication services and consumer discretionary sectors were the bottom movers.
In corporate earnings, International Business Machines Corporation (IBM) reported its quarterly earnings results on Tuesday, after the market close that topped the analysts' estimates, driven by its cloud business. The IBM stock soared 7.70% in the intraday session on Wednesday.
Shares of Procter & Gamble surged 2.67% after the company raised its annual guidance and said that the demands for its pricier items remained stable. Its net sales surged 7% YoY to US$19.4 billion in Q3, FY22.
Tesla, Inc. (TSLA) will release its financial report after the market close, and the investors will closely evaluate the earnings for cues on how the EV maker has tackled the inflation and other factors in the last quarter. The TSLA stock tumbled 4.45% in the intraday session.
In the consumer staple sector, Walmart Inc. (WMT) increased by 1.28%, The Coca-Cola Company (KO) gained 2.67%, and Costco Wholesale Corporation (COST) rose 1.55%. PepsiCo, Inc. (PEP) and Target Corporation (TGT) advanced 1.51% and 1.35%, respectively.
In healthcare stocks, UnitedHealth Group Incorporated (UNH) surged 1.58%, Thermo Fisher Scientific Inc. (TMO) soared 2.97%, and Abbott Laboratories jumped 2.23%. Danaher Corporation (DHR) and Medtronic plc (MDT) ticked u 2.69% and 2.55%, respectively.
In the communication sector, Alphabet Inc. (GOOGL) decreased by 1.51%, Meta Platforms, Inc. (FB) declined 7.77%, and The Walt Disney Company (DIS) fell 5.55%. Comcast Corporation (CMCSA) and Charter Communications, Inc. (CHTR) plummeted 1.48% and 3.91%, respectively.
In consumer discretionary stocks, Amazon.com, Inc. (AMZN) plunged 2.60%, Alibaba Group Holding Limited (BABA) tumbled 4.36%, and Airbnb, Inc. (ABNB) slipped 3.27%.
In crypto space, Bitcoin (BTC) and Ethereum (ETH) decreased by 0.53% and 0.88% to US$41,200.56 and US$3,073.51, respectively. The global crypto market cap ticked down 0.68% to US$1.91 trillion at 4:08 pm ET on April 20.
Also Read: Why is Monero (XMR) crypto gaining attention? All you need to know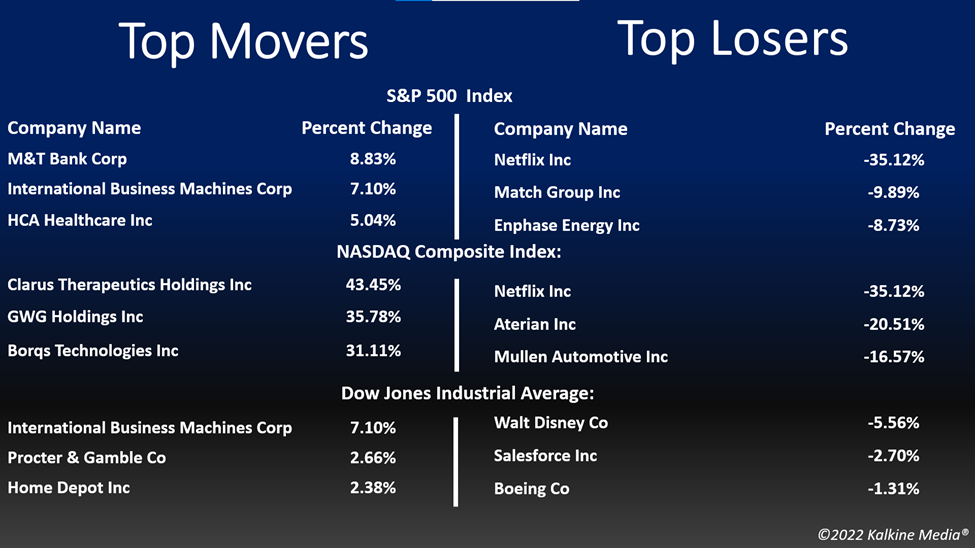 Also Read: What is API3 (API3) crypto? Everything you need to know
Also Read: Can AlloVir (ALVR) stock sustain rally with FDA's RMAT designation?
Futures & Commodities
Gold futures were up 0.06% to US$1,960.25 per ounce. Silver decreased by 0.35% to US$25.302 per ounce, while copper rose 1.21% to US$4.6610.
Brent oil futures decreased by 0.02% to US$107.23 per barrel and WTI crude was up 0.36% to US$102.42.
Also Read: Why NEAR Protocol (NEAR) token soared over 55% in a month?
Bond Market
The 30-year Treasury bond yields were down 4.03% to 2.869, while the 10-year bond yields fell 2.85% to 2.832.
US Dollar Futures Index decreased by 0.63% to US$100.330.