Wall Street indices snapped their two-day rally on Wednesday, October 19, as investors assessed the mixed earnings from the big companies while focusing on the cautious outlook from the companies.
The S&P 500 fell 0.67 per cent to 3,695.16. The Dow Jones was down 0.33 per cent to 30,423.81. The NASDAQ Composite lost 0.85 per cent to 10,680.51, and the small-cap Russell 2000 fell 1.72 per cent to 1,725.76.
The treasury yields have again resumed their climb, with the benchmark Treasury yield rising to a new 14-year high on Wednesday. Meanwhile, the mixed earnings from the companies have subsided the risk-bet appetite of the investors.
The ongoing fight of the Federal Reserve against the stubbornly-elevated inflation has raised concerns over a potential recession. While some of the companies, that have already reported their latest quarter earnings, showed resilience against the decades-high inflation and increasing policy rates, investors are anticipating that the central bank's effort could tip the economy into a recession.
Only the energy sector led gains in the S&P 500 index on Wednesday, October 19. Ten of the 11 segments of the S&P 500 index are in the negative territory, with healthcare and consumer discretionary sectors as the laggards.
Shares of the subscription-based streaming services provider, Netflix, Inc. (NASDAQ: NFLX) added more than 12 per cent in the intraday trading on October 19, a day after the company reported its latest quarterly earnings results and said it added 2.4 million new subscribers in the quarter. The company said that number of new subscribers was more than double what was initially anticipated.
The major semiconductor firm, ASML Holdings N.V. (NASDAQ: ASML) jumped over five per cent in the intraday session on Wednesday, after the Veldhoven, Netherlands-based firm reported a smaller decline in its profit in the latest quarter, due to record bookings.
The Procter & Gamble Company (NYSE: PG) rose more than one per cent on Wednesday, October 19, despite the consumer goods firm trimmed guidance for its annual sales.
In the energy sector, Exxon Mobil Corporation (XOM) increased by 2.71 per cent, Chevron Corporation (CVX) rose by 3.14 per cent, and ConocoPhillips (COP) added 2.49 per cent. BP p.l.c. (BP) and EOG Resources, Inc. (EOG) advanced 1.23 per cent and 4.55 per cent, respectively.
In healthcare stocks, Eli Lilly and Company (LLY) decreased by 1.70 per cent, AbbVie Inc. (ABBV) fell by 1.10 per cent, and Pfizer Inc. (PFE) slipped by 2.26 per cent. Merck & Co., Inc. (MRK) and Danaher Corporation (DHR) plunged 1.49 per cent and 3.07 per cent, respectively.
In the financial sector, Berkshire Hathaway Inc. (BRK-B) slumped by 1.27 per cent, JPMorgan Chase & Co. (JPM) dropped by 1.95 per cent, and Bank of America Corporation (BAC) declined by 2.82 per cent. Wells Fargo & Company (WFC) and Morgan Stanley (MS) plummeted 2.38 per cent and 2.35 per cent, respectively.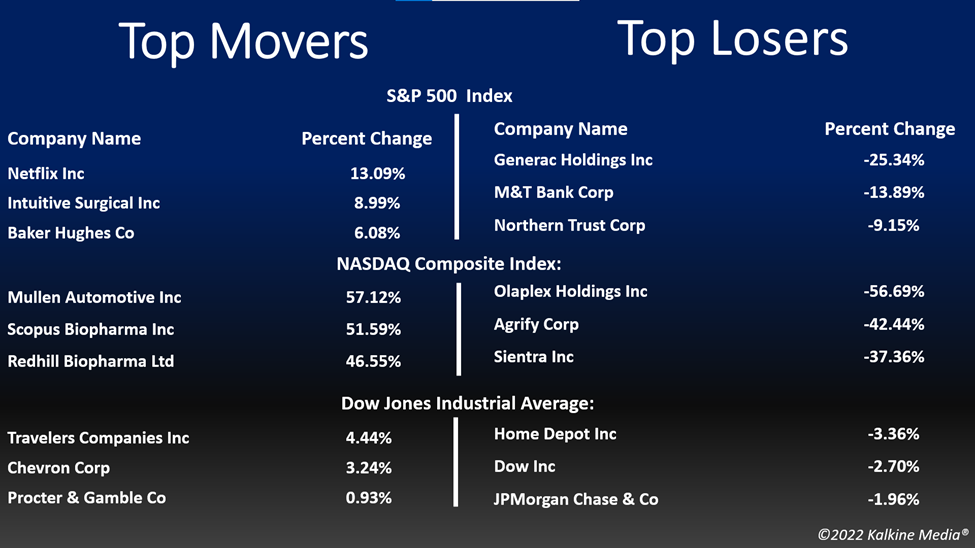 Futures & Commodities
Gold futures were down 1.33 per cent to US$1,633.80 per ounce. Silver decreased by 1.04 per cent to US$18.407 per ounce, while copper fell 1.17 per cent to US$3.3228.
Brent oil futures increased by 2.71 per cent to US$92.47 per barrel and WTI crude was up 3.30 per cent to US$84.78.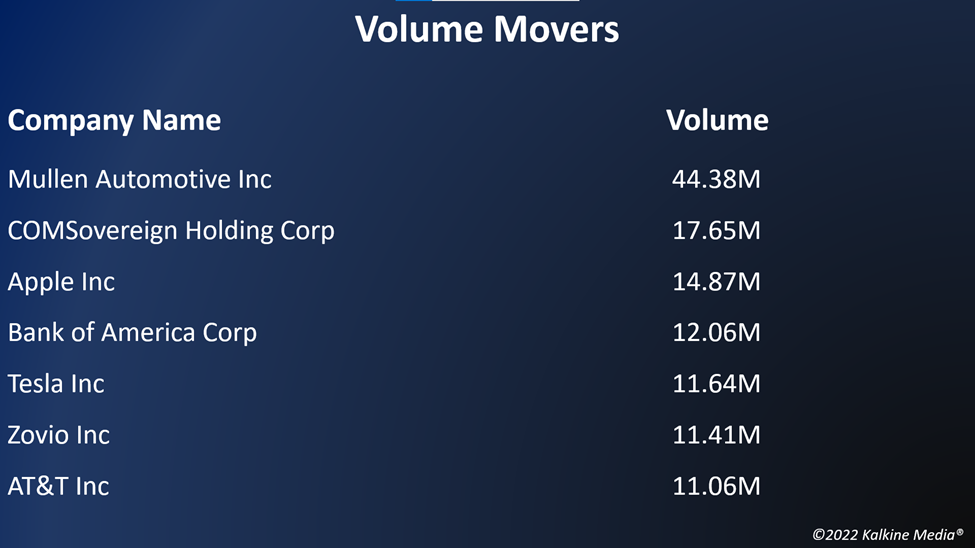 Bond Market
The 30-year Treasury bond yields were up 2.64 per cent to 4.127, while the 10-year bond yields rose 3.39 per cent to 4.134.
US Dollar Futures Index increased by 0.72 per cent to US$112.800.