Benchmark US indices closed lower on Tuesday, October 12, dragged down by bluechip technology and healthcare stocks as investors trudged cautiously amid inflation concerns.
The S&P 500 fell 0.24% to 4,350.65. The Dow Jones fell 0.34% to 34,378.34. The NASDAQ Composite fell 0.14% to 14,465.92, and the small-cap Russell 2000 was up 0.61% to 2,234.27.
Traders remained cautious amid a volatile market. On Wednesday, big banks like JPMorgan Chase & Co (JPM) and Goldman Sachs (GS) will report their quarterly earnings.
Markets have been grappling with a host of issues from raw material, labor shortage to coronavirus, although demand has been at its peak with festival season around the corner.
On Wednesday, the Federal Reserve is expected to release the minutes of its last policy meeting, which will be of major interest to traders.
Must know Global cues before the ASX opening bell
Real estate and consumer discretionary stocks were the top gainers on S&P 500 index on Tuesday. Technology, communication, and healthcare stocks were the bottom movers. Six of the 11 major sectors of the index stayed in the green.
Tesla, Inc. (TSLA) stocks were up 2.30% in intraday trading after reporting record China-made vehicle sales in September. It sold 56,006 vehicles from its Shanghai factory.
The Airbnb, Inc. (ABNB) stock rose 4.17% after investment bank Cowen Inc. gave a bullish rating. It upgraded the stock to "outperform" from "market perform" following solid growth.
The MGM Resorts International (MGM) stock gained 9.68% after analysts upgraded their rating from "neutral" to "outperform" on seeing its robust cash flow.
In the real estate sector, American Tower Corporation (AMT) rose 1.40%, Prologis, Inc. (PLD) rose 2.82%, and Crown Castle International Corp. (CCI) gained 1.29%. Public Storage (PSA) and Simon Property Group, Inc. (SPG) advanced 3.27% and 1.71%, respectively.
In consumer discretionary stocks, Nike, Inc. (NKE) gained 1.86%, Chipotle Mexican Grill, Inc. (CMG) gained 1.33%, and Aptiv PLC (APTV) jumped 2.11%. Hilton Worldwide Holdings Inc. (HLT) and Las Vegas Sands Corp. (LVS) gained 1.44% and 2.51%, respectively.
In the communication sector, Alphabet Inc. (GOOGL) declined 2.04%, Facebook, Inc. (FB) fell 1.33%, and Verizon Communications Inc. (VZ) fell 1.86%. In addition, AT&T Inc. (T) and Activision Blizzard, Inc. (ATVI) plunged 2.29% and 2.04%, respectively.

Also Read: Green is the new black? WWR, SLI stocks jump on Lithium hopes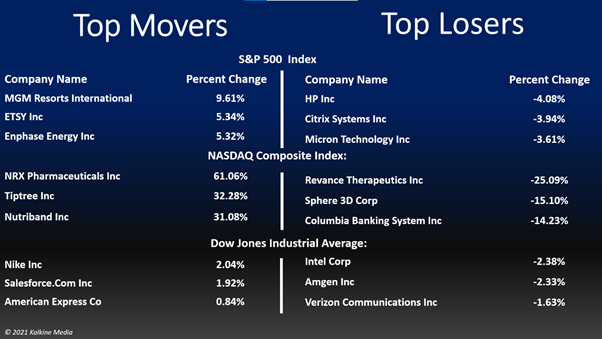 Also Read: Nine inflation-protected ETFs to consider amid skyrocketing prices
Also Read: Fastenal (FAST), AZZ Inc. (AZZ) stocks pop after strong earnings
Futures & Commodities
Gold futures were up 0.26% to US$1,760.25 per ounce. Silver decreased by 0.45% to US$22.562 per ounce, while copper fell 1.03% to US$4.3215.
Brent oil futures decreased by 0.43% to US$83.29 per barrel and WTI crude was up 0.05% to US$80.56.
Bond Market
The 30-year Treasury bond yields was down 2.86% to 2.098, while the 10-year bond yields declined 1.54% to 1.580.
US Dollar Futures Index increased by 0.22% to US$94.530.