Wall Street indices closed higher on Tuesday, May 3, as the Federal Reserve began its two-day policy meeting in which officials are expected to deliberate on the next interest rate hikes.
The S&P 500 was up 0.48% to 4,175.48. The Dow Jones rose 0.20% to 33,128.79. The NASDAQ Composite increased by 0.22% to 12,563.76, and the small-cap Russell 2000 was up 0.85% to 1,898.86.
Traders will closely watch the central bank's discussions as they are expected to throw light on the progress of the economy amid four-decade high inflation.
Economists expect the bank to announce at least half-a-percentage point increase in the interest rates on Wednesday after a 25-basis point hike in March.
Last month, Fed Chair Jerome Powell backed an aggressive hike to calm inflation.
Meanwhile, the Labor Department said the US job openings climbed to a record high of 11.5 million in March from 11.3 million in the previous month, raising wage inflation concerns. The labor report also showed that 4.5 million workers voluntarily quit their jobs in March.
The energy and financial sectors led gains in the S&P 500 index on Tuesday. Nine of the 11 sectors of the S&P 500 index stayed in gree with consumer discretionary and consumer staples as the bottom movers.
The shares of the pharmaceutical company, Pfizer Inc. (PFE) gained 2.17%, after reporting strong quarterly earnings results that topped the Wall Street estimates.
The stock of oil and gas company, BP p.l.c. (BP) surged 8.06% in the intraday session, after the company's announcement to boost its share buyback plan by US$2.5 billion offset the company's US$25.5 billion hits linked to its planned exit from Russia.
Western Digital Corporation (WDC) gained 15.04% after Elliott Investment Management send a letter to the company's board urging them to separate the company's Flash business. In addition, Elliott Investment Managed also offered to spend US$1 billion for facilitating a sale or a spin-off of the segment.
Advanced Micro Devices, Inc. (AMD) and Airbnb, Inc. (ABNB), among others, are due to report after the market closes on Tuesday. The AMD stock advanced 1.59%, while the ABNB stock plummeted 4.51% in the intraday session.
In the energy sector, Exxon Mobil Corporation (XOM) increased by 2.01%, Chevron Corporation (CVX) rose 1.50%, and Shell plc (SHEL) surged 3.30%. TotalEnergies SE (TTE) and ConocoPhillips (COP) ticked up 2.54% and 3.08%, respectively.
In financial stocks, JPMorgan Chase & Co. (JPM) gained 1.94%, Bank of America Corporation (BAC) added 2.70%, and Wells Fargo & Company (WFC) soared 1.13%. Morgan Stanley (MS) and Royal Bank of Canada (RY) advanced 2.17% and 1.37%, respectively.
In the consumer staples sector, The Procter & Gamble Company (PG) decreased by 1.86%, The Coca-Cola Company (KO) fell by 1.09%, and The Estee Lauder Companies Inc. (EL) declined by 5.62%. Colgate-Palmolive Company (CL) and Monster Beverage Corporation (MNST) plunged 1.29% and 1.59%, respectively.
In the crypto space, Bitcoin (BTC) and Ethereum (ETH) decreased by 2.15% and 2.26%, respectively. The global crypto market cap fell 1.63% to US$1.70 trillion at 3:47 pm ET on May 3.
Also Read: PLD to SPG: Can these 5 REIT stocks provide hedge against inflation?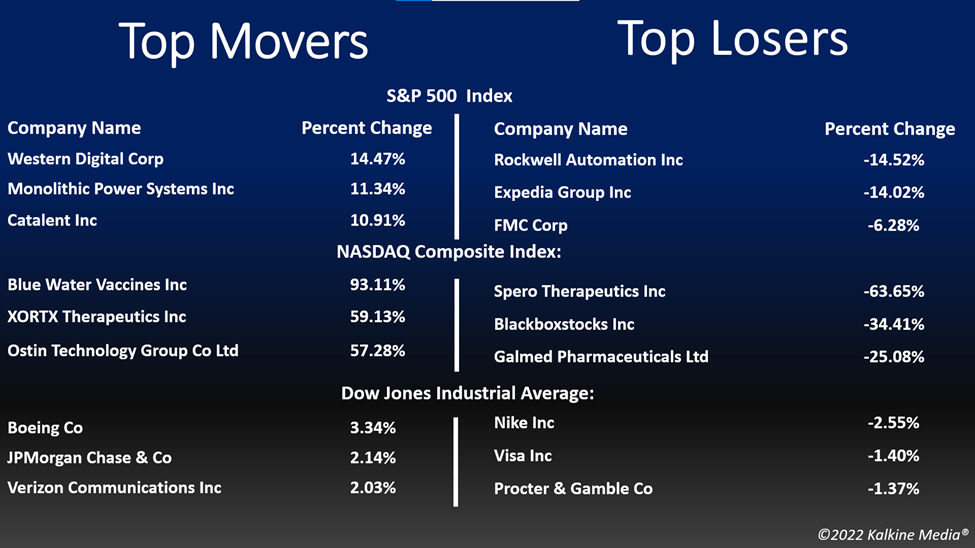 Also Read: Is Petoverse (PETO) crypto the new big name in the metaverse industry?
Also Read: Five Chinese internet tech companies to watch: BABA, JD to WB
Futures & Commodities
Gold futures were up 0.26% to US$1,868.38 per ounce. Silver increased by 0.17% to US$22.623 per ounce, while copper rose 0.80% to US$4.3023.
Brent oil futures decreased by 1.55% to US$105.91 per barrel and WTI crude was down 1.62% to US$103.47.
Also Read: MSFT to GME: Five top gaming stocks to explore in Q2
Bond Market
The 30-year Treasury bond yields were down 1.62% to 3.011, while the 10-year bond yields fell 0.63% to 2.977.
US Dollar Futures Index decreased by 0.25% to US$103.510.