Benchmark US indices closed flat on Wednesday, November 24, after the weekly jobless claims fell to a 52-year low and Fed minutes showed inflation to persist longer than previously thought.
The S&P 500 was up 0.23% to 4,701.46. The Dow Jones fell 0.03% to 35,804.38. The NASDAQ Composite rose 0.44% to 15,845.23, and the small-cap Russell 2000 was up 0.22% to 2,332.97.
The weekly jobless claims declined by 71,000 to 199,000 in the previous week, the lowest since November 1969, the Labor Department said on Wednesday. The sharp drop in benefits claims suggests the labor market continues to improve as the Delta variant concerns subside.
Meanwhile, in a separate report, the Commerce Department said the core personal consumption expenditures price index, Fed's preferred inflation gauge, surged 4.1% YoY, the highest since 1991.
The real estate, technology, and energy segments led the S&P 500 index on Wednesday. Materials and consumer staples were the bottom movers. Five of the 11 sectors of the index stayed in the red.
US Stocks Close Flat on Upbeat Labor Data | ASX set to fall
Stocks of Deere & Company (DE) rose 4.93% after the firm reported better-than-expected quarterly results while providing a solid outlook for the next fiscal year.
Its global net sales surged 16% YoY to US$11.32 billion in Q4, FY21, while its net income came in at US$1.28 billion. For fiscal 2022, it expects net income in the range of US$6.5 billion to US$7 billion.
Shares of Biofrontera Inc. (BFRI) skyrocketed 102.67% after analysts gave an upbeat rating for the stock while providing a significant 12-month price target.
The AeroClean Technologies, Inc. (AERC) stock jumped 695% after its Nasdaq debut on Wednesday.
In the energy sector, ConocoPhillips (COP) gained 1.59%, EOG Resources, Inc. (EOG) rose 1.55%, and Canadian Natural Resources Limited (CNQ) jumped 2.54%. Pioneer Natural Resources Company (PXD) and Schlumberger Limited (SLB) advanced 1.10% and 1.07%, respectively.
In the technology sector, Nvidia Corporation (NVDA) increased by 2.92%, Intuit Inc. (INTU) surged 1.73%, and Advanced Micro Devices, Inc. (AMD) gained 5.14%. ServiceNow, Inc. (NOW) and Snowflake Inc. (SNOW) ticked up 1.80% and 3.68%, respectively.
In material stocks, PPG Industries, Inc. (PPG) decreased by 1.27%, Nucor Corporation (NUE) declined 2.74%, and LyondellBasell Industries NV (LYB) plunged 1.72%. International Paper Company (IP) and Amcor PLC (AMCR) plummeted 1.43% and 1.06%, respectively.
Also Read: Grocery delivery firm Instacart going public? All you need to know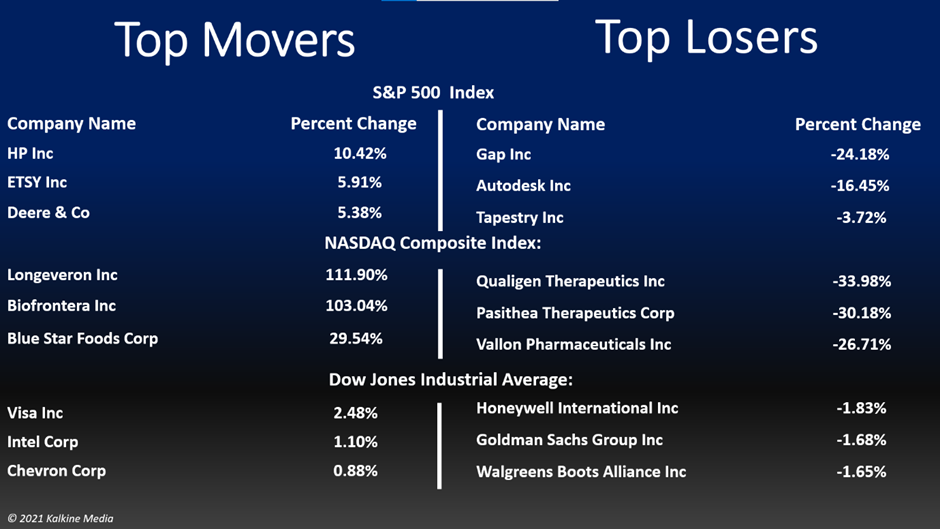 Also Read: Ocuphire Pharma (OCUP) stock jumped 34% - know why?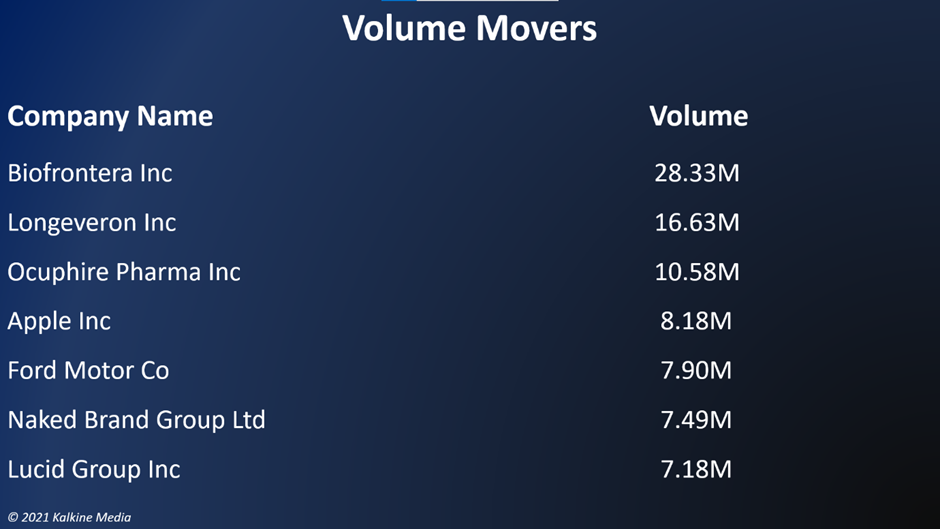 Image description: Five of the 11 sectors of the S&P 500 index stayed in the red.
Also Read: Top oil and gas stocks to explore after US taps strategic reserves
Futures & Commodities
Gold futures were up 0.24% to US$1,788.05 per ounce. Silver increased by 0.48% to US$23.547 per ounce, while copper rose 1.05% to US$4.4700.
Brent oil futures decreased by 0.23% to US$82.12 per barrel and WTI crude was down 0.32% to US$78.25.
Bond Market
The 30-year Treasury bond yields was down 3.07% to 1.961, while the 10-year bond yields fell 1.65% to 1.638.
US Dollar Futures Index increased by 0.33% to US$96.817.