Dow Jones closed higher, while S&P 500 and Nasdaq drifted on Friday, October 22, after Fed Chair, Jerome Powell's tapering remarks weighed on investors' sentiment. However, the optimism over the robust earnings has pushed the indices towards their third consecutive week of gains.


The S&P 500 was down 0.11% to 4,544.90. The Dow Jones Industrial Average increased by 0.21% to 35,677.02. The NASDAQ Composite Index fell 0.82% to 15,090.20, and the small-cap Russell 2000 was down 0.21% to 2,291.27.


On Friday, the Federal Reserve Chair, Jerome Powell said that the central bank should start dialing back its asset-buying program soon while suggesting that the interest rate shouldn't be increased as of now. While the strong earnings results have lifted the investors' confidence in recent weeks, the remarks from the Fed Chair raised concerns of the investors.


The Fed has reassured that the interest rate will be kept at the "near-zero" level until the economy returns to its expected employment and the inflation would come under the Fed's expectation level of 2%. Meanwhile, the supply-chain disruptions and the rising costs of the raw materials indicated that inflation is likely to stay above the level for some time.


Will the US Markets rise on Monday after Powell's remarks?
The financial and the real-estate sector topped the S&P 500 index on Friday, with communication services and consumer discretionary sectors as the bottom movers. Eight of the 11 critical sectors of the S&P 500 index stayed in the positive territory.


The stocks of Cleveland-Cliffs Inc. (CLF) gained 12.10% in intraday trading, after reporting better-than-expected quarterly earnings on Friday, before the bell. The company has reported record revenue of US$6 billion in Q3, FY21, while its net income came in at US$1.28 billion.


The shares of American Express Company (AXP) rose 5.50% after the company has reported strong quarterly earnings results as more people used their cards for traveling, dining, and other leisure activities. The total revenue of the company surged around 25% YoY to US$10.92 billion, while its net income was up 70% from the previous year's same quarter to US$1.82 billion.


The stocks of Honeywell International Inc. (HON) plunged 2.90% after the company has lowered its full-year sales forecast due to the bottleneck supply constraints. The company's sales rose 9% YoY to US$8.47 billion in Q3, FY21, while its EPS was up 68% YoY to US$1.80 apiece. However, the company has lowered its sales forecast to be between US$34.2 billion and US$34.6 billion from its previous forecast of US$34.6 billion and US$35.2 billion.


In the financial sector, JP Morgan Chase & Co. (JPM) increased by 1.15%, Bank of America Corporation (BAC) rose 1.27%, and Morgan Stanley (MS) surged 1.54%. Citigroup, Inc. (C) and Goldman Sachs Group, Inc. (GS) gained 1.28% and 1.65%, respectively.


In real-estate stocks, American Tower Corporation (AMT) advanced 1.86%, Equinix, Inc. (EQIX) jumped 1.52%, and Public Storage (PSA) soared 1.21%. Digital Realty Trust, Inc. (DLR) and SBA Communications Corporation (SBAC) ticked up 1.03% and 1.71%, respectively.


In the communication sector, Alphabet Inc. (GOOGL) decreased by 3.13%, Facebook, Inc. (FB) fell 5.91%, and Walt Disney Company (DIS) declined by 1.10%. Twitter Inc. (TWTR) and Snap Inc. (SNAP) plummeted 4.15% and 25.99%, respectively.
Also Read: Roper (ROP) & Seagate (STX) stocks rally after Q3 reports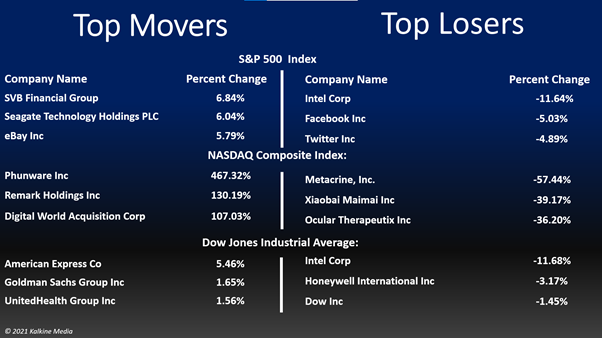 Also Read: Top 7 REITs with over 50% YTD returns to explore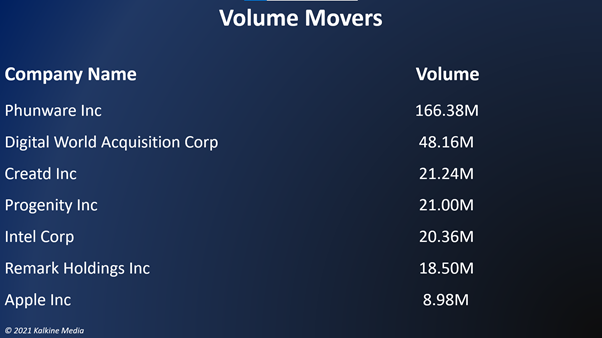 Also Read: 5 industrial stocks with over 40% YTD returns to explore
Futures & Commodities
Gold futures were up 0.71% to US$1,794.60 per ounce. Silver increased by 0.86% to US$24.378 per ounce, while copper fell 1.24% to US$4.5018.
Brent oil futures increased by 1.55% to US$85.92 per barrel and WTI crude was up 2.06% to US$84.20.


Bond Market
The 30-year Treasury bond yields was down 2.47% to 2.075, while the 10-year bond yields fell 1.91% to 1.643.
US Dollar Futures Index decreased by 0.17% to US$93.602.