All major US stock markets closed mixed on Wednesday, the last day of the month, as energy, industrials, and consumer staple segments saw modest gains amid a positive economic outlook.
The S&P 500 was up 0.13% to 4,297.50. The Dow Jones gained 0.61% to 34,502.51. The NASDAQ Composite fell 0.17% to 14,503.95, and the small-cap Russell 2000 was up 0.07% to 2,310.55.
Wednesday's session marked the end of the first half of the year, during which the major stock indices recorded double-digit percentage growth, a significant progress despite the pandemic.
Meanwhile, the ADP Research Institute said in its latest National Employment Report that private-sector employment rose by 692,000 in June compared to the figures in the previous month. The report comes ahead of the labor department's June employment data to be released this week.
The S&P 500 and tech-heavy NASDAQ saw successive record closes in recent days as the US economic recovery continued to gather pace. The indexes rose by 14% and 12%, respectively, in the first half of 2021. The Dow Jones Industrial Average was also up 12% during the period.
It was the second-best first-half performance for S&P 500 since 1998. In Wednesday's session, five of the 11 critical sectors of the S&P index advanced, led by energy stocks.
Additionally, prices of air tickets, rental cars, and hotel bookings shot up ahead of the Independence Day celebrations on 4th July. Prices of fireworks, which are typically used in such celebrations, have soared due to a global shipping backlog of Chinese goods due to the pandemic.
Global Market Round Up || How Did Global Markets Fared Overnight
The stock of Chinese ride-hailing company DIDI Global Inc. (DIDI) popped a high of more than 17% in intraday trade after its debut on the NYSE, taking its valuation to around US$80 billion. However, it closed 1% up from the offering price at the close, bringing its valuation to about US$68 billion. It was one of the biggest US IPOs by a Chinese company since 2014 after Alibaba Group's public offer.
Meanwhile, semiconductor maker Micron Technology, Inc.'s (MU) stock jumped 2.36% after analysts gave a favourable ranking on its stock performance in the coming quarters, attributing to the continued demand for chips in 2022, which is expected to boost its pricing dynamics. Micron Technology was expected to release its quarterly results after the market closes.
Other technology stocks, such as Apple Inc. (AAPL), gained 0.63%, Microsoft Corp (MSFT) declined 0.28%, and Facebook, Inc. (FB), ticked down 0.97%. ASML Holdings (ASML) and Intel Corp declined 2.05% and 1.67%, respectively. Advanced Micro Devices, Inc. (AMD) jumped 5.07%.
Also Read: Bed Bath & Beyond stock (BBBY) rallies on upbeat outlook
In energy stocks, Exxon Mobil Corp (XOM) rose 0.90%, and Chevron Corporation (CVX) and PetroChina Company Limited (PTR) gained 1.03% and 3.16%, respectively. TotalEnergies SE (TTE) ticked down 0.95%.
Stocks of automobile manufacturers Ford Motor Company (F) and Volkswagen AG (VWAGY) fell 1.13% and 2.66%, respectively, while General Motors Co advanced 0.50%.
Industrial stocks such as Honeywell International Inc. (HON) increased 1.75%, Caterpillar Inc. (CAT) gained 1.19%, and General Electric Company (GE) rose 3.17%. 3M Company (MMM) and Deere & Company (DE) advanced 1.28% and 1.04%, respectively. Boeing Company (BA) stock jumped 1.74%.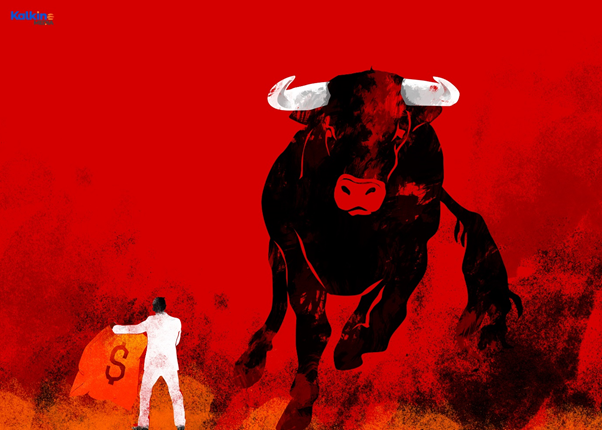 Copyright ©Kalkine Media 2021

Also Read: Bsquare (BSQR), Verb (VERB): 2 rising tech stocks
Top Gainers
Top performers on S&P 500 included Cabot Oil & Gas Corp (7.25%), Advanced Micro Devices Inc (4.93%), CF Industries Holdings Inc (4.59%), Devon Energy Corp (4.18%). On NASDAQ, top performers were Cuentas Inc (123.74%), Newegg Commerce Inc (78.29%), Borqs Technologies Inc (45.71%), 1stdibs.Com Inc (40.87%). On Dow Jones, Walmart Inc (2.71%), Goldman Sachs Group Inc (1.85%), Boeing Co (1.61%), Honeywell International Inc (1.57%) were the leaders.
Top Losers
Top laggards on S&P 500 included Hologic Inc (-3.09%), Paycom Software Inc (-2.80%), W W Grainger Inc (-2.30%), Fortinet Inc (-2.08%). On NASDAQ, Bsquare Corp (-40.67%), Altimmune Inc (-38.05%), Marin Software Inc (-37.98%), Kiromic Biopharma Inc (-27.56%). On Dow Jones, Intel Corp (-1.07%), Nike Inc (-0.94%), Visa Inc (-0.90%), Salesforce.Com Inc (-0.63%) were the laggards.
Volume Movers
Top volume movers were Apple Inc (16.67M), Ford Motor Co (15.43M), Advanced Micro Devices Inc (13.93M), General Electric Co (10.75M), Micron Technology Inc (9.86M), AT&T Inc (9.53M), Intel Corp (9.52M), Bank of America Corp (8.58M), Microsoft Corp (7.97M), Exela Technologies Inc (47.82M), Cuentas Inc (28.39M), Borqs Technologies Inc (22.14M), Bridgeline Digital Inc (17.50M), ContextLogic Inc (10.40M), Verb Technology Company Inc (10.03M).
Also Read: Why is Cerevel Therapeutics stock (CERE) trending today?
Futures & Commodities
Gold futures were up 0.39% to US$1,770.50 per ounce. Silver increased 1.48% to US$26.255 per ounce, while copper rose 0.64% to US$4.2918.
Brent oil remain flat at US$74.62 per barrel and WTI crude increased 0.67% to US$73.47.
Bond Market
The 30-year Treasury bond yields was down 0.41% to 2.088, while the 10-year bond yields decreased 0.81% to 1.468.
US Dollar Futures Index rose 0.34% to US$92.355.