Benchmark US indices closed mixed on Tuesday, November 23, as technology stocks declined, and bond yields rose a day after Biden re-nominated Gerome Powell as Fed chair.
The S&P 500 climbed 0.17% to 4,690.70. The Dow Jones was up 0.55% to 35,813.80. The NASDAQ Composite was down 0.50% to 15,775.14, and the small-cap Russell 2000 fell 0.11% to 2,328.69.
Technology stocks get inversely affected when bond yields rise.
However, despite market uncertainties, most S&P 500 companies saw robust third-quarter growth. Analysts expect the quarterly profits of the companies to increase by 40% compared to last year.
Meanwhile, in a statement, the White House announced that the US, China, Japan, India, and other countries would use their strategic oil reserves to ease the gasoline prices fuelling inflation.
Energy, finance, and real estate stocks were the top gainers on the S&P 500 index. Consumer discretionary, technology and communication stocks trailed. Seven of the 11 segments of the index remained in the positive territory.
Zoom Video Communications, Inc. (ZM) stock fell 15.28% after reporting weak quarterly results.
Best Buy Co., Inc. (BBY) stock declined nearly 13% after posting better-than-expected third-quarter results. Its same-store sales increase 2% against analysts' forecast of a 0.7% decline. But the company expects weaker same-store sales over the holiday season due to supply chain hurdles.
Dollar Tree Inc. (DLTR) stock rose 11% after its Q3 results stayed in line with the expectation. Chinese EV-maker XPeng Inc. (XPEV) also beat expectations in the latest quarter. The stock rose nearly 6%.
In the energy sector, APA corporation (APA) advanced 6.86%, Marathon Oil Corporation (MRO) grew 4.92%, and Coterra Energy Inc. (CTRA) increased 0.91%. Diamondback Energy Inc. (FANG) rose 3.77%, and Halliburton Company (HAL) advanced 3.36%.
Also Read: Snook crypto (SNK) gains 80% in a single day – know why?
In the finance sector, American International Group Inc. (AIG) rose 3.31%, Bank of America Corporation (BAC) surged 2.75%, and Synchrony Financial (SYF) grew 3.17%. Discover Financial Services (DFS) and Prudential Financial Inc. (PRU) increased 2.75% and 2.67%, respectively.
In the consumer discretionary sector, Tesla Inc. (TSLA) fell 5.55%, Home Depot (HD) declined 0.01%, and Nike Inc. (NKE) was down 1.20%. Lowe's Companies Inc. (LOW) and Best Buy Co. Inc. (BBY) decreased 0.24% and 12.65%, respectively.
In the cryptocurrency market, Bitcoin (BTC) rose 2.60% to US$57,748.68 at around 3:02 pm ET, after falling in several sessions. The global crypto market rose 4% to US$2.6 trillion from the previous day.
Also Read: Bionomics files for IPO with SEC - How to buy the stock?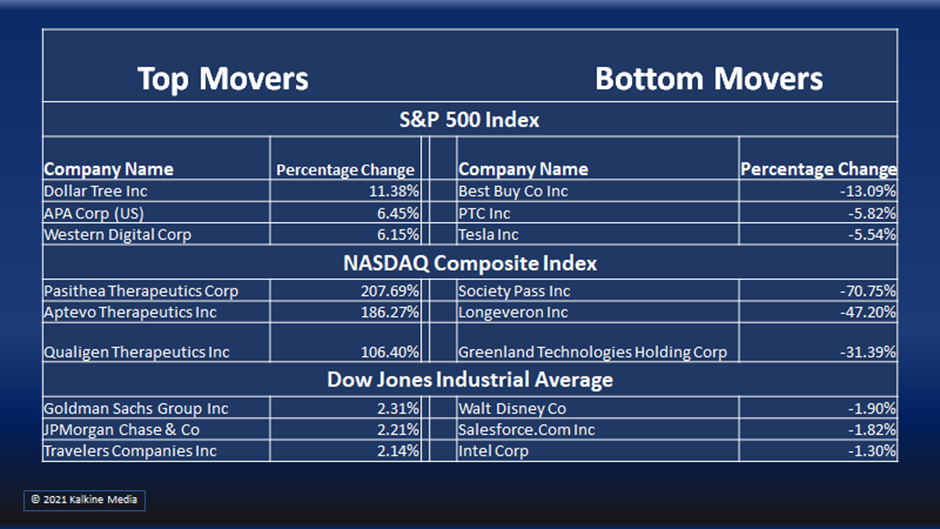 Also Read: Pendo IPO: Software company gearing up for public offer?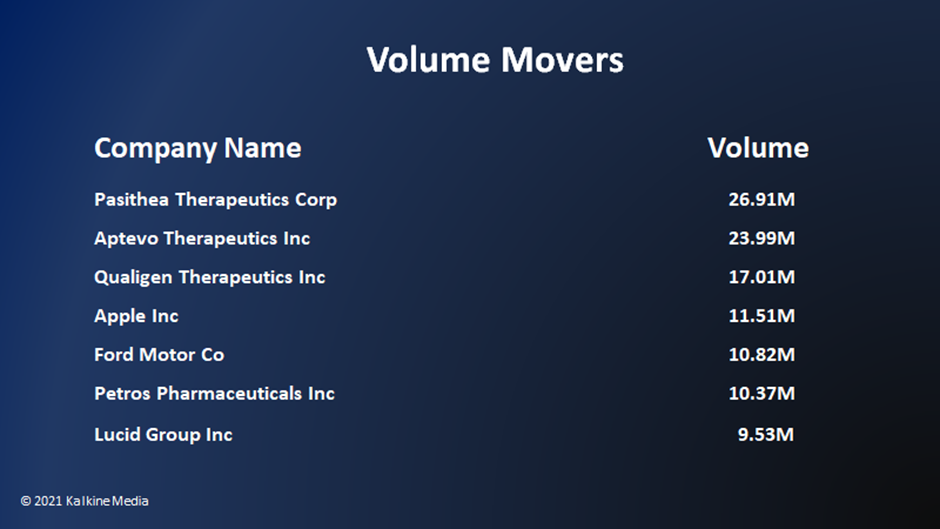 Also Read: Pasithea Therapeutics (KTTA) stock soars 229% - Know why?
Futures & Commodities
Gold futures decreased 0.81% to US$1,791.55 per ounce. Silver futures fell by 2.51% to US$23.688 per ounce, while copper increased 0.73% to US$4.4287.
Brent oil futures surged by 3.60% to US$82.57 per barrel and WTI crude futures were up 2.67% to US$78.80.
Bond Market
The 30-year Treasury bond yields increased 2.85% to 2.034, while the 10-year bond yields were up 3.11% to 1.676.
US Dollar Futures Index decreased by 0.07% to US$96.477.